TEA TIME! Tiffany Haddish Reveals Actress 'On Drugs' BIT Beyonce's FACE! + Reveals She Drinks Turpentine To 'Stay Healthy'
​
Mar 26 | by _YBF
​ ​ ​ ​
Tiffany Haddish shares the most bizarre Beyonce story you'll ever hear or read in life. She also shares a health tip that has us a bit concerned in the new issue of GQ. Get it all inside...
This might be the Beyonce story of the year.
Tiffany Haddish, above attending the Hunter for Target Ultimate Family Festival at Brookside Golf Club, is definitely the Queen of storytelling (remember that Groupon/Will& Jada Pinkett Smith story?), but you would think after Beyonce supposedly called her out on "Top Off" about signing non-disclosure agreements to hang with her Tiffany would hold back on sharing stories about the Queen. That's not the case and we can't say we're mad about it because y'all know we live for a good Beyonce story.
The Girls Trip breakout star finally reveals everything that went down before and after that selfie she snapped with Bey at a party back in December in a new interview with GQ magazine.
Around the time the picture started making its rounds on our timelines, Tiffany was telling folks the "On The Run" singer had stopped her from getting into a fight. We had no idea she was FOREAL.
Apparently, an actress – who she would not name – was busy doing the MOST at the party and some how she ended up BITING (yes, biting) Beyonce's face, this according to Tiffany. Lord, where the hell was Julian?!
"There was this actress there," Tiffany explains to GQ in the April 2018 issue, keeping her voice low, "that's just, like, doing the mostest." One of the most things she did? "She bit Beyoncé in the face."
"So Beyoncé stormed away," Haddish says, "went up to Jay-Z, and was like, 'Jay! Come here! This b*tch—' and snatched him. They went to the back of the room. I was like, 'What just happened?' And Beyoncé's friend walked up and was like, 'Can you believe this b*tch just bit Beyoncé?' " WHYYYYY can we envision Bey yanking Hov up at the party? Ha! OK, here's the rest of the story:

"And so then…," she continues, "a lot of things happened."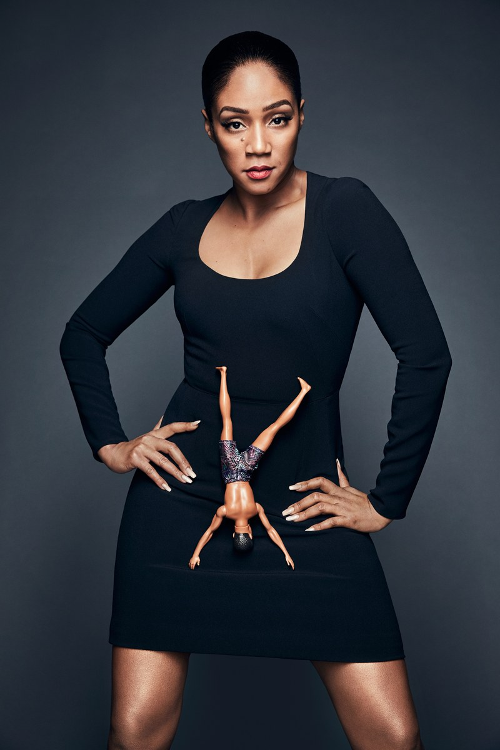 According to Haddish, she and the actress continued to cross paths throughout the night, culminating in a brief standoff. The actress, at one point, told Haddish to stop dancing, which—good luck making that happen.

"And then Beyoncé and Jay-Z walked by me, and I tapped Beyoncé."

Haddish says she told Beyoncé, "I'm going to beat somebody a** at your party. I just want to let you know that." Beyoncé asked her not to—told her to "have fun" instead. (Haddish leveraged this moment into a selfie with Beyoncé.)

"Near the end of the party," says Haddish, describing her final run-in with Mrs. Carter sometime later, "Beyoncé's at the bar, so I said to Beyoncé, 'Did she really bite you?' She was like, 'Yeah.' I was like, 'She gonna get her ass beat tonight.' She was like, 'Tiffany, no. Don't do that. That bitch is on drugs. She not even drunk. The bitch is on drugs. She not like that all the time. Just chill.' "
To be a fly on the damn wall! We want to know which Hollywood actress was on her worst behavior at a party with Bey. Chrissy Teigen seems to know:
I can only think of one person who would do this. but I cannot say. but she....is the worst.

— christine teigen (@chrissyteigen) March 26, 2018
SPILL THE TEA CHRISSY! Inquiring minds want to know.
By the way, the Beyhive is lighting Tiffany's comments section up on Instagram:
Not surprised.
Fellow comedian Mo'Nique caused some controversy when she sent out a video requesting everyone boycott Netflix for "gender and color bias." Does the Groupon spokeswoman agree with Mo's movement?
"My business run different than her business," says Haddish. "I don't live her life. I don't have that husband of hers. I'm looking at how [Netflix has] opened up so many opportunities for black females and comedy. When my people are dying, that's when you gonna catch me protesting. I'm not gonna protest because somebody got offered not the amount of money they wanted to get offered. If you don't like what they're offering you, just no longer do business with them. If I protest Netflix—what about all the black shows that are on there? What about all the other actors that are working on there? All the Indians, the Hispanics, the Asians. My show, The Carmichael Show, airs on there right now. It ain't on NBC."
Very true.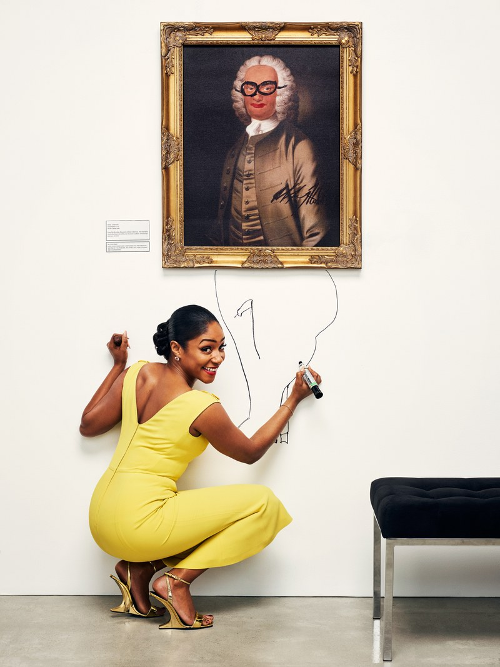 With her new found fame, one would think Tiffany would have adopted some extreme health care regimen to stay healthy. But, Tiff rocks to the beat of her drum and that includes what she ingests to keep her body in tip top shape.
"A teaspoon of turpentine will not kill you," says Haddish with the breezy confidence of an unlicensed doctor. "The government doesn't want you to know that if you have a cold, just take some turpentine with some sugar or castor oil or honey and it'll go away the next day."

I didn't think humans could consume turpentine.

"Honey," begins Haddish, "back during slavery—let me teach you something, okay?"

Per Haddish, in the absence of 19th-century medical care, slaves drank turpentine—an oil distilled from pine resin, today commonly used as a paint thinner—as a cure-all for various ailments. When I note that slaves were not known for their excellent health, Haddish flips my argument into evidence: That's because not all the slaves had access to turpentine.

"There's worms inside your body," says Haddish.

How—

"There are worms inside your body."

Haddish explains that she learned about the alleged medical benefits of turpentine on YouTube and purchased some on Amazon a few months ago.

After her first dose, she says, "everything just felt so much better, clarity-wise." You were light-headed from drinking poison.

"But I was killing the game onstage!" she says, laughing. "My thought patterns was coming quick, quick, quick. Girl, you just look it up. Just do the research."

I do look it up, because I'm genuinely worried America's brightest new star may be inadvertently poisoning herself to death. I send Haddish information from the U.S. National Library of Medicine outlining the dangers of turpentine poisoning, but when we talk again a few days after our whale watch, she is unconcerned. "The government wrote it," she says of the research. "Honey."

She vows to update me on her health following her next doctor's appointment. The other thing Haddish says about turpentine: It will make your body pass "the best doo-doo of your f*cking life."
Well, alright.
You can read her full interview here.
Be sure to tune in to "The Last O.G." to see Tiffany Haddish star opposite Tracy Morgan when it premieres April 3rd at 10:30pm EST on TBS.
Photos: Art Streiber via GQ/Getty
​ ​
​ ​ ​