EXCLUSIVE: Keke Palmer Tells Us How She Really Feels After Getting Ridiculed For Revealing Her Own #METOO Situation
​
Mar 28 | by _YBF
​ ​ ​ ​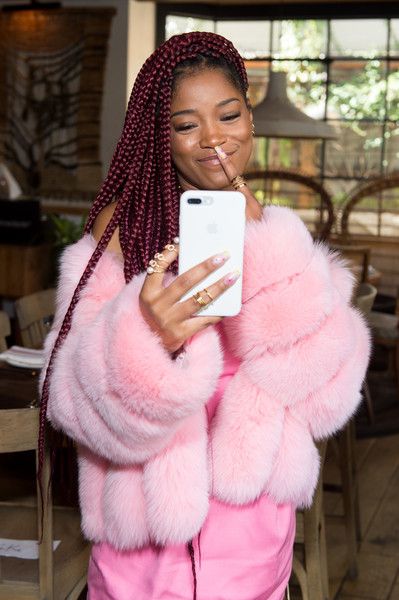 Keke Palmer was saying "ME TOO" before #METOO was a movement. And she caught some heat for it. However, she tells TheYBF.com that she's never going to stop using her voice to speak out against injustices. Find out what else the YBF chick dished, including her new role on "STAR" inside…
Singer. Actress. Dancer. Activist. Role Model.
Whether you like it or not, Keke Palmer is a force to be reckoned with. She stays booked and is always feeding her fans something new even when she doesn't have a huge project coming down the pipeline. Just look at her timeline on Instagram.
The 24-year-old outspoken Snapchat queen, who popped up on the acting scene as a kid in Akeelah and the Bee, will be reprising her role in Lee Daniels' "STAR" Gigi, a "ratchet and rich" pop diva.
TheYBF.com got the chance to chop it up with Keke about her role, but we also touched on some more personal topics.
The #METOO movement rocked Hollywood to its core with droves of women speaking out about how they were sexually assaulted by high powered men. Before the #METOO movement started making waves, Keke spoke out about her own #METOO situation before it became a cool hashtag. And she caught a lot of heat for it.
"Yeah I did. [I've definitely] been put in uncomfortable situations being preyed on as a woman. I spoke out about it. I spoke out about it and I was ridiculed for it. At the end of the day, that's what we have to do. We have to speak up and set boundary lines even if the whole world is against us. And in time, all things done in the dark will come to light."
In January 2017, Keke sounded the alarm on Trey Songz misogynistic ways. The "Scream Queens" alumna accused Trigga of using "sexual intimidation" to coerce her into appearing in his remix with Fabolous, Travis Scott and Young Thug, titled "Pick Up The Phone."
She said she hid in a closet to avoid anymore conflict after she verbalized she did NOT want to be in the video. Once they assured her she would NOT be in the video, she said they secretly recorded her anyway.
After Keke peeped the video, she blasted Trigga in a few Instagram posts, writing (in part), "Come on bruh, I clearly said no and you said okay, yet I was being secretly filmed when you told me "let me just show you the idea"?? Wow. This is what I'm referring to in my previous post, this is the sexism and misogyny I refer to because if I was a dude, he wouldn't have even tried me like this."
Shortly after, the R&B crooner decided to issue a statement denying Keke's account of what happened.
"I will say I never truly experienced anything like that other than that situation," KeKe told TheYBF.com. "I felt like it was important for me to let other young women know that these things are going to happen to you no matter who you are. No matter how much respect you think you deserve. No one gives a sh*t."
And she's right. Now, we as women have to be more vigilant and be sure we teach our young girls how to say NO and that speaking out about sexual assault is the right thing to do.
Sometimes it's hard for artists who came into this entertainment shindig at such a young age to transition from being just a kid entertainer. Keke most def knows about that. Often times, handlers like to keep the artists in a box and will not allow the artist to explore their full capacity of creativity. So now, she's on her boss ish.
"Yes. I feel like have been boxed before, but more so in terms of having an audience. Sort of like the same situation, not being based on my skin tone, but being based on my audience that people then tried to control what I sound like without realizing I have a fanbase of a variety of different people. So, a lot of times these people don't really understand what your fans really love you for, how you can grow creatively and what really represents you. A lot of times they're just looking at what is easiest for them to market."
When she realized her label wasn't going to put out music and projects she wanted to release to her fans, she found ways to do it herself.
"I just kept fighting and started investing in myself. When they didn't want to promote the things I wanted to promote, I found a way to get it done myself. You have to find ways to empower yourself and not always have your hand out."
Speaking of singing…
We asked Keke if she had to form a trio group with one legend (dead or alive) and a new singer, who would it be?
"Me, Left Eye and….," she responded. "Hell, just me and Left Eye. All the people I'm thinking of, I can't see them either outside the group they're in or I would rather see them alone than in a group."
Keke will return to "STAR" tonight to reprise her role as Gigi. She told us Lee Daniels created her role specifically for her after she expressed to him how she wanted to do something on the show. She said this character is more like her than some of her previous characters, except Gigi is a heightened version of herself.
By the way, she drew inspiration from fellow actresses Jackée Harry, Jenifer Lewis, Raven Symone and Whoopi Goldberg. Makes sense.

"I do have some different ups and downs with the character Gigi that you'll see later on in the season. Right now, you're seeing more of that sillier, dramatic, extra diva type personality. And I can definitely relate to that in a fun way, not diva in a bad way."
Tune in to "STAR" for the spring premiere of the current season, 9pm EST on FOX.
In the meantime, peep her new "BOSSY" visuals for the show below:

Photos: Keke's IG
​ ​
​ ​ ​