Michelle Williams' Surprise Engagment Is EVERYTHING - Fiancé Chad Johnson Saved 11 Years For 5-Carat Ring, But Only Met Michelle A Year Ago!
​
Apr 20 | by Natasha
​ ​ ​ ​
When Jesus say yes....
Michelle Williams is engaged! But it's her and her fiance's love story - and that RING - that have us in our feelings. Get it all inside...
It would take a self-help style retreat for a pastor and a pop star to meet. And it only took a year for them to make it official. But they KNEW they were each other's "one" before that. Michelle & Chad got engaged a month ago, and they're just now telling the super cute story in People magazine.
Back in March 2017, Destiny's Child singer and businesswoman Michelle Williams met Chaplin to NFL teams Chad Johnson at the Elevate International retreat when they were both in dark places in their lives.
"I was in a horrible, dark place," says Williams, 37, who had recently ended a relationship and opened up about a cheating ex on The Real. "I just needed to go somewhere where I could get a message of hope and restoration, rejuvenation — get connected to God."

"When we met, both of us were in very similar places on a personal level," says Johnson, who at the time had all but given up dating. "Michelle was coming off the heels of a really bad relationship, and I was just in a place of despair as well."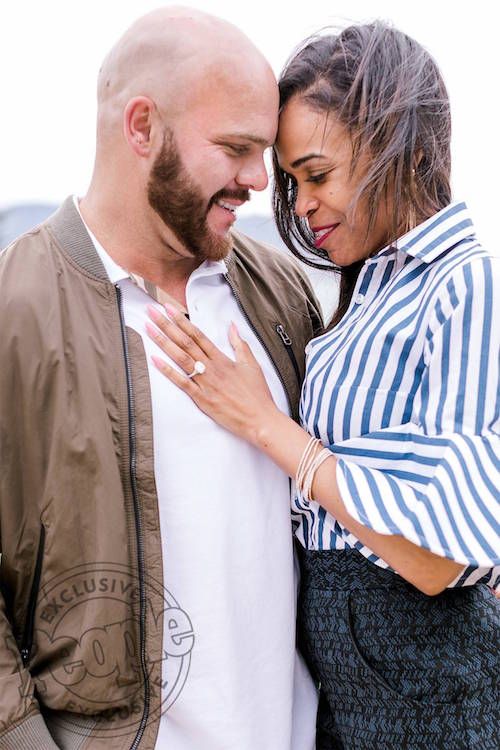 They focused on the retreat, and not each other, but afterwards Chad made his move after being egged on by a friend to do it.
"I mean, he was cute," the singer admits, "but I did not go to flirt with the pastor!
Yessss he's cute and he luhhh God.
Chad texted her about basically feeling her vibe and asked to "connect" sometime, and her response was "Connect?????" He thought it was shade, until she slid into his IG Stories with a comment. They FaceTimed and talked ever since. Michelle revealed:
"We spent almost three months without even seeing each other, just building a strong foundation on the phone and through FaceTime; it was really built on friendship and communication."
Then, months later, they started dating.
In July — while on their first actual date at a wedding in the Dominican Republic — the pair shared their first kiss and took their relationship to the next level. "I told her, 'I've been looking. I don't want to look anymore. I'm done. My search is over,'" Johnson recalls of the moment they decided to date officially.
She waited until July to tell anyone - including Beyonce and Kelly - that she was talking to Chad.
How they knew they'd fallen for the other:
"What kept drawing me and drawing me at first was I felt like I could be myself," says Williams, who notes her fiancé calls her by her birth name. "My first name is Tenitra; my middle name is Michelle. I felt like I could be Tenitra: just ratchet, I didn't have to have on any makeup, if I had to have on my hair bonnet — he just made me feel very safe in being myself."

"Here's this Destiny's Child girl — but when I got to personally interact with her, I saw her around others and her humility stood out in ways that I can't even articulate," says Johnson. "When you see someone operate behind the scenes, with no camera, with no mic, no makeup on? She does not carry herself above anybody. Humility's not something that you can fake."
Chad talks about their interracial love saying:
"I'm white, she's black," says Johnson. "What a special time for our relationship to be on display in that respect with the tension in the world and in our country."
Chad popped the question last month in Pebble Beach, California and clearly, it was everything. The nuptials seem like they're going to go down soon, and Michelle wants a huge wedding:
"We do wanna get married very, very soon," says Williams, who has already chosen a dress. "We've been moving very quickly and planning. Why wait? I want to get married now, but he wants a wedding!"
Michelle said the day after the engagement Chad was pushing for them to pick a date and get this wedding train poppin'. Not mad.
The cute couple does already have an idea for a theme. Chad revealed:
"She was like, 'Can we just revel in the moment, relish the feeling? 'And I'm like, 'Let's go, let's go!' It's gonna be … think James Bond-meets-Midsummer Night's Dream — with a little hood in it [laughs]. It's gonna be very traditional. We're doing black-tie. We want it to be small and intimate and very private."
And yes, you can expect her Destiny's Child besties to be there too.
The twosome have an inspirational gem about patience in love that we all need to hear:
"Don't lose hope in love," says Williams. "I do think you should not focus so much that if you're not in love that you get depressed about it. I was in a place where I was like, I'm just going to focus on my career and my family and just keep it moving. I started taking myself out; I started traveling by myself, to the point where I loved being by myself."
Come on, message!
Now about that stunning ring! Chad saved up for it over a period of 11 years...even though he only met Michelle last year.
"On my 30th birthday, everybody came and celebrated me. The next day, I woke up alone. I was so lonely. I had a little pity party. My personal life was lacking so much, and I was living so single," recalls Johnson, who turns 41 in July. "So as a response to that moment, I opened up a ring account, and for 11 years, I put $150 into a ring account."

Every month I'd put money into that account; I would just say, 'My wife's coming; this is for my wife.' I did that for 11 years." Still, he admits it wasn't always easy: "At six, seven, eight years in, I wanted to pull that money out and spend it on a sports car!"

"When I had the moment that I knew Michelle was it, I was so excited to get that money and go buy that ring," he says. "There's so much in that ring. That's 11 years of my belief in my wife coming for me."
That's a whole other level of manifestation. Talk about putting your money where your vision board is!
He clearly has good taste, because all his saving and believing led him not only to an amazing wife-to-be, but this bomb 5 carat ring. So bomb that Michelle was "weeping and wailing", so Chad says, as he proposed. Ha!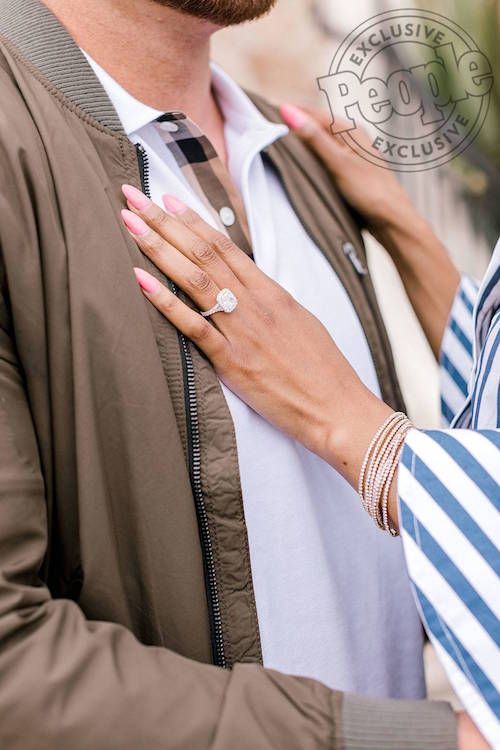 Apparently, it's right on par with the one she had screenshot for herself a few months ago:
"I saw this ring in February — a friend of mine is a wedding planner from London, and I just saw this ring, and it stood out to me! And I took a screenshot of it like, 'God, I would really like something like this.' But how do you tell your man to make sure he gets the right ring?" Williams says.

"But I was like, no, whatever he gets me … But then the ring that spoke to me is almost identical to the ring Chad had already purchased and designed! It's kind of like God was showing me, this is what's to come," she adds. "It was really, really crazy."
Either minds-in-love think alike, or he secretly put in work to find out her preference. Either way, what a man!
Congrats to the couple!
Photos: People.com/Instagram
​ ​
​ ​ ​