Meek Mill Has Been Working Nonstop On New Music Since His Prison Release, Gets All The Support From Jay-Z, Kevin Hart & Robert Kraft
​
Apr 26 | by Natasha
​ ​ ​ ​
After everybody was ridin' through the streets hollering "Free Meek!," he's finally free. For now. The rapper was released without bail this week and his first couple days out have been quite litty...
After Meek Mill's lawyers appealed to the Philadelphia supreme court to get his case to qualify for bail status, Meek became a free man until his probation violation case is heard in full.
The Court overruled Judge Genece Brinkley, saying "the alleged corrupt police officer who served as a "critical witness" in Meek's original gun and drugs case as a crucial point in their decision to order his bail." Since prosecutors were not opposed to him being released, they granted Meek's team's wishes. He was released as he appeals his decade old conviction and probation violations.
So what did Philly's native son do as soon as he got out? He was picked up in a chopper by 76ers owner Joshua Harris, and was flown straight to the playoff game. Meek also revealed just moments ago that he's been working non-stop on new music since getting out about 48 hours ago. With no sleep.
I ain't sleep since I walked out that prison real rap I'm tweaking
Meek's clearly grateful for his release saying,
"I'd like to thank God, my family, my friends, my attorneys, my team at Roc Nation including Jay Z, Desiree Perez, my good friend Michael Rubin, my fans, The Pennsylvania Supreme Court and all my public advocates for their love, support and encouragement during this difficult time. While the past five months have been a nightmare, the prayers, visits, calls, letters and rallies have helped me stay positive. To the Philadelphia District Attorney's office, I'm grateful for your commitment to justice – not only for my case, but for others that have been wrongfully jailed due to police misconduct. Although I'm blessed to have the resources to fight this unjust situation, I understand that many people of color across the country don't have that luxury and I plan to use my platform to shine a light on those issues. In the meantime, I plan to work closely with my legal team to overturn this unwarranted conviction and look forward to reuniting with my family and resuming my music career."
He was caught on video hopping on the chopper from Pennsylvania State Correctional Facility April 24, 2018 in Chester, Pennsylvania.
He got all the love from the Sixers ballers and Philly's other native son Kevin Hart, who had just stopped at the prison to see Meek hours before: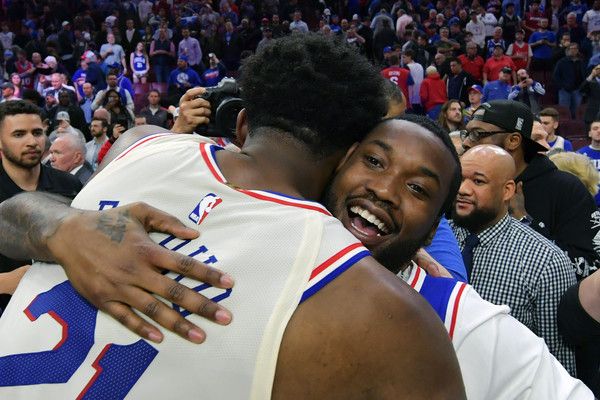 @MeekMill arrives at @sixers game

Meek told me "I feel great"#MeekMill#PhilaUnite pic.twitter.com/nMEEy0AX0P

— John Clark (@JClarkNBCS) April 24, 2018
Meek was also back on daddy duty with his son Papi. The cutie had a dance off with Kev:
When he first arrived at game, Kev tried to play him about putting on weight. Shady.
Jay-Z, whose Roc Nation label Meek is signed to and who has been vocal about raising awareness about prison injustices, said in a statement:
"Today, Meek Mill, a son of Philadelphia, is a free man. He was incarcerated unjustly and caught in a probation trap for years by a broken system. Now we can celebrate his release.  We thank every individual that has supported and fought alongside Meek every step of the way."
After the game, Meek chopped it up with NBC Nightly News anchor Lester Holt, who also spoke to him in prison a few weeks ago:
WATCH: Rapper Meek Mill speaks out to @LesterHoltNBC in an exclusive interview following his release from prison. https://t.co/fv76gjY7G7 pic.twitter.com/OUwQu7zB76

— NBC Nightly News with Lester Holt (@NBCNightlyNews) April 26, 2018
And then there's this interesting statement from NFL owner Robert Kraft. This guy.
Well....
Photos: Getty/76ers
​ ​
​ ​ ​