WHOSE MANS IS THIS?! Kanye West Says 400 Years Of Slavery Was A 'Choice' Before He RANTS About Getting Hooked On Opioids After Liposuction
​
May 01 | by _YBF
​ ​ ​ ​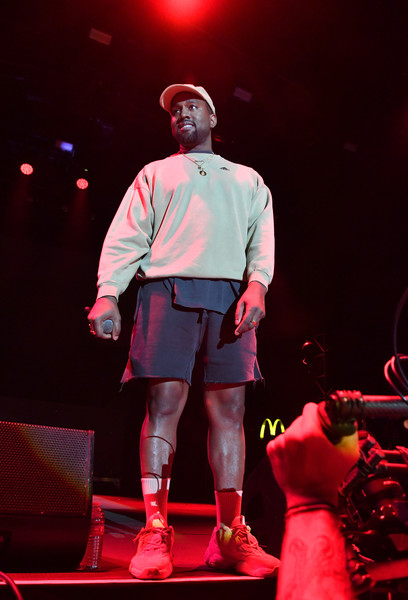 "When you hear about slavery for 400 years ... for 400 years? That sounds like a choice." Yes, Kanye West really said this. He also went slam off inside the TMZ newsroom explaining why he got liposuction and how it resulted in him being addicted to drugs. See all of it (if you can stand it) inside…
Kanye West is trying to send us all to an early grave. We get he's trying to sell an album, but he's taking this ish too damn far.
The PABLO rapper made his way to the TMZ newsroom as he continues making media rounds to share all of his "free thinking" ideology. Ye has said some extremely controversial ish over the years, but this comment has us perplexed as hell.
"When you hear about slavery for 400 years ... for 400 years? That sounds like a choice," the Chi-town rapper said. "You was there for 400 years and it's all of y'all?"
"It's like we're mentally in prison," he continued. "I like the word 'prison' because slavery goes too direct to the idea of blacks. It's like slavery, Holocaust. Holocaust, Jews. Slavery is blacks. So, prison is something that unites us as one race. Blacks and whites being one race. We're the human race."
He then starts yelling to everyone in the room, "Do you feel that I'm feeling ... do you feel that I'm being free and I'm thinking free?"
Thankfully, writer Van Lathan was in the mix and was NOT afraid to school Kanye on the error in his words.
"I think what you're doing right now is actually the absence of thought and the reason why I feel like that is because, Kanye, you're entitled to your opinion," Van started off saying.
He then schooled Ye on what it's like being a non-famous black man living in America.
"You're entitled to believe whatever you want, but there is fact and real world, real life consequence behind everything you just said. And while you are making music and being an artist and living the life that you've earned by being a genius, the rest of us in society have to deal with these threats to our lives. We have to deal with the marginalization that has come from the 400 years of slavery that you said for our people was a choice.
Van said he was "unbelievably hurt by the fact that you have morphed into something, to me, that's not real." As sad as it is, we agree. The clip ends with Van telling Yeezy he has to be more responsible and with Ye responding, "I'm sorry I hurt you."
Check it:
Kanye West, you sir are out of line for this slavery comment.
He wasn't done there either...
In another clip, the "Heartless" rapper revealed he decided to get cosmetic surgery to keep the blogs from calling him "fat." However, after his surgery, he said he became addicted to opioids. Once he realized he needed to lay off the drugs, he stopped and then two days later he said that's when he was admitted to the hospital.
"I was drugged the f*ck out, bro! I was addicted to opioids. Two days after I get off opioids, I'm *makes car tires screeching noise* I was in the hospital."
Then, he gets up, turns around and starts shouting to everyone in the room:
"Two days before I was in the hospital, I was on opioids. I was addicted to opioids. I had plastic surgery because I was trying to look good for y'all. I got liposuction because I didn't want y'all to call me fat like y'all did Rob [Kardashian] at the wedding and made him fly home before me and Kim got married, so I got liposuction."
Oh wow. Sounds like his wife may have gotten in his head. You would think he wouldn't want to go under the knife for cosmetic surgery being his mother Donda West passed away after a cosmetic procedure.
Ye said doctors advised him to take two pills a day following his surgery, but soon after he became addicted. After spending over a week in the hospital, he said he was given seven pills to take a day. However, he said he's NOT taking them.
"The reason I dropped those tweets and everything because I was drugged the f*ck out, bro. And I'm not drugged out [now]. These pills… they want me to take three of a day. I take one a week maybe, two a week. Y'all had me scared of myself, of my vision. So, I took some pills so I wouldn't go to the hospital and prove everyone right.
"We are drugged out!," he continued yelling. "We are following other people's opinions. We are controlled by the media and today it all changes!"
See Yeezy up in arms above.
Damn... I wish Charlemagne interview was the last thing we heard from Ye ...

But he had to run his ass up to TMZ and further play himself.. SMH ...

Who is the TMZ guy that fried him tho?

— OldMan Ebro (@oldmanebro) May 1, 2018
We KNOW y'all have something to say about this here. SOUND OFF in the comments! Is Ye canceled or nah?
In case you missed, get all of the highlights from Kanye's controversial interview with Power 105's Charlamagne Tha God HERE.
Photo: Getty
​ ​
​ ​ ​