Everybody Was Lit At College Signing Day - Michelle Obama Gives Inspo & Busts A Move With Jussie Smollett, Ciara, Kelly Rowland, Zendaya, Janelle, Keke & Nick Cannon
May 03 | by _YBF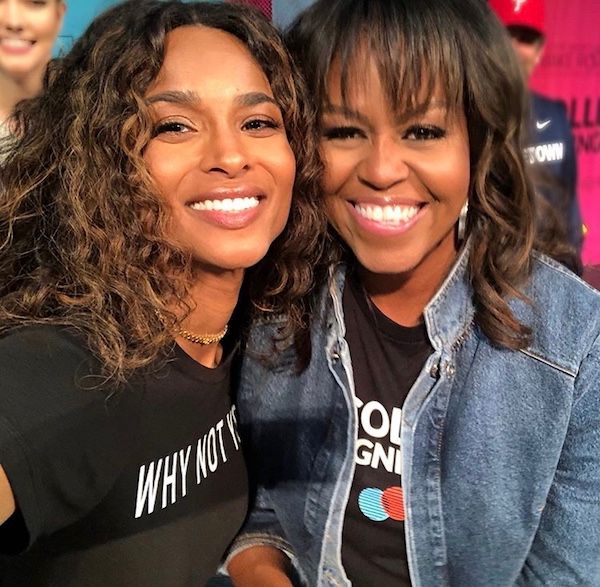 Even though she's no longer in the White House, FOREVER First Lady Michelle Obama is still out here championing for our next generation of leaders. And so are several YBF faves. We've got FLOTUS' motivational speech, plus flicks of Ciara, Kelly Rowland, Zendaya, Janelle Monae, Keke Palmer, Nick Cannon and Jussie Smollett…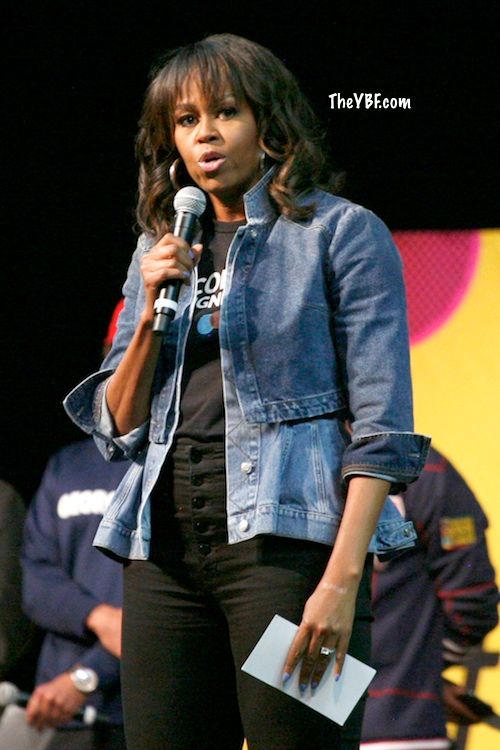 #BetterMakeRoom for the Class of 2022!
Our Forever First Lady Michelle Obama continues to prove why she has earned the right to that title.
Yesterday, Mrs. O hosted her annual College Signing Day event in Philadelphia as a part of her "Reach Higher" initiative encouraging high school students to pursue higher education. In the past, she has hosted the event in NYC, Detroit and San Antonio, but this year she was in the City of Brotherly Love at Temple University to encourage the future generation to seek higher education.
And she came perfectly dressed for the event, per usual. We've said this before and we'll say it again, Michelle Obama totally changed the fashion game for future First Ladies. She could slay the hell out of a suit and jeans and tees.
For the College Day Signing event, Mrs. Obama rolled up on the scene in a double denim Alexander McQueen jacket, the event's official t-shirt and a pair of black pants.
The Princeton University and Harvard Law School grad spoke before 8,000 high school seniors about the importance of higher learning and instilled in them that she has their back even if no one else does.
"I know you have everything it takes to succeed," she said. "I know that you are me, and if I can be standing here as your forever First Lady, then you can do anything you put your mind to. So remember this moment when you're out there."
The Chi-town native shared with the students about her own insecurities and struggles she faced when she and President Barack Obama first stepped foot inside the White House.
"But here's the advice that I have for you," she said. "You're going to get to college and you're going to struggle sometimes because we all struggle." "When Barack and I set foot in the White House, it was a struggle. There were a lot of people who told us that we weren't supposed to be in the White House, that we couldn't handle the pressure, that we weren't ready.

"They will doubt you today and they will doubt you for the rest of your life. But you will have some struggle, and that's OK.

Mrs. Obama stressed the importance of having a good circle of people around you to help you out when needed and told them never to be afraid to ask questions.

"But see, when you hit those roadblocks, when you have trouble in that class, when you feel like you're falling behind, you have to ask for help. No one gets through college on their own. And you have to get on campus right away and find your community. You find your posse. Never be isolated."
Great words of advice for any high school senior entering the next phase of their life.
Check out her speech below:
Also in attendance....
It was a star-studded event as several of Mrs. Obama's celebrity friends stopped by, including Ciara, Zendaya, Kelly Rowland, Nick Cannon, Janelle Monae, Jussie Smollett, and Keke Palmer. They also hit the stage to speak to the college bound students:
Both Nick and Ciara have joined Michelle Obama for College Signing Day in previous years.
Backstage...
Everyone was all smiles while catching up with one another, especially FLOTUS, and snapping flicks.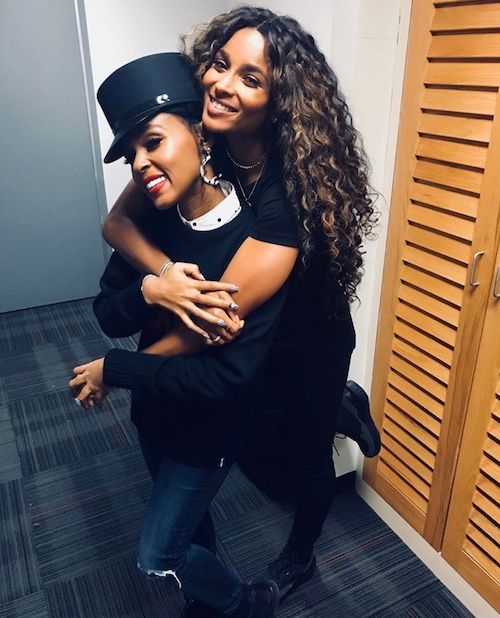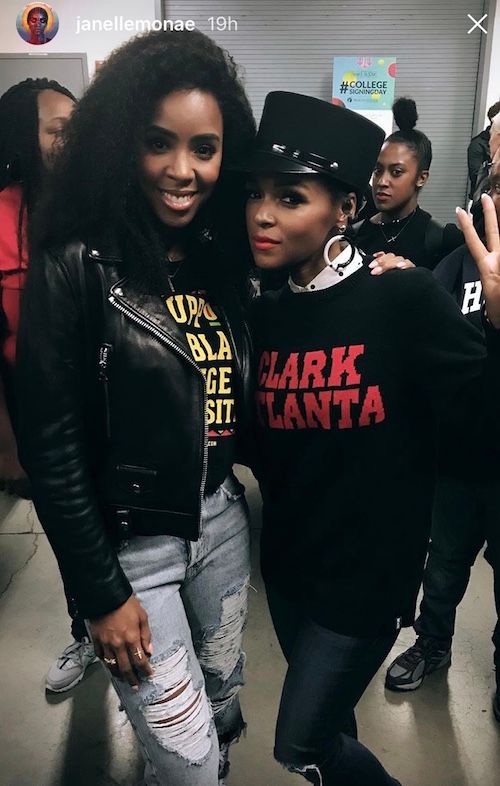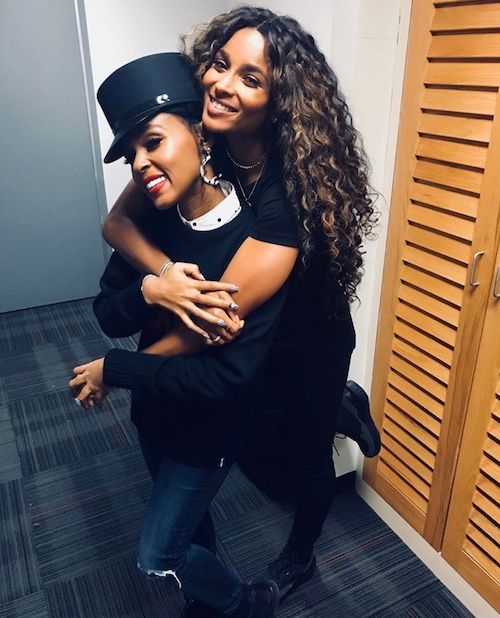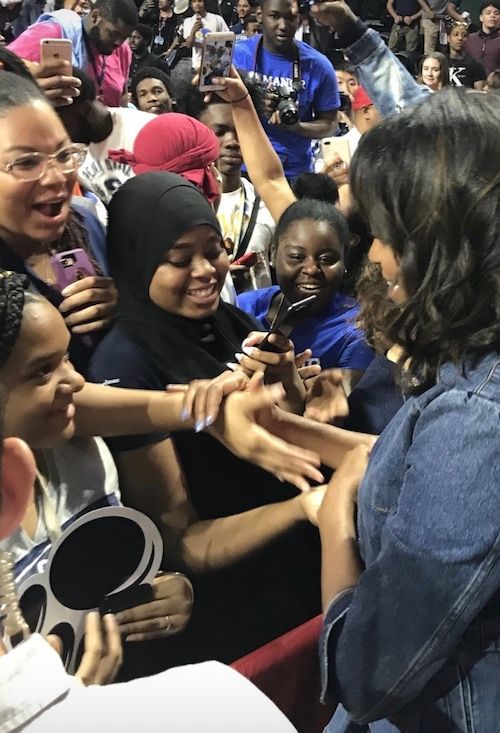 Backstage with the band (& @kellyrowland ) #collegesigningday #bettermakeroom pic.twitter.com/CXrQMyiJES

— Karlie Kloss (@karliekloss) May 2, 2018
Loves it!
BONUS:
While still decked out in his Howard University attire, Nick Cannon explains why he's not listening to ISH Kanye West has to say about politics. Peep the clip above.
Photos: AP/Startraks/Ciara's IG/Kelly's IG/Janelle's IG