Gabrielle Union Hits The Streets, Ends 'Feud' With Jada Pinkett Smith + Michel B. Jordan Has Nothing To Do WIth Tiffany Haddish's Bush + Tracee Ellis Ross Out In NYC
May 08 | by _YBF
Everyone is in NYC! And they're hot on the promo trail. Gabrielle Union dishes on ending her "feud" with Jada Pinkett Smith while Michael B. Jordan tries to get out of Tiffany Haddish's bush. Find out what we mean, plus peep flicks of Tracee Ellis Ross out and about inside...
New York City is flooded with celebs in town for the 2018 Met Gala.
Perfect timing for Gabrielle Union since she has a new movie titled Breaking In that's set to hit theaters this Friday, May 11th.
The 45-year-old actress recentlystopped by the "TODAY" show to chat about how empowered she felt playing the role of a kick a** mom who will stop at nothing to protect her children. She also dishes on this barely known "beef" between herself and Hollywood actress Jada Pinkett Smith. They've had this ongoing silent "feud" for 17 years. Wow. Who knew?!
"Jada nor I ever used the word feud, so it just became more of a media creation," she confessed. "Kind of like back in the day, neither one of us actually knows what originally took place back then."
So how did the "beef" start? Apparently, they both had people in their camps who were pitting them against one another.
"The people we had around us were like, 'Well, you know how she feels about you,' and they were like, 'Well, you know how she feels about you,'" she recalled. "And then it was like 'girl bye' for 17 years. Even though we're both very outspoken women, both activists, our husbands are friends, I worked with her husband, we both had too much pride and too much insecurities to just say, 'Hey, did that ever actually happen or was that just a creation of someone who didn't want to see two women rise together?'"
Peep the clip below:
Glad they were able to let bygones be bygones. Imagine how powerful they'll be together in their activism.
And here's her STUNNING exit from the "TODAY" show studio:
So effortless in Antonio Beradi.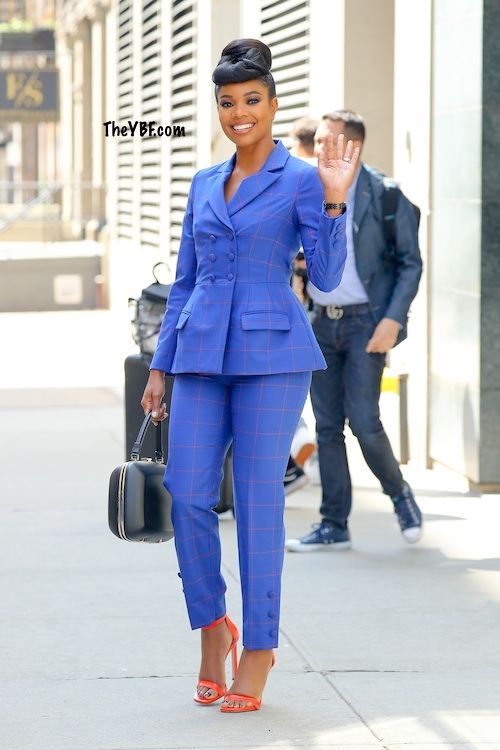 She made her rounds to "The View" and other stops as well looking springtime fab!
The "Being Mary Jane" star changed it up in a blue plaid Lela Rose suit and orange sandels to make her way to the "Watch What Happens Live" studio. Her episode hasn't aired yet and we don't see her name on the current schedule, so she likely pre-taped an episode.
She'll probably pop up in the clubhouse sometime next week for the "tea."
As she continued her rounds, Gabby, who's a super involved stepmom to Dwyane Wade's sons, sat down with the ladies on "The View" to chat about why her message about raising black boys is resonating. Peep the clip above.
Also in the Big Apple...
Michael "BAE" Jordan is still looking like a snack out in these streets. The Black Panther star was spotted leaving "The View" and the "Good Morning America" studios. He's currently promoting his new HBO film, Fahrenheit 451, set to premiere May 19th at 8pm EST.
Before hitting up the Met Gala last night, MJB sat down with Power 105's "The Breakfast Club" where Charlamagne brought up what his homie Tiffany Haddish told him.
Apparently, the Girls Trip star told him she wasn't going to shave her va-jay-jay until she had sex with the CREED star. Lordt. Mike kept his cool with his response, but it doesn't seem like he wants anything to do with that. However, he did say she was dope.
He also talked about making sure Killmonger portrayed the African American point of view in Black Panther, he avoided questions about dating white women, and he dished a bit on Creed 2.
Check it below:
Oh and this interview went down before she started stanning out for him at the Met Gala last night.
He also stopped by "The View" this morning to talk about the fun he had at the Met Gala and Black Panther's success:
Zaddy.
Also in the concrete jungle...
Are you cold?
"black-ish" star Tracee Ellis Ross made sure she didn't get wet rocking a white oversized Balenciaga rain coat while making her rounds. She was spotted making moves in front of the Mark Hotel today after attending the Met Gala last night.
The heavenly theme doesn't stop at the Ball we guess.
Over the weekend, the Golden Globe winner got the chance of a lifetime. She interviewed forever First Lady Michelle Obama during the United State of Women Summit in Los Angeles over the weekend. Nice!
In case you missed, see Tracee's sitdown with FLOTUS where Michelle O. talks about her frustration with men failing UP.
Photos: MEGA/Splash/Getty/Backgrid/Gabby's IG