Michael B. Jordan Just Tried His Damnedest To Avoid Questions About Interracial Dating + Says Killmonger Is An 'Extreme Version' Of How Black People Feel
May 09 | by _YBF
Michael B. Jordan isn't trying to talk about his love life...at all. Watch him get out of answering what his current relationship status is and his thoughts on his Black Panther character Killmonger's philosophy inside...
Fresh from killing the box office in Black Panther and slaying the at the Met Gala, Michael B. Jordan is back to work. He's currently doing press runs for his upcoming HBO film, Fahrenheit 451. The movie is set to premiere May 19th at 8pm EST.
The Newark, NJ native stopped by Power 105's "The Breakfast Club" to chop it up about everything he has going on post-Black Panther. The radio hosts were joking around with MBJ about being the "sex symbol extraordinaire" and he played coy about it. But, he really is a sex symbol whether he likes it or not.
Just about every single chick we know wants to know if MBJ is single. We still don't really know. He isn't trying to let us in on anything involving his love life. When asked by the hosts about white women being his preference, he made it known that he's into ALL women.
"I like women, period. All women. Everybody's on the table," he explained.
There you have it ladies. Everybody has a chance! Allegedly.
MBJ's Black Panther character Killmonger was a pivotal character in the movie as he was the villain who tried to overthrow T'Challa and take over Wakanda. His "wokeness" - on the relationship & perceptions between Africans and African-Americans - is what drew a lot of people in especially when he said, "Bury me in the ocean with my ancestors that jumped from the ships. Because they knew death was better than bondage."
"You grow up in an oppressed society, a systemic society, you're going to create Killmongers," MBJ said. "I feel like there's some that I agree with and there's some that I don't. He's an extreme version of what I think a lot of people feel today."
Very interesting.
Once he nabs a new movie role, the CREED star revealed how he prepares for it. He said he likes to keep a diary to keep a "backstory or subtext to always know where my characters are at." He said he has a boat load of diaries he has written in over the years. Once it's all said and done, he said he might put those diaries to work in some shape or form.
For his upcoming film Fahrenheit 451, he said this was the first movie he has been able to produce. He said he did the movie because he wanted to tell this particular story and he also wanted to get some production credits under his belt for his production company, Outlier Society Productions, which is the first production company to adopt an inclusion rider.
As for his next project, he will be producing and starring in a new Netflix series he recently sold to the streaming platform. It's titled "Raising Deion" and it's about a single mom raising an 8-year-old with super powers, all told from the mom's prospective.
"When you get to that certain part when you're making production deals, as an actor you have to trade yourself off a little bit to get that producer credit and to get the show on the air."
Nice to see MBJ is flourishing both in front and behind the camera.
Would the hottie ever gain an insane amount of weight for a role? He sure would!
"I got to do it soon because the older you get the harder it is to get back into shape," he explained. "I can't wait to play a role where I have to put on a lot of weight. I can just eat, not do nothing, not work out. Right now we're in the middle of shooting CREED 2 and my body is like, 'I am tired.'"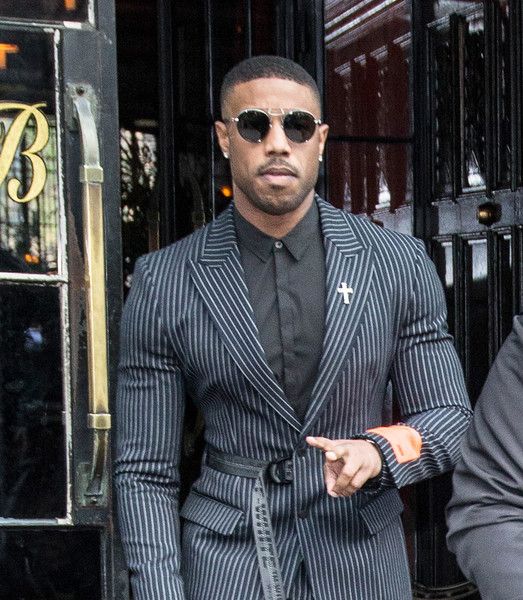 All that hard work he's putting in for CREED 2 is certainly paying off because he's out here looking like a whole damn meal.
See the rest of his interview with "The Breakfast Club" where he talks about how he got into acting, why he doesn't want anything to do with Tiffany Haddish's BUSH, why his parents live with him, all of the details about the young lady who slid in his DM's and more below:
See MBJ in Fahrenheit 451 when it premieres May 19th at 8pm EST on HBO.

Photo: Getty