Cardi B Jokes That Her 'Spirit' Was There When Tomi Lahren Got A Drink Thrown On Her - SEE THE VIDEO
​
May 23 | by _YBF
​ ​ ​ ​
Bigot Barbie Tomi Lahren got a drink thrown on her at a restaurant. Find out why Cardi B jokes about her "spirit" being in the midst inside...
Bigot Barbie Tomi Lahren got a reaction from folks while she was trying to enjoy brunch with her parents at a Minneapolis restaurant. In the clips that are going viral, we see Tomi exiting the venue and then a woman throws what looks like a glass of water on her.
Apparently, after the woman threw water on Tomi, the conservative pundit walked back to the table to confront the person who did it. And ish went left.
Check it:
Whoever threw this drink at Tomi Lahren, thank you pic.twitter.com/RJE8xTDMZ3

— I Luh God (@aVeryRichBish) May 21, 2018
Whoever the guy is that cussed her out, I hope you're having an amazing day pic.twitter.com/wpr4egwtBQ

— I Luh God (@aVeryRichBish) May 21, 2018
So, where does Cardi B come into play?
Well, if you listen carefully, you can hear her track "I Like That" playing in the background.
Here's what she had to say about it: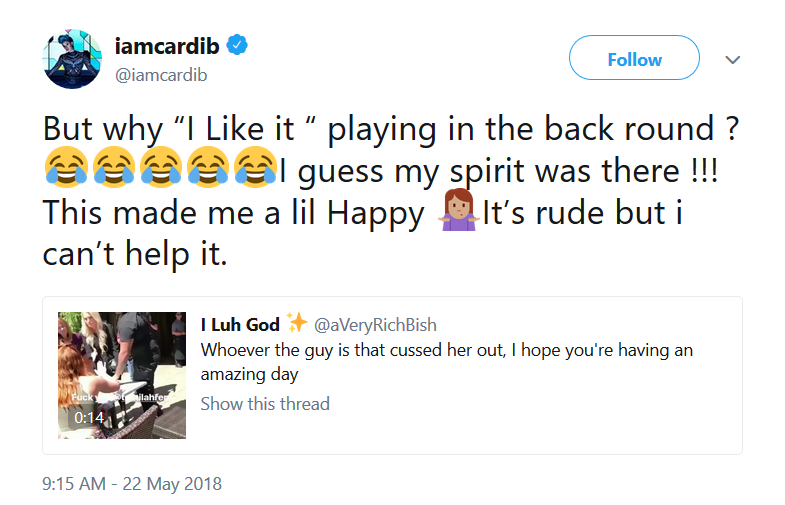 Oop!
Of course, Donald Trump hopped on Twitter to show Bigot Barbie support:

The "Fox & Friends" commentator also responded to the "incident" (read from the bottom up):
Welp.
Oh, and get this...
"Superbug" Trump loves to use Twitter as he trools America. And we're sure his block button game is strong. However, he won't be able to block anymore users thanks to a new federal law.
A federal judge in Manhattan has declared it unconstitutional for the president to block users on Twitter.
The NY Times reports:
In her ruling, Federal District Court Judge Naomi Reice Buchwald wrote of seven plaintiffs who sued Mr. Trump and several of his aides after being blocked by Mr. Trump's Twitter account that "the speech in which they seek to engage is protected by the First Amendment." Judge Buchwald added that Mr. Trump and Dan Scavino, the White House social media director, "exert governmental control over certain aspects of the @realDonaldTrump account."

Judge Buchwald wrote that "no government official -- including the President -- is above the law, and all government officials are presumed to follow the law as has been declared." "We hold that portions of the @realDonaldTrump account -- the 'interactive space' where Twitter users may directly engage with the content of the President's tweets -- are properly analyzed under the "'public forum' doctrines set forth by the Supreme Court, that such space is a designated public forum, and that the blocking of the plaintiffs based on their political speech constitutes viewpoint discrimination that violates the First Amendment," Buchwald wrote.
You will deal Donald. Now, can she just take away his right to tweet altogether? Wishful thinking, we know.
Photo: Getty
​ ​
​ ​ ​