Pusha T Airs Drake - And His Alleged Child He's Hiding - ALL The Way Out On 'Story Of Adidon' Diss Response
​
May 29 | by Natasha
​ ​ ​ ​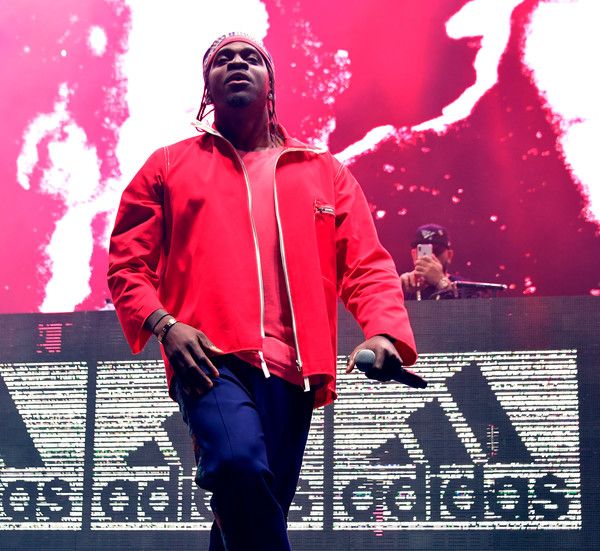 Pusha T said it's about to be a surgical summer, and um, that ish is officially here. He just dropped his response to Drake's response/diss track "Duppy Freestyle", and he's smoking all the skeletons out Drizzy's closet.
We saw it coming, but nobody expected it to get this personal. But since it has, we're pouring up our cup-o-tea to catch everything Pusha is spilling about OVO's head honcho.
First of all, Pusha T went and put found Drake in black face for the cover of the diss track. So, there's that.
Please stop referring to this picture as "artwork"...I'm not an internet baby, I don't edit images...this is a REAL picture...these are his truths, see for yourself https://t.co/gd6vRS3HM8 pic.twitter.com/2el58HEZ8F

— King Push (@PUSHA_T) May 30, 2018
Ha! We surely hope Drake and his lawyers aren't out here reporting people.
The G.O.O.D. Music rapper addressed Drake's ethnicity, or lack thereof that makes him have to work twice as hard to rock a real 'fro.
Confused always thought you weren't black enough, scared to grow it because you scared it won't nap enough."
The irony of Pusha rapping about Drake being confused about his identity, over a sample of "Blood On The Leaves", isn't lost on us.
Pusha went in about how Drake has to split his money with Baby & Weezy over at Cash Money, so maybe that's why he's been so "angry" lately in his bar.
"Even though you multi I see that your soul don't look alive/The M's count different when Baby divides the pie."
Pusha also said Drake might be mad (and mentioning wedding rings and marriages as an insult) because his own Papa was a Rolling Stone.
"Dennis Graham stay off the Gram b*tch I'm on one/You mention wedding ring like it's a bad thing

Your father walked away at 5 hell of a dad thing/Marriage is something Sandy never had Drake

How you a winner but she keep coming in last place?
Then, dude went for the juggular. He said since Drake namechecked his wife, he's namechecking his secret child.
Remember when we told you Drake had allegedly knocked up a porn star named Sophie? Well, yeah. Pusha says it's true. And he says it's boy, not a girl as previously claimed by Sophie's publicist. Pusha spilled tea that Drake supposedly abandoned his own alleged son and seemingly accuses him of stashing the little boy outside the country. Apparently, the child is being hidden because Sophie's "image" isn't one Drake wants to be locked in with.
"...Sophie better known as your baby mother/Cleaned her up for IG but the stench is on her.

A baby's invoved...

You are hiding a child/Let that boy come home/Deadbeat muthaf**cka playing border control

Adonis is your son and he deserves more than a Adidas press run

Love that baby, respect that girl,/Forget she's a porn star, let her be your world (Eww sound effect)"
Wow. (By the way, a stripper also made similar claims about having Drake's child a few months before Sophie did.)
There's more where that came from, but Pusha said he's gonna take it slow.
"Talkin bout you upset. Well I want to see what it's like when you get angry. You show me that." Savagery.
Photo: Getty
​ ​
​ ​ ​