REALITY STARS RAGE! Jackie Christie's Daughter Chantel BLASTS Sister Ta'kari Over Her 'Poor Decisions' + NeNe Leakes Savagely READS Kim Zolciak's Daughter Brielle
Jun 02 | by _YBF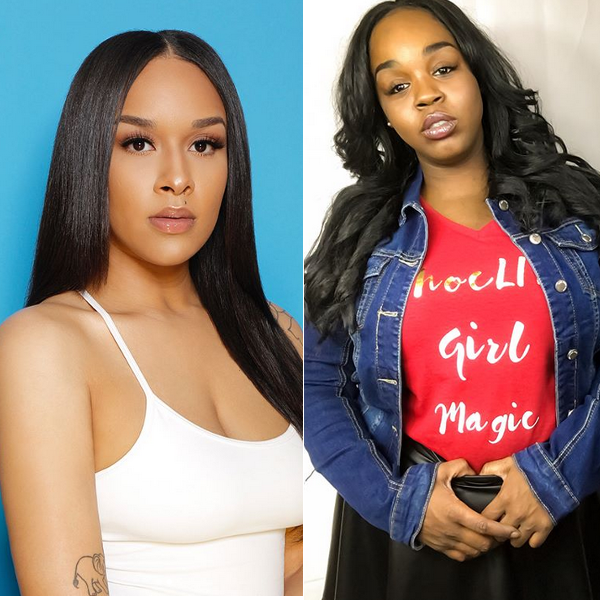 The reality stars are going in full throttle with their social media shade and draggings. Find out why Jackie Christie's daughters Chantel Christie and Ta'kari Christie Lee are feuding, plus read the savage read NeNe Leakes unleashed on her frenemy Kim Zolciak Biermann's daughter Brielle Biermann inside...
What started as a simple "Happy Birthday" message turned into a social media feud between sisters.
Jackie Christie's daughter Ta'kari Christie Lee took to Instagram to wish her younger sister Chantel Christie a Happy Birthday. They have the same mother, "Basketball Wives" star Jackie Christie, but have different fathers. Chantel is the daughter of Jackie's husband/former NBA player Doug Christie.
If you've been keeping up with this storyline, then you know Jackie and Takari have a very strained mother-daughter relationship. Ta'kari has spoken out on multiple occasions about how her mother treated her differently from her sister and brother growing up. On the show, we saw Chantel come to Takari's defense, but things are different nowadays.
Chantel seems to be fed up with Ta'kari and her lies, so she let her sister HAVE IT. On social media.
Under the Happy Birthday post Ta'kari posted for her sister on her IG, Chantel hopped in the comments section and blasted her sister for keeping up this "sad story" so that she can keep receiving sympathy from people.
Chantel said Ta'kari needs to start owning up to her own "poor decisions" and to stop blaming everyone else. Chantel, who recently welcomed a daughter, said she has always had her back, but if Takari thought she was going to hate their mother for the rest of her life, she was sadly mistaken.
Read her full message below: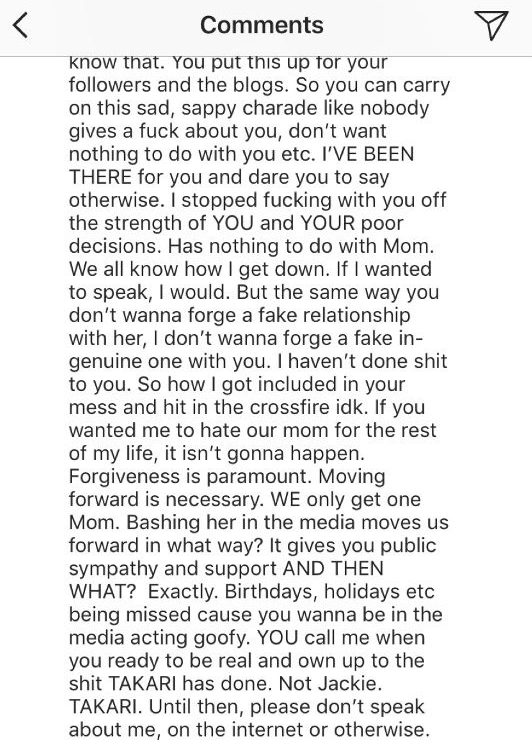 Damn.
This week, Ta'Kari, who is a mom-of-four, sat down for an interview with Hollywood Unlocked where she goes into detail about her childhood, her troubled relationship with her mother Jackie Christie, behind-the-scenes details of how her mom handled her son being burned at daycare, depression, her speech impediment, and more. Listen to the interview below:
Meanwhile...
Evelyn Lozada is throwing shade at the "jealous" haters co-stars who continue to spread lies about her. Hmph.
More reality stars raging on social media....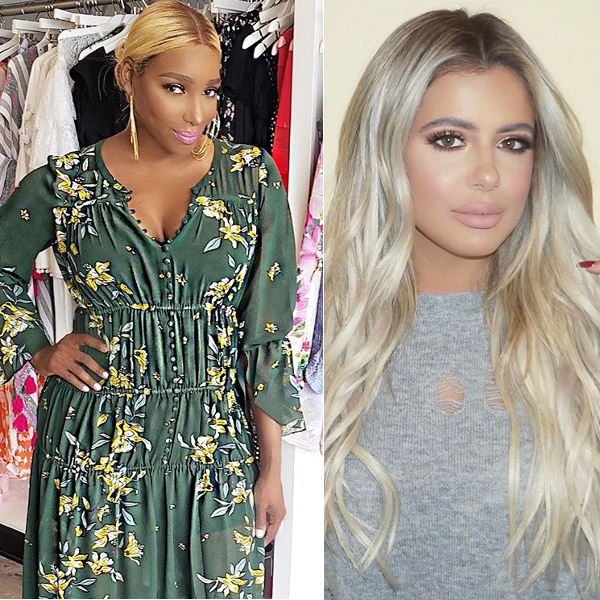 Tempers boiled over on Instagram between "Real Housewives of Atlanta" star NeNe Leakes and her frenemy Kim Zolciak Biermann's daughter Brielle Biermann...again! But, did NeNe take it too far this time?
The drama started when Brielle left a comment on Instagram about people being so cruel and mean on social media.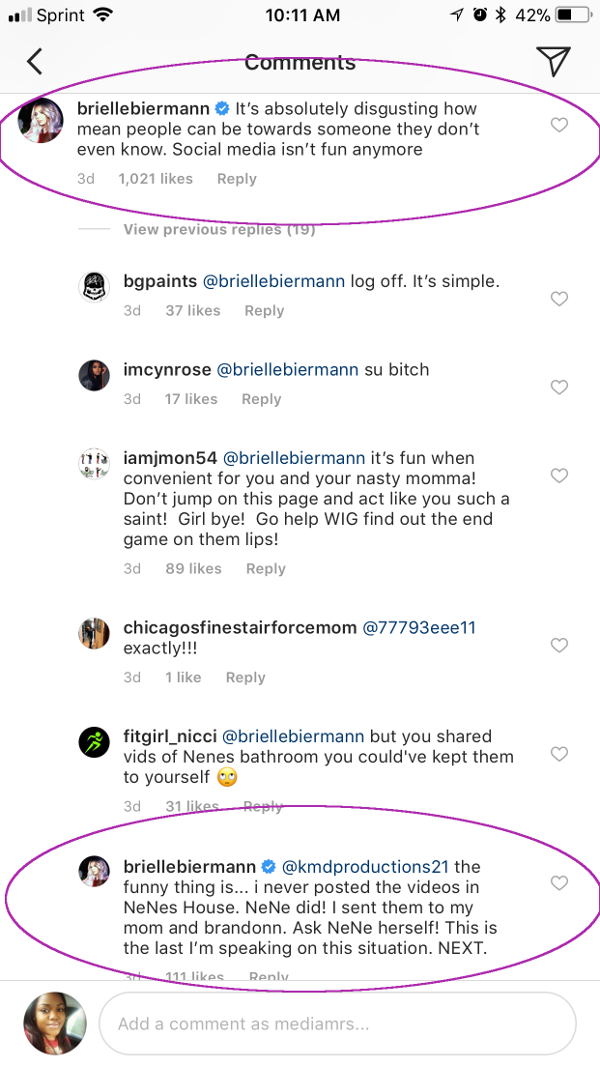 "It's absolutely disgusting how mean people can be towards someone they don't even know," Brielle wrote under a picture of EJ Johnson on Hollywood Unlocked's IG.
A commenter popped back at Brielle about the mean things she posts online, including that video of a bug in NeNe's home. That whole situation is now dubbed ROACHGATE. Brielle responded that she never posted the videos and said that NeNe was actually the one who leaked the videos online.
"I never posted the videos in NeNe's house. NeNe did. I sent them to my mom and Brandon. Ask NeNe herself," Brielle wrote.
The self-proclaimed "RHOA" HBIC caught wind of Brielle's comments and responded with a SAVAGE read! And she went there. Even said she would expose who her "real" dad is and air out all of her family's dirty laundry.
NeNe clapped back writing, "You just like your foolish a** momma! Why the f*ck would i post videos? Your crazy a** momma sent the video to everybody on the cast which likely included some producers! So why would i want to put stuff out there like that about my home! Please think before you speak! To go a step further, your whole family better stop lying on me every chance you get before i seat in an interview and tell EVERYTHING from who your daddy is to how difficult your whole family is behind the scenes."
SHEESH! Zero chill.
Kim Zolciak Biermann hasn't responded to this savagetry yet. And it may be best she doesn't.
Kim is busy trying on new wigs for a new look:
Y'all feeling it?
Photos: Chantel's IG/Ta'Kari's IG/NeNe's IG/Brielle's IG