Exes Nicki Minaj & Meek Mill Are Taking Over 'Made In America' Festival + Meek Is Still Coming After Judge Brinkley
Jun 04 | by _YBF
When exes reunite! Well, kind of. Nicki Minaj and Meek Mill will face each other as they're both tapped to hit the stage for Jay Z's Made In America Festival.
Meanwhile, the MMG rapper is STILL coming after Judge Genece Brinkley to get her off his court case. Everything inside...
The last thing you want to do is run into your ex when you ended on bad terms. However, when you're an artist, the show must go on, regardless of who's in attendance...or who's on the performance line up.
The Made In America Festival is a two-day music festival in Philadelphia, curated by Jay Z, which has become a staple of the Labor Day Weekend. It's returning for its seventh year with a HOT line up.
Nicki Minaj is set to headline the festival alongside Post Malone and several artists will join them for the festival. Notably, Nicki's ex-boyfriend and Philly native Meek Mill. Oop!
We're not sure if Nicki and Meek have crossed paths since they called it quits in early 2017, but they'll likely at least see each other during the festival. Maybe Roc Nation (they're producing the show) will have their performances scheduled where they will have no chance of seeing one another.
After the MMG rapper was released from prison (for violating probation), he opened up about his feelings toward Nicki and how he felt about her commenting on his legal situation.
"I wasn't feeling that," he said. "She shouldn't have said nothing. We'll leave it at that. I don't feel no way. I wasn't feeling that. When it come to freedom — I don't care who it is, this could be Safaree, or anybody — if I know something and that man's freedom is on the line and I could say something to help the situation…It's right or wrong. I'ma say it. If I don't say it, I just won't say nothing."
We doubt anything will pop off since their idol Jay Z is behind the festival. Also, it's a charity concert. Since the inaugural Made In America Festival, the event has generated $31.9 million in economic impact for the city. This year, the festival will continue to benefit the ACLU of Pennsylvania as well as United Way of Greater Philadelphia and Southern New Jersey.
Made In America Festival will kick off Saturday, September 1st and wrap up on Sunday, September 2nd during the Labor Day Weekend. Other acts include: Diplo, Zedd, Miguel, Janelle Monáe, Alessia Cara, Fat Joe, 6lack, Belly, Ty Dolla $ign, Rich The Kid, and tons more.
If you aren't attending the festival, you can check out all of the performances as they will be streamed on TIDAL.
Speaking of Meek and his legal issues...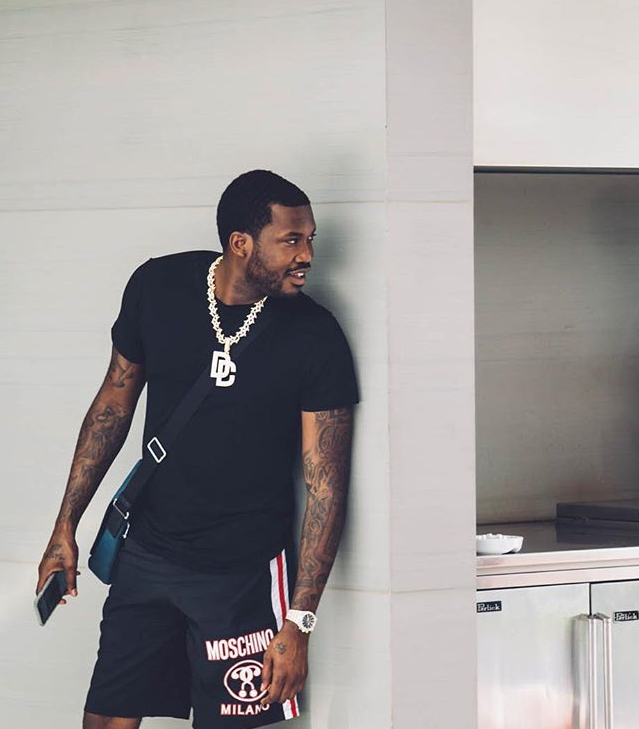 The "Dreams & Nightmares" rapper's legal team has been doing some digging. Again.
Based on what they found, Meek's legal team claims Judge Brinkley isn't mentally stable enough to preside over the case. Apparently, Judge Brinkley filed some lawsuits where she made claims of "intense trauma," "severe head trauma" and "neurological" injuries.
TMZ reports:
Meek's lawyers presented a new argument to the Pennsylvania Supreme Court, claiming Judge Genece Brinkley's 2014 lawsuit against a hotel for monetary damages is more proof she's unfit to reside over the rapper's criminal case.

According to the docs ... Brinkley claims she was "traumatized" when she allegedly found a housekeeper's nametag in her bed at a hotel during a judicial conference. Though it subsided, Brinkley claimed the trauma returned a year later at the time of the next conference ... causing her to file suit. This comes on the heels of another civil lawsuit filed by Brinkley -- also presented by Meek's legal team to the court -- in which she allegedly claimed she'd suffered a head injury from a 2016 car accident that left her with "severe head trauma" and "neurological" injuries.

As we reported ... a state court judge denied Meek's bid to get Brinkley removed from his pending case, despite the new info about her head injury.
With this new information, it'll be up to the Supreme Court to consider a new judge for the case. Do you think it'll work this time?
By the way, that track Nicki teased her fans about on Instagram recently with YG, Big Sean and 2 Chainz dropped. Take a listen to "Big Bank" below:
We feelin' it?
Photos: Getty/Meek's IG