Alice Marie Johnson Meets With Kim K (And Gets Snapchat Lessons) For 1st Time Since Prison Release + Detroit Mayor Kwame Kilpatrick Wants Clemency Too
Jun 14 | by _YBF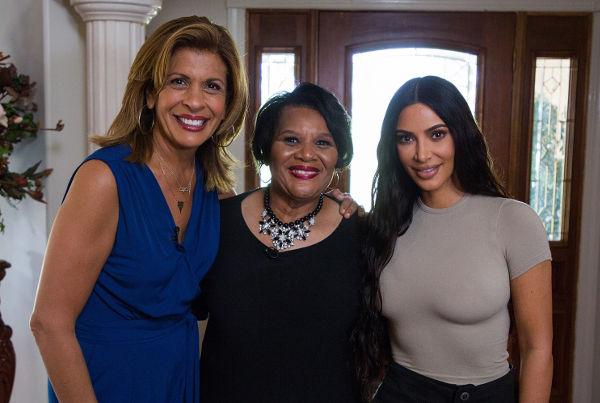 Alice Marie Johnson met Kim Kardashian West yesterday, a week after Donald Trump commuted her prison sentence. Find out what the ladies chatted about during their first meeting, plus their "TODAY" show interview and Kwame Kilpatrick's clemency prayer inside....
After spending 21-years behind bars on a drug charge, 63-year-old Alice Marie Johnson is a free woman. The great-grandmother was released from prison two weeks after Kim K made a White House visit to talk to Donald Trump, and his son-in-law/advisor Jared Kushner about Alice's pardon.
Alice was handed a life sentence for a first-time non-violent drug offense where she helped the inner workings of a drug trafficking ring. A week after the White House visit, Alice was a free woman.
Yesterday, Kim K flew to Memphis, TN to meet Alice for the very first time after several over-the-phone prison conversations. It was an emotional meeting for the ladies as Alice was uber grateful for Kim helping her get from behind those prison walls.
The "TODAY" show's Hoda Kotb was also in the mix to chat with the ladies about how this all came about. The "Keeping Up With the Kardashians" star explained how she got involved with Alice's case and why she felt compelled to do something.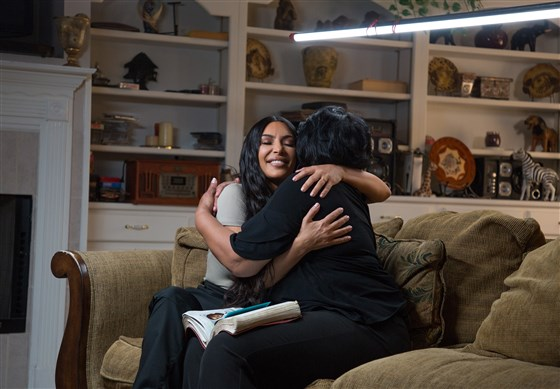 During the interview, Alice revealed she had no idea who Kim K was when she first reached out to her.
"As soon as I found out who she was, I started getting every magazine I could find," Alice said. "I started reading everything that I could about her. And everyone was amazed. And I was amazed, too."
She said Kim was the one who called her and told her that she was being released from prison.
"When she said that, I went into full-fledged Pentecostal holy dance," Alice recalled while sitting in her sister's living room in Memphis. "I started screaming and jumping."
Alice, who keeps two throwback pictures of Kanye West and Kim in her Bible, said simply saying "Thank You" to Kim and Trump isn't enough and that she'll be thanking them with her post-prison actions and decisions.
"Thank you' is not big enough. I think I have to walk it out. I have to walk my 'thank you' out. I have to live it out for her, for my family, for the supporters," she said.
The great-grandmother said she plans on continuing in the fight to help the women she met while she was behind bars.
"I plan on continuing to magnify this issue. And I can't stop. I can't stop. I've lived it," she said. "I've walked with them. I have cried with them. My life is completely intertwined forever with those who were left behind. So it can't end here."
It's reported Alice already has a job lined up to kick start her life after prison. Sweet!
Peep the interview below:
In between takes, Kim introduced Alice to Snapchat filters...of course:
While many understandably believe this was simply a "Look, I do like black people" move by Trump and another PR-op for Kim, it seems Alice is just happy to be free. And we can't even blame her.
Meanwhile...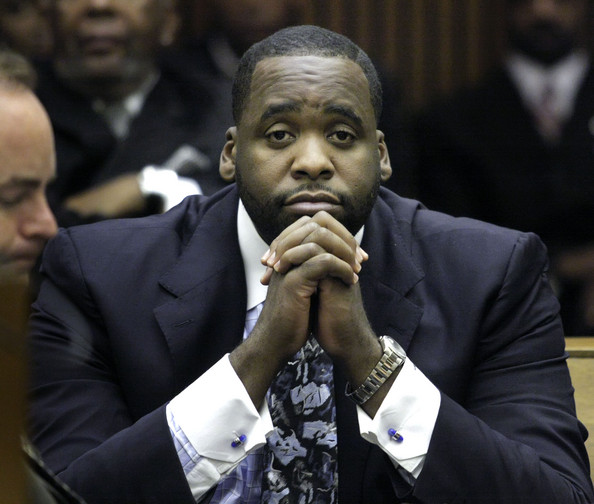 Trump is in a pardoning/clemency frenzy. He recently pardoned conservative author and filmmaker Dinesh D'Souza. He's also pondering whether he'll grant clemency to former Illinois Gov. Rod Blagojevich and TV personality Martha Stewart. Y'all know he loves anything that gives him anything close to unilateral power.

Now, former Detroit mayor Kwame Kilpatrick is trying his hand at getting his 28-year sentence reduced - one of the longest federal prison sentences for corruption in U.S. history. Kwame was sent to jail in 2013 after he was convicted on several charges, including racketeering conspiracy, extortion and filing false tax returns. He was found guilty on 24 of 30 counts after pleading guilty to perjury in 2008. He isn't scheduled to be released from prison until Aug. 1, 2037.
In a post written on his website, Kwame revealed he's praying for a 2nd chance at life, saying he's "ready mentally, emotionally and spiritually to go home."
"I pray that I will receive the opportunity for pardon/clemency from the President of the United States as well," Kwame wrote.

"Our country has always been the land of 2nd Chances! I am hoping, confidently expecting, that I will have the opportunity to boldly move into the next season of my life; outside of these prison walls. Also, that I will have the opportunity to help someone else get off the floor of despair, failure, brokenness and calamity…then walk courageously, confidently, and powerfully into their own new season, their own destiny," he continued.

"By God's grace, I have received a pardon from Him, through Christ Jesus. I pray that I will receive the opportunity for Pardon/Clemency from the President of the United States as well," he concluded.
Hmm...do you think he has a chance?
Last week, Trump told reporters that he would consider pardoning up to 3,000 people, asking the NFL players who have been protesting to send him names of people they feel have been sentenced unfairly.
Also, Kim K reportedly slipped Jared Kushner a "pardon list" to present to his father-in-law Trump, which included names of several Hip Hop artists, according to Vanity Fair.
It's unclear who's actually on the list, but folks have been speculating that rappers like Meek Mill, Bobby Shumurda, C-Murder, and Kodak Black could possibly be on there. We're sure Kanye had something to do with this.
Guess we will see how this all unfolds.
Photos: Nathan Congleton/TODAY/Getty