SUMMER '18 SHUTDOWN: Beyonce & Jay Z Drop Surprise Joint Album 'Everything Is Love'! Hov Addresses Kanye West, Bey Raps, The Carters Take Over The Louvre
​
Jun 17 | by _YBF
​ ​ ​ ​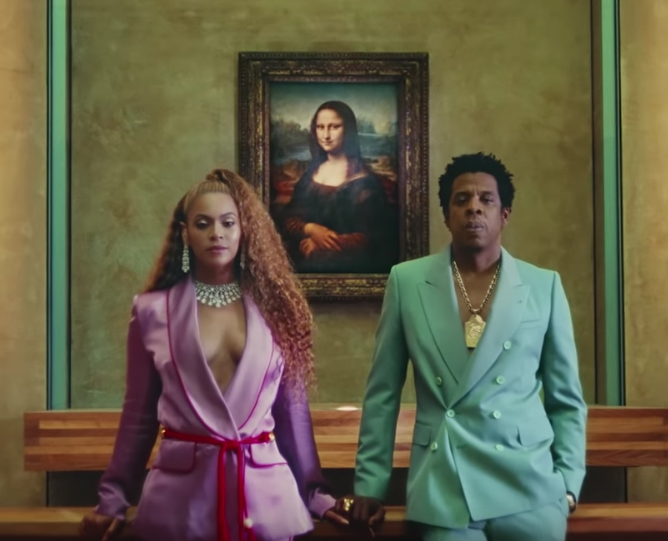 Beyonce & Jay Z love a good surprise and they sure pulled a fast one on us this weekend. The Carters just dropped their joint album titled Everything Is Love and we're trying to gather ourselves in the process. See it all go down, plus their new "APESH*T" video and more inside...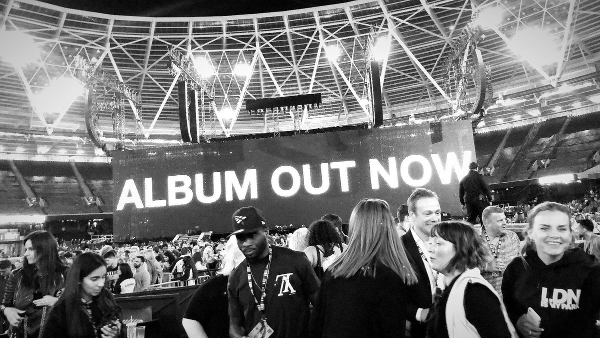 Wigs and edges...SNATCHED!
Beyonce and Jay Z have officially shut down summer 2018 with a surprise joint album. Sorry, Nas.
In true Carter fashion, the couple made the world stop yet again with their new joint album, Everything Is Love. Since the Carters launched their On The Run II Tour, the phrase "Everything Is Love" has been incorporated in a lot of the background visuals. Now, we know the meaning.
The Carters announced their first ever joint album, which has been on the rumor mill for some quite some time, after wrapping up their 2nd London show yesterday. Watch it go down below:
Here's Beyoncé & JAY-Z announcing their new joint album #EverythingIsLove live on stage. #OTRII #London #EverythingIsLove pic.twitter.com/lSA2RxSu8Y

— BEYONCÉ LEGION (@BeyLegion) June 16, 2018
The crowd went into a frenzy when THE CARTERS announced their new album. Wow. #OTRII #EverythingIsLove pic.twitter.com/lFsDvj94ce

— BEYONCÉ LEGION (@BeyLegion) June 16, 2018
Before we get into the album, peep these videos of Blue Ivy rocking out in the audience in London with a girl squad. At one point, Bey gives Blue a shoutout and Blue is totally embarrassed. It's super cute. Check it:
Even Blue Ivy gets embarrassed by her mom! #OTRII pic.twitter.com/kBMlyQc13U

— Def Pen (@defpen) June 16, 2018
(June 15, 2018) pic.twitter.com/D9wiWO4G3c

— Blue Ivy Source (@blueivysource) June 16, 2018
Beyonce's mother Tina Lawson was also in the audience to see her daughter and son-in-law kill it on stage:
Now, about this album...
Mr. & Mrs. Carter just dropped nine new songs on us where they touch on several hot topics. One of them being Hov's response to Kanye West's comments about them not attending his wedding to Kim Kardashian West. In a past interview with Charlamagne tha God, Ye said he was "hurt" Jay and Bey didn't come to his wedding.
Here's what Hov raps on "Friends" where he seemingly responds below:
"I ain't going to nobody's nothing when me and my wife beefing/I don't care if the house on fire, I'm dying, nigga, I ain't leaving/Ty Ty take care of my kids, after he done grieving/If ya'll don't understand that, we ain't meant to be friends."
So it seems, Bey and Jay didn't make Kanye's wedding because he was dealing with his own ish. You'll recall, Jay Z and Solange's "elevator fight" went down right before Kanye's wedding. The fight video leaked in early May 2014. Kanye and Kim tied the knot towards the end of May 2014.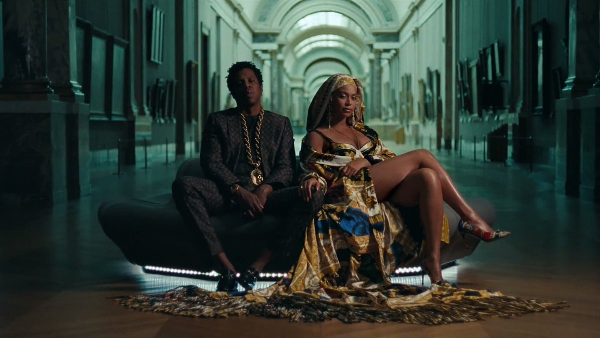 On "BOSS," Hov seemingly fires shots at Drake (Apple Music) and Kanye (adidas) about skipping out on business deals with him and TIDAL. He also seemingly references the Drake vs. Pusha T beef when he references Drake invoicing Kanye and G.O.O.D. Music. He raps:
"No cap, false, n*gga, you not a boss, you got a boss/N*ggas getting jerked, that shit hurts, I take it personally/N*ggas rather work for the man than to work with me/Just so they can pretend they on my level, that sh*t is irkin' to me/Pride always goeth before the fall, almost certainly/ It's disturbing what I gross (what I gross!)/Survey says you not even close (not even close)/Everybody's bosses, to the time that pay for the office/To them invoices, separate the men from the boys, over here/We measure success by how many people successful next to you/Here we say you broke if everybody gets broke except for you/ Boss!"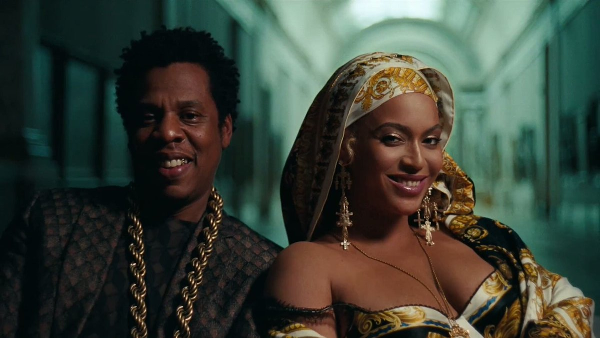 Jay Z popped off on the NFL for their mistreatment of former San Francisco 49ers quarterback Colin Kaepernick on their track "APESH*T". He revealed he turned down a Super Bowl performance and that he'd rather sell out stadiums with his wife.
"I said no to the Superbowl/You need me, I don't need you/Every night we in the endzone/Tell the NFL we in stadiums too."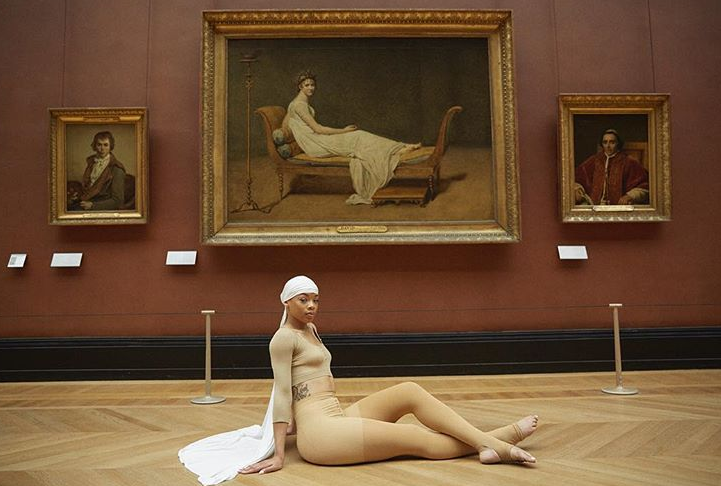 The Hip Hop mogul also popped off on the 4:44 Grammy snub:
"Tell the Grammy's f*ck that 0 for 8 shit / Have you ever seen the crowd goin' apeshit?"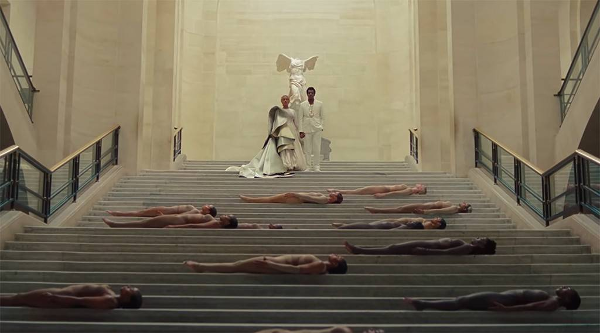 Jay also takes aim at music streaming service Spotify on their track "Nice":
"Patiently waiting for my demise/Cause my success can't be quantified/If I gave two f*cks - two f*cks about streaming numbers/Would have put Lemonade up on Spotify/F*ck you, f*ck you, you're cool, f*ck you, I'm out (Ah!)"
They aren't playing any games. Zero f*cks given.
Here's the cover of Everything Is Love: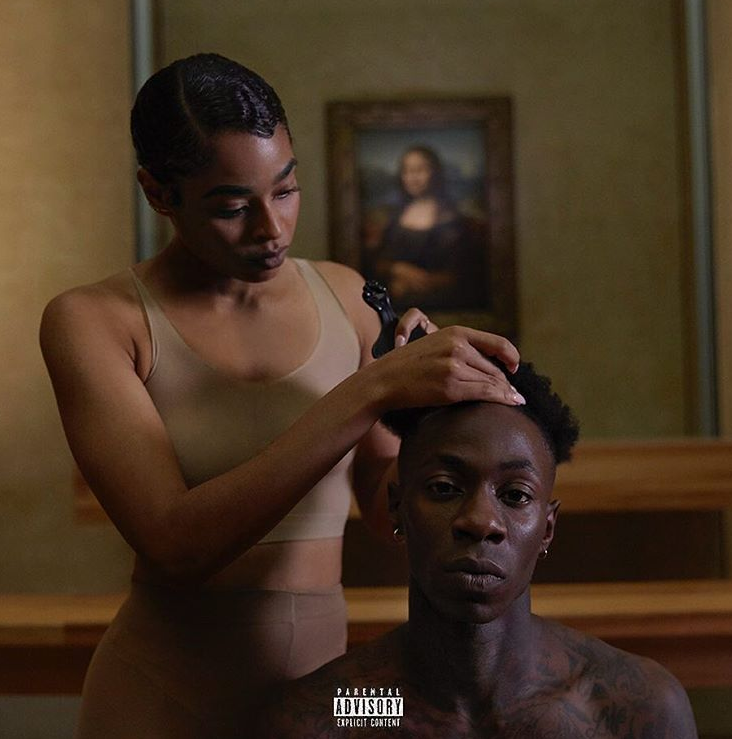 The Everything Is Love cover art features a still from the "APESH*T" music video that was released with the album. It features two of Beyonce's dancers - Jasmine Harper and Nicholas "Slick" Stewart - inside the Louvre. Yes, THE Louvre. The most famous museum on Earth and one of the Carter's favorite places to visit in Paris, France.
The Carters shut the Louvre to film the epic video, directed by Ricky Saiz. "APESH*T" features Migos rappers Quavo and Offset (where was Takeoff?). Bey and her dancers work up a sweat with their dances moves surrounded by artwork worth millions and millions of dollars. Tell us, are your faves doing epic ish like this for a music video? Hmph.
Oh, and Mrs. Carter drop a few fire bars of her own. Get it.
Get into the visuals below:
If you're a TIDAL subscriber, you can stream Everything Is Love below:
Beyonce's LEMONADE was her story, Jay Z's 4:44 was his story, and now Everything Is Love is THEIR story. Loves it.
The On The Run II Tour will be heading to Amsterdam on June 19th. Expect some new material in their upcoming shows.
Photos: Screenshots/Instagram
​ ​
​ ​ ​