Angela 'Snack' Simmons Explains Break-Up With Ex-Fiance Sutton Tennyson, 'Situationship' With Romeo Miller & Single Mother Scrunity
​
Jun 26 | by _YBF
​ ​ ​ ​
Angela Simmons is living life as a single mother after calling it quits with her ex-fiance Sutton Tennyson. In a new interview, she explains why they relly broke up, her current "situationship" with Romeo Miller, dealing with trolls who criticize her for having a baby out of wedlock and more. Get it all inside...
Angela Simmons has been serving up hot bikini shots on social media while on vacay in Haiti. The "Growing Up Hip Hop" star isn't just there for rest and relaxation. She takes a trip there every year to spend time with the children of Mission of Grace.
Before (or after) she jetted to the island, Angela, her sister Vanessa Simmons and her brother JoJo Simmons stopped by Power 105's "The Breakfast Club" to chat about "Growing Up Hip Hop." Ange dished on what's currently going on in her life as a single mother.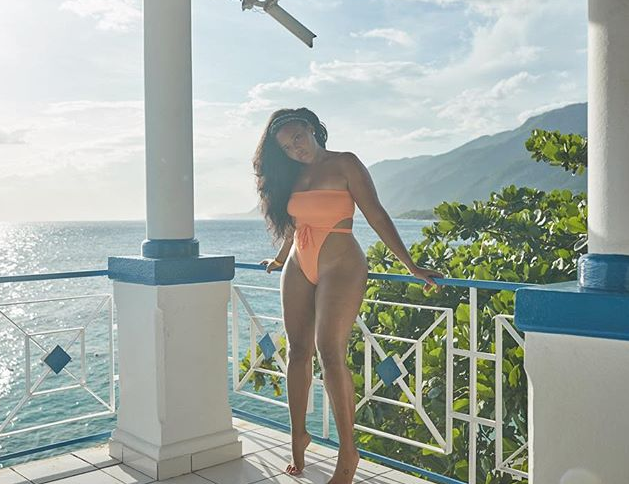 The fitness fanatic says she has been dealing with folks scrutinizing her for having a baby out of wedlock after she was so dead set on waiting to have sex until she was married. We all saw that conversation (well, a few of them) she had about why she was waiting. But it didn't seem like she practiced what she preached. Things change and life happens, so Ange says save your judgment.
"Obviously my goal was to wait," she explained. "Remember we had that conversation [on 'Run's House]. They always haunt me about that...that we had that 'conversation.' But, for me, it is what it is. I'm not perfect. I never said I was perfect. I was just discussing where I was at in my life at that point. And things change all the time. It changed and that's just what it was."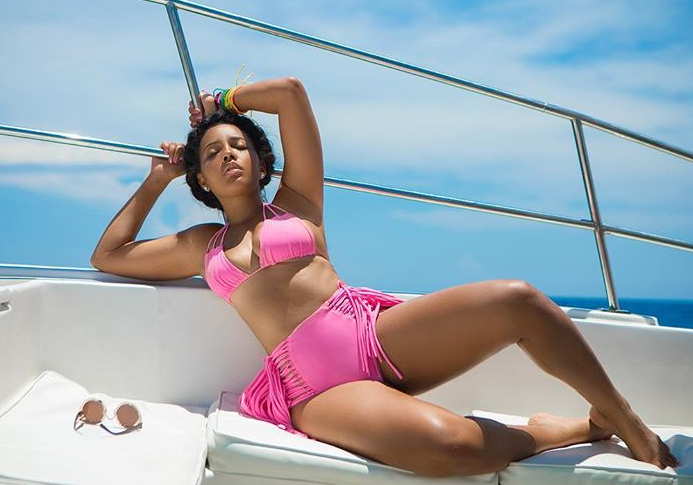 We all know things didn't go as planned. In December 2017, Angela confirmed she called it quits with her ex-fiance Sutton Tennyson and she explained why.
"Things don't always work," she said. "You can plan, plan, plan, but God sometimes have another plan or your actions are going to have your plan change drastically. ... Personally, things change. People come in and out your life. People change and you just have to be wiling to accept that. And I've just gotten to the point where 'you are who you are' and Im just going to accept you for who you are. You can't change people."
She said she was disappointed in herself at first, but after spending time with a life coach and refocusing her energy on her son Sutton Jr., she no longer feels ashamed about her failed relationship.
So why did Angela and Sutton, who is rumored to have a not so clean reputation in the streets, break up?
"It's many, many, many reasons," she responded. "I don't really want to get into that. It just was enough to not be in the relationship anymore. It just didn't make sense for me and I want my son to grow up in a happy, positive environment. You don't want them [kids] around anything that's going to make them grow up the way they shouldn't. So, I'm just really sensitive to my child and the energy that's around."
Well, good for her.
It doesn't seem that she's currently dating, however, the chemistry she has with her homie/"GUHH" co-star Romeo Miller has fans wanting them to jump the broom...like yesterday! The chemistry seems to be there, but for Angela, that's not enough.
"I don't know. I don't know why [people want us to be together]. I've known him for quite some time. He's cool. I have nothing bad to say about Romeo. He's a super cool person, smart, love his family, but like...it's just not there! I'm not fronting on him."
Damn.
"There's probably natural chemistry, I won't deny that. But, marriage is a big thing to do," Angela said.
Angela's brother JoJo said there's a whole lot of chemistry between her and Romeo, but he doesn't "want her with nobody." The radio hosts asked JoJo if he had to choose between Romeo or rapper Yo Gotti for his sister to date he would pick Romeo because he's "safer." However, he said he's cool with Gotti. He even said Angela's ex-Bow Wow is cool too. Bruh...
Since Gotti decided to shoot his shot at Angela on his track "Down In The DM," nothing has ever came of it. She said she has seen him around, but they've never gone out on a date.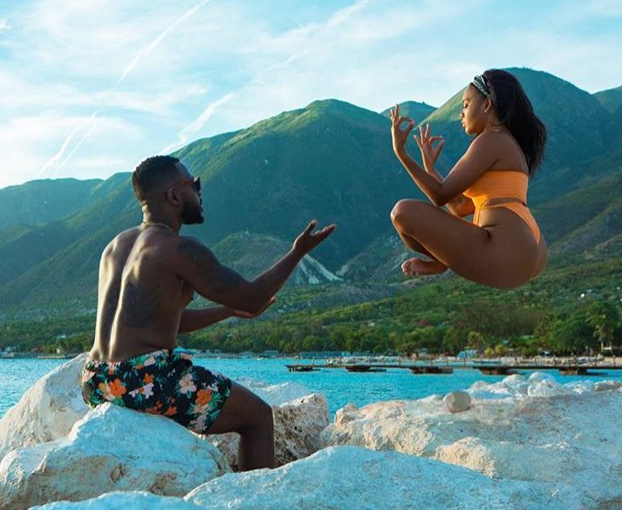 The Simmons Clan also touched on their uncle Russell Simmons and the sexual assault allegations that have been brought up against him.
"I think it's just stepping back," Angela responded. "The situation is going to be what it's going to be. We know our uncle, we love our uncle, we support our uncle and we're not getting in between it. I love my uncle that's it."
JoJo said it's just a lot going on and it's hard to tell who's telling the truth.
Oh, and get this.
JoJo reacted to Angela's "thirst trap" flicks she likes to post on social media. Apparently, he mistaken Angela for Nicki Minaj once and left him in an awkward position. Yikes. Check it:
.@RealJojoSimmons talks about how awkward it is when @AngelaSimmons posts thirst trap pics on IG.

Full interview: https://t.co/NO2gohPwgF pic.twitter.com/IstoyPtBdN

— The Breakfast Club (@breakfastclubam) June 25, 2018
Peep the full interview below:
Meanwhile...Angela and her homies are living it up in Haiti:
Fun times.
Photos: Angela's IG
​ ​
​ ​ ​