Folks Aren't Buying Drake's 'I Was Protecting My Kid From the World' Line On 'Scorpion', Bella Hadid Denies She's The Supermodel Talked About
​
Jun 30 | by Natasha
​ ​ ​ ​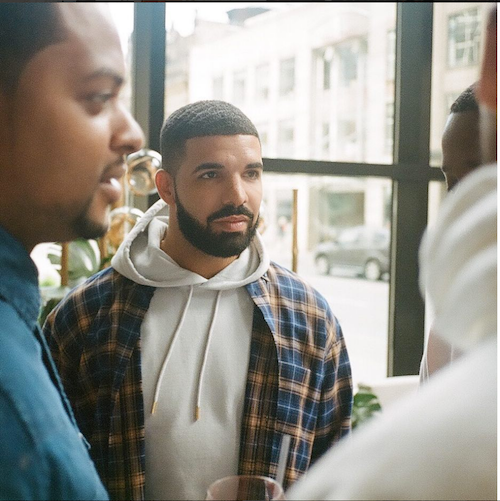 Drake's new 25-track A-side, B-side album dropped just one day ago and folks are definitely still in their bag about it. Find out why people are't buying his excuse for hiding his son, and if that was Bella Hadid he was rapping about smashing & ghosting...
After Pusha Tea lyrically murdered Drake rapping on "Story of Adidon" - with bass in his voice - "You are hiding a child!", Drake's response that he allegedly made before the diss track has folks scratching their heads.
On Champagne Papi's new Scorpion album, he confirmed multiple times he has a kid, but his lyrics on "Emotionless" have us like Chile Please. He seems to be more shamed about having a seed with a porn star (Sophie Brusseaux, above) than he is about smashing a porn star raw.
If Rihanna was his BM, Drake would've had the ultrasound pic as the album cover

— Rian Huntley (@dat916dude) June 29, 2018
Word.
"I wasn't hidin' my kid from the world/I was hidin' the world from my kid."
He explained in the next bars:
"From empty souls who just wake up and looked to debate/Until you starin' at your seed, you can never relate," he continues. "Breakin' news in my life, I don't run to the blogs/The only ones I wanna tell are the ones I can call."
You hiding a child from the whole world he was born into? For how long? Till he's 18? 40? Also, it's possible to acknowledge you have a child and never expose them to the masses. Bey & Jay did it with twins for a whole year, and we have rarely seen them since. If they can do it...
On "8 Out of 10," Drake spit "Kiss my son on the forehead." Then on "March 14th," he starts re-defining what single fatherhood means. Apparently, it now means seeing your kid twice and possibly sending some money.
"Yesterday morning was crazy/I had to come to terms with the fact that it's not a maybe," he raps.
Then he confirmed it all with an MJ reference saying, "She not my lover like Billie Jean but the kid is mine."
We guess he finally found time to get that DNA test.
It's breaking my spirit
Single father
I hate when I hear it
I used to challenge my parents on every album
Now I'm embarrassed to tell them I ended up as a co-parent
Always promised the family unit
I wanted it to be different because I've been through it
Bruh.
Most people forgot about the Pusha diss track and now love Drake again. That's how it works. The hype is real and folks have been furiously writing down Instagram captions from his lyrics and lusting after his bearded zaddy-ness.
I can't seem to understand why the world feels like Drake was obligated to tell anyone he had a kid. who tf are y'all to him? lmao he's an artist! that's all. not a reality TV star. he doesnt own anyone anything. y'all swear these famous ppl signed up to live stream their lives

— (@thehomielina) June 30, 2018
Everybody ain't buying it though. Twitter's been on fire for like, 36 hours, with questions that need answers and shade.
I love Drake, but the baby was born in October and the paternity test was in March? Those are definitely deadbeat shenanigans.

— Kimberly Nicole Foster (@KimberlyNFoster) June 30, 2018
All these years I thought my mom didn't take me out when I was a baby because I was ugly, she was just trying to hide me from my haters. Thanks Drake

— Michael Blackson (@MichaelBlackson) June 29, 2018
I don't buy drake hiding his baby because of the internet, etc. it's because his BM is a porn star

— Geneviève (@MsGenevieve_) June 29, 2018
Drake wasn't protecting his son from the world. He was protecting hisself cus he didn't want the world to know he got a thottie pregnant lmao.

If it was somebody he really wanted to have a baby with nigga would've posted the ultrasound nshit lmao

— Mike from Michigan (@Well_Damn_Jesse) June 29, 2018
Drake is really disgusted by who he had a kid with. Beige papi said, "Just trying to make sure I see him sometimes" about his kid. Yoooo. He a fr deadbeat. 2018 is wild.

— Bené (@beneviera) June 30, 2018
Drake: i didn't hide my Child from the world, i hid the world from my child.

Is your Child a Dragon ? pic.twitter.com/kpxSZpdd8m

— Trouble Maker (G.O) (@RovielOfficial) June 30, 2018
Drake do be saying some basic shit, and y'all stans be just eating it up

— LUPUΣ REX (@drelatrell) June 30, 2018
Drake has the most passive aggressive misogyny I've ever seen lmao

— G (@LILUZIHURT) June 30, 2018
drake is def invincible after all this stuff. album dropped and it's as if the pusha t dissed never happened

crazy.

— ray polanco jr (@raypolancojr) June 30, 2018
Drake a good artists but he raps and sings about the same things he did in his past projects except for the shit about his child. Cole has a whole different inspiration for every one of his albums. Cole way better.

— ً (@bucktoothshawty) June 30, 2018
Anyway. There's like four good songs on this album. Drake needs an editor. He's like a writer who can't let go of any of their words so an editor has to do it to make the piece reach its full potential.

— Bené (@beneviera) June 30, 2018
Bella Hadid is also chiming in. Drake was rumored to have been smashing the model, who is his frenemy The Weeknd's ex.
He referenced a supermodel sister and her father multiple times, so it's only right folks jumped to the conclusion the rumor were true:
"You and your sister/Too hot to handle." Bella's sister, Gigi, is also a model. (From "Finesse")

"I want my baby to have your eyes/I'm going against my own advice. Should I do New York? I can't decide/Fashion Week is more your thing than mine." Now, this could be Bella, or Rihanna, or someone else completely. (From "Finesse")

"My house is full of supermodels just like Mohamed Hadid."
Bella claims it aint her though:
Not me!!! that's disrespectful. WHY CANT PPL BE FRIENDS W/o all the insinuation

— Bella Hadid (@bellahadid) June 29, 2018
She also said she wasn't getting back with The Weeknd. And then this happened.
And then there's this: Drake's Scorpion has broken Spotify records for biggest opening day with 132 million album streams globally and 80.5 million in the U.S.
Back on 6 God status.
Photos: Instagram
​ ​
​ ​ ​