August Alsina Opens Up To Jada Pinkett Smith About Overcoming Percocet Addiction + Lloyd Goes Nude (Again)
​
Jul 11 | by _YBF
​ ​ ​ ​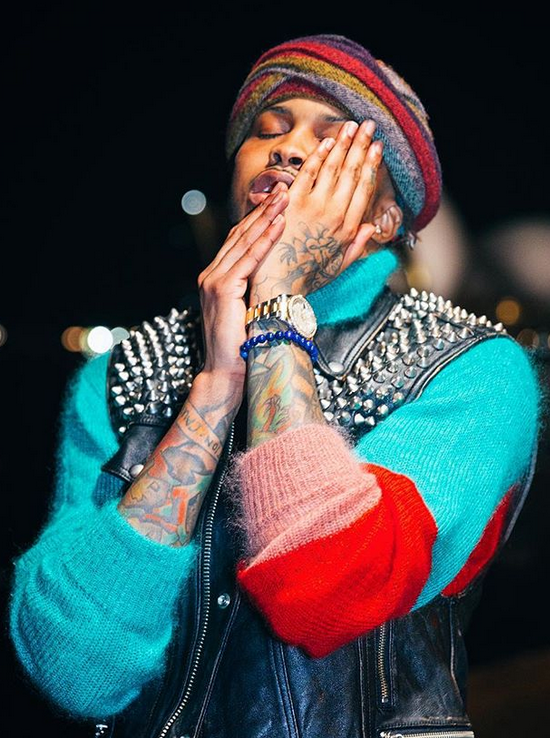 August Alsina has been keeping a low profile and now we know why. The singer opens up overcoming his drug addiction and now living a sober life. Get his emotional story, plus check out Lloyd's new nude album cover art inside....
We haven't heard much from singer August Alsina. No new music. No public outings. He has been radio silent outside of posting pictures on his social media.
Now we know he was battling a drug addiction that had taken control of his life.
The "I Luv This Sh*t" singer was a guest on Jada Pinkett Smith's Red Table Talk with her mother Adrienne Banfield Norris and Will Smith's youngest sister Ashley Marie to discuss drug addiction.
In 2015, August met Jada at the New Look Wireless Festival in London. The moment he met her he reached out telling her he needed help. August opened up to Jada and her mother about his addiction to the painkiller, Percocet.
In 2014, August passed out on stage during a concert at NYC's Irving Plaza. Following the fall, he slipped into a coma that lasted three days.
"I was pretty much doing way too many shows, not taking care of myself," August shared about his life as is spiraled out of control. "I was drinking so much liquor. Smoking so much weed. Just one night at a show in New York, I literally passed out in the middle of the show and fell off the stage."
"I flatlined like twice," he added.
To cope with the pain, doctors prescribed him Percocet pills and that's when his addiction started.
"I literally had an endless supply of Percs," he shared. "If you asked my brother, anybody … I'm like, raining Percs. Off my body, off my house. I was literally raining pills like Skittles. I was like damn, I'm a junkie."
The "No Love" singer reached out to Jada and Will for help and that eventually brought him to the point he realized he needed to chill out with the pills. He told Jada he was taking up to six pills a day and felt that it was OK since the people around him were doing up to 20 pills a day.
"I was on tour or something and you [Jada] called me and you literally broke down about it," he said.
Jada told him she couldn't love him more than he loved himself and that if he was going to make a change he had to make that decision within himself first.
"That was the thing. To feel your emotion and to hear you bawling. That was a reality check for me. I was like, 'Wow, if someone else can love you that much that it hurts them, why doesn't it bother you that you are actually hurting yourself?' That moment really changed the trajectory of my life, just to walk away from it," he said.
He didn't get to living a sober life in a conventional way. He said he didn't go to rehab or a clinic to deal with his drug addiction. August said he had to sit in his house with himself. Periodically, Jada would come by to check on him. And now, he's getting himself together to continue his sober journey.
Good for him.
Peep the full episode below:
We're rooting for August! We hope he gets his life together and gets back to making music.
In other R&B singer news...
Singer Lloyd is back with another nude treat for his fans.
After posing nude for his Tru EP, the singer is following the same blueprint from his upcoming Tru LP. The EP, which featured five tracks, was released in December 2016. Now, he's back with smething new in the Tru series. Read his message above.
For the cover art, Lloyd poses nude in a forest with just a guitar covering his man parts. Someone tried to come for him in the comments, calling him gay for taking the picture. Lloyd appears to be on a new wave though:
TRU is expected to drop August 31st. Here's the cover art for the Tru EP that dropped a few years ago:
Yes, GAWD.
Will you be streaming his new tunes?
Photos: Getty/WENN/Instagram
​ ​
​ ​ ​