Ciara Drops New 'Level Up' Video & Twitter Just Crowned Her The Best Female Dancer In The Industry
​
Jul 18 | by Natasha
​ ​ ​ ​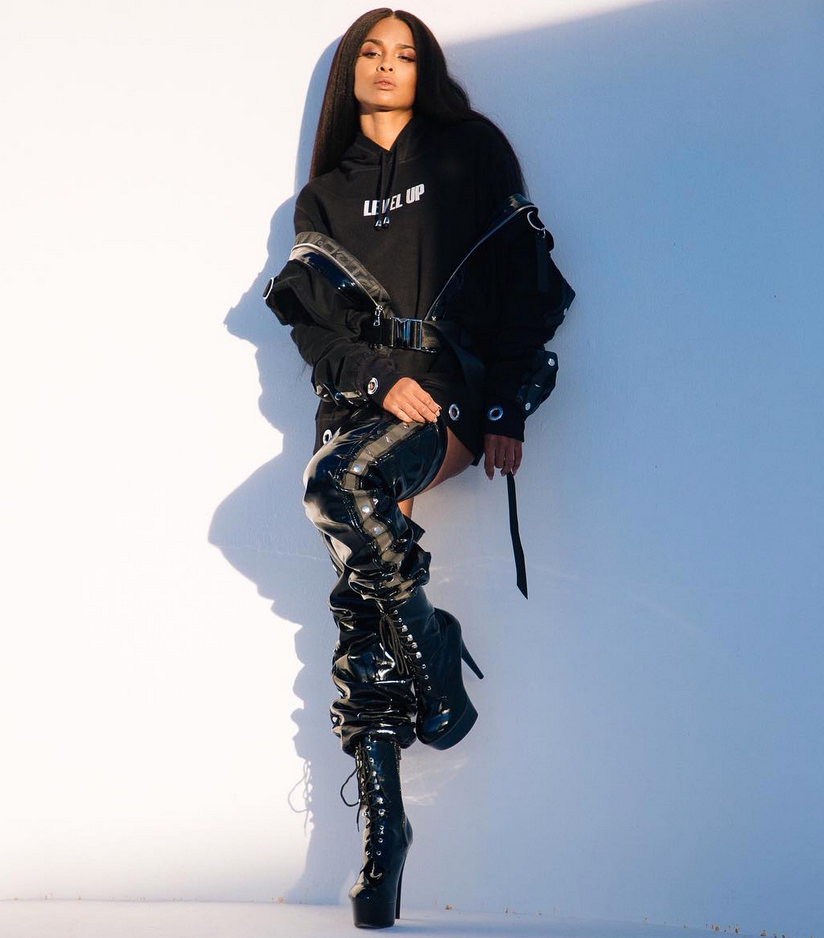 Ciara dropped her first new music in 3 years, and (almost) everybody thinks it was her best move. Check out her new "Level Up" video that's giving life, twerk action and vibes all damn day...
We've been itching for CiCi's return to the music scene, and her first drop out the gate is a house music-style dance track called "Level Up." If you recall, she wrote an Instagram post months ago about leveling up in her personal life by ditching king of f**k bois Future and marrying Russell Wilson. However, the way she initially worded things - taking onus off these wack men who are f**kbois and sell themselves as something they are not - rubbed plenty of folks the wrong way.
In the post, she included a sermon from Pastor John Gray that told women who and what they need to be in order to get a proper husband, but what she didn't post was him speaking to men on how to BE a proper husband. After all the hoopla, she reworded her post about personal responsibility and knowing her own self worth. Now, she's made a song about it all.
"Thank God I never settled, this view is so much better."
Yossss sis.
She initially released the video on her husband's TraceMe app, but it's now on Youtube.
The track & video is very Ciara - dance heavy, upbeat and p-poppin' within an inch of her life type banger. But that chorus, not so much.
Still, we're all the way here for this video. Folks lost their ish on Twitter. Somebody said she's back to handle up on what Tinashe couldn't. Oop. Does the wife and mom of 2 now deserve the dance queen crown? Twitter thinks so.
Ciara got a husband and kids and now she said let me snatch edges #levelup !! and she still bad asl and still the best female dancer in the industry!!! pic.twitter.com/sFRbFgG2I1

— GINO (@GinoLaurent_) July 18, 2018
Ciara is back to do what Tinashe couldn't pic.twitter.com/fRo0ljBx9G

— jay (@jaywebkinz) July 18, 2018
nothing like a new ciara video to remind you how trash your core strength is.

— seye isikalu (@byisikalu) July 18, 2018
Hmmmmmmm ok Ciara coming back like she never left! pic.twitter.com/SqjzVbl8nf

— King Alex, MA (@leavehimsiss) July 18, 2018
Oh okay. Ciara really did what had to be done with #LevelUp

— (@KeNnaTokyo) July 18, 2018
Ciara found her a husband, had two kids, and now she's back and not fucking around #LevelUp pic.twitter.com/MyQWL3hFtG

— Jay Cam (@yaboy_neutron) July 18, 2018
For the record, @ciara bodies 100% of her videos! #LevelUp

— Dean (@DeanDaddie) July 18, 2018
You guys @ciara just snapped to hell and back with her new song and video #LevelUp it's so fucking good! So. Fucking. Good.

— HNTR(@HNTR_RDGRS) July 18, 2018
This choreo is insane wow she really is on another level @ciara pic.twitter.com/U2lRQsFMfZ

— Fabio || Aguilera (@badgalxtina) July 18, 2018
OMG Miss Ciara giving us full blown choreo, it's 2009 all over again I STAN. LEVEL UP HOES. pic.twitter.com/4VknTO5uoB

— Colin Anderson (@BallinWithColin) July 18, 2018
My favorite part of @ciara #LevelUP video is when she was in the middle of floor and she slowed the beat down and the dancers was swaying side to side around her

— GET IN FORMATION (@iHATETavaris) July 18, 2018
Everybody wasn't feeling it though:
Ciara could've kept that... pic.twitter.com/3XL7GX6fTr

— cornell (@Neyzus_) July 18, 2018
Overall, issa bop!
Photos: Ciara's IG
​ ​
​ ​ ​