NETFLIX IS THE WAVE: Kenya Barris, Shonda Rhimes & (MAYBE) Beyonce Are Cooking Up Projects + LeBron James' Barbershop Talk Show Makes HBO Cut
​
Jul 29 | by _YBF
​ ​ ​ ​
ABC Studios have officially lost their top drama and comedy producers, Kenya Barris and Shonda Rhimes, to Netflix. And Beyonce may also be hopping on the Netflix wave. Get those deets, plus get the latest on HBO picking up LeBron James' barbershop talk show inside...
ABC Studios has lost TWO important creatives and they're both taking their talents to Netflix.
It has been confirmed Kenya Barris has exited his deal with ABC Studios and will score a hefty new deal with the streaming giant, Netflix.
According to sources, the "black-ish" creator and Girls Trip writer was greatly dissatisfied with the broadcast affiliated studio, so he decided to chuck the deuces. Since first signing with the Disney-owned studio in 2015, Kenya has become its top comedy writer-producer. No surprise there.
THR reports the writer/producer could possibly become the next mega-producer to ink a nine-figure overall deal with Netflix, following Shonda Rhimes and Ryan Murphy. YAS! Get those coins!
"I'm very grateful to Patrick Moran and his team at ABC Studios, who have supported me every step of the way as I created the worlds of Black-ish, Grown-ish and now Besties. It has been an incredible ride including a Peabody and Golden Globe win, Emmy nominations, and many other accolades. But most importantly, they've allowed me to realize my dream of creating my own shows and I'm so proud of the work we've done together," Barris said in a statement Friday. "No matter what, the studio has never wavered in their support of my creative vision. Leaving is bittersweet, but between my series on the air and projects currently in development, I know I'll continue to work with ABC Studios for a long time."
Kenya's deal with ABC Studios ends in August. However, he will still "remain the executive producer on all of his shows, 'black-ish' on ABC; 'grown-ish' and the upcoming 'Besties' on Freeform, and will continue to work on the ABC Studios projects he has in development," according to Deadline. Nice!
This actually isn't too much of a surprise after we heard about ABC yanking Kenya's NFL/national anthem protest episode over "creative differences." Hmph. Now, he'll have all the freedom to do what he wants.
Congrats!
Speaking of Shonda and Netflix...
Shonda Rhimes was also offered a nine-figure deal with Netflix and decided to make the move in August 2017. Now that the dust has settled, she's revealing her line up of shows set to premiere on the streaming giant.
The new Shondaland is gearing up to bring a good amount of interesting stories we can't wait to see.
"I wanted the new Shondaland to be a place where we expand the types of stories we tell, where my fellow talented creatives could thrive and make their best work and where we as a team come to the office each day filled with excitement," Shonda said via press release. "Ted and Cindy and everyone at Netflix have been incredible partners in making that happen. This is Shondaland 2.0."
Here's a list of the upcoming shows she has in store (all titles are working titles):
Untitled Shonda Rhimes Project: Based on the New York Magazine article How Anna Delvey Tricked New York's Party People by Jessica Pressler. Manhattan makes a new friend like no other. But is she the stuff American dreams are made of or is she New York's biggest con woman? Is it a con if you enjoy being taken? * Shonda Rhimes (EP) will create the series.

Untitled Bridgerton Project: Based on Julia Quinn's best-selling series of novels, this smart feminist take on Regency England romance unveils the glittering, wealthy, sexual, painful, funny and sometimes lonely lives of the women and men in London's high society marriage mart as told through the eyes of the powerful Bridgerton family. * Scandal veteran Chris Van Dusen (EP) will adapt and showrun the series.

The Warmth of Other Suns: Based on Pulitzer-Prize winning author Isabel Wilkerson's award-winning book of the same name, this powerful groundbreaking series tracks the decades-long migration of African-Americans fleeing the Jim Crow South in search of a better life in the North and the West between 1916 and 1970. *National Humanities Medal recipient, MacArthur Genius Grant recipient and 2-time Drama Desk winning playwright Anna Deavere Smith (EP) is set to adapt.

Pick & Sepulveda: Set in the 1840s against the surreal and sensual backdrop of the then-Mexican state of California, the series tracks the end of an idyllic era there as American forces threaten brutality and war at the border to claim this breathtaking land for its own. *Emmy-award writer Janet Leahy (EP) will create the series.

Reset: My Fight for Inclusion and Lasting Change: Netflix and Shondaland have acquired the rights to Ellen Pao's groundbreaking memoir detailing her life and career, including the lawsuit she brought against her former employer that sparked intense media scrutiny, shook Silicon Valley to its boys' club core and pre-saged the Time's Up movement.

The Residence: Netflix and Shondaland have acquired the rights to Kate Andersen Brower's brilliant nonfiction book The Residence: Inside the Private World of the White House, which offers a vividly accurate insider's account of White House residence staffers and the upstairs downstairs lives they share with the First Families at one of the most famous homes in history.

Sunshine Scouts: In this darkly comedic half-hour series, an apocalyptic disaster spares a rag-tag group of teenage girls at sleepaway camp who must then summon their moxie and survival skills to weather the fallout and ensure all that remains of humanity abides by the Sunshine Scout Law. *Writer/actress Jill Alexander (Co-EP) will create the series.

Hot Chocolate Nutcracker: This documentary offers a behind-the-scenes look at the Debbie Allen Dance Academy's award-winning reimagining of the classic ballet, The Nutcracker. This staged contemporization – with its inclusive cast of all ages and its blend of dance traditions – has further cemented Debbie Allen's legacy as one of the greatest forces for good in dance. *Oliver Bokelberg (DP/Director Scandal) will serve as director, cinematographer and producer.
Y'all ready for Shondaland 2.0?
Another YBFer who may be joining the Netflix wave...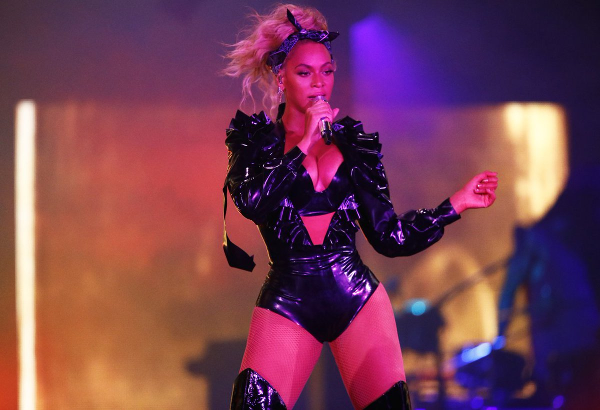 That's right, Beyonce! There's talk that Bey is currently working on her seventh solo album, following the release of her collaboration album with her hubby Jay Z, Everything Is Love.

According to The Sun, Mrs. Carter has been secretly filming several videos for the alleged upcoming "visual album" while "On The Run" with her hubby in Europe. She recently wrapped up the 18-date European leg and is now showing out in the States. (She performed in Washington D.C. for the 2nd time last night).
According to sources, much of the production will reportedly be shot within the ruins of the Roman Colosseum.
"Beyoncé has been hard at work on her next solo album and it is shaping up well," one source shared with The Sun. "She wants it to be even more ground-breaking and visually impressive than Lemonade, which is why she is scouting out locations which will really wow people."
Instead of dropping the visual album on HBO like she did for LEMONADE, it's being reported she's eyeing a deal to drop the visual album on Netflix.
"She wants it to be even more ground-breaking and visually impressive than Lemonade, which is why she is scouting out locations which will really wow people," the source explained.
Queen Bey's team is currently negotiating the deal with the streaming giant.
"They offered a seven-figure sum for Lemonade but contractual obligations with HBO and Tidal meant it didn't happen," the source continued. B"ut they are willing to pay through the roof this time because Beyonce still has massive pulling power."
If she does cop this deal, it will definitely NOT be a "Netflix and Chill" type night with your boo. It's going to be a "call all of your girlfriends and have a sleepover" type ordeal and we're HERE for having our edges snatched yet again.
In other TV news....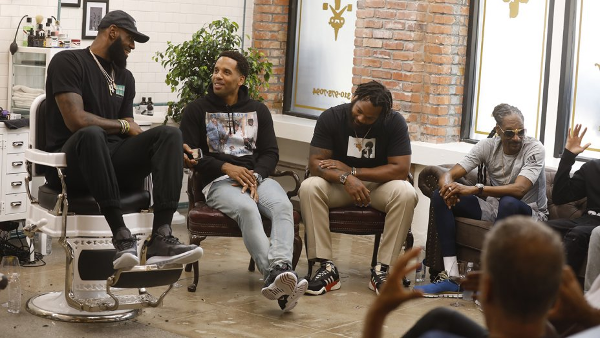 LeBron James, who recently inked a 4-year deal with the Los Angeles Lakers, is still putting in work OFF the court.
The Lakers baller and his homie/business partner Maverick Carter are gearing up for the release of their barbershop-set talk show, "The Shop," on HBO. The show first premiered on LeBron's' Uninterrupted digital site and now it's ready to take over cable television.
According to THR, the network ordered a handful of episodes of the new talk show that's set to premiere in August.
I am so proud of this project. Athletes and artists get to have a real, uninterrupted discussion the way we always do. Politics, race, culture, music fashion...all of it. #IAmMoreThanAnAthlete https://t.co/TcpwJ38ANW

— LeBron James (@KingJames) July 26, 2018
The first episode, which was shot last week in West Hollywood's Barber Surgeons Guild, will feature a conversation between King James, Maverick, rapper Snopp Dogg, NY Giants baller Odell Beckham Jr., New Orleans Saints running back Alvin Kamara, Golden State Warriors star Draymond Green, Los Angeles Sparks star Candace Parker and comedian Jon Stewart.
"This show is real, it's candid and it's the essence of conversation," King James explained to THR. "And we know with social media and text being the way people communicate, the form of conversation, actually talking, is kind of a lost art." Very true.
THR reports:
Each episode will assemble a mix of personalities in a barbershop for unconstructed, frank talk while the cameras roll; the conversation will then be whittled down to 30-minute episodes.

"I still regret giving my 14-year-old my name." - @KingJames

This and more real, unfiltered conversation with @OBJ_3, @mavcarter, and more in UNINTERRUPTED's unscripted series THE SHOP.

First episode dropping 8/28, exclusively on @HBO. pic.twitter.com/zIoxEgBnJn

— UNINTERRUPTED (@uninterrupted) July 26, 2018

"When I was a kid, being in barbershops meant listening to adults talk about sports, clothing, politics, music, everything happened in the shop," says James. "It was so real and so candid — no one had a sense of, well I can't be myself here. That's how The Shop became an idea."

So far, the NBA superstar is slated to appear in at least the first three episodes of The Shop. HBO Sports has left the episode order somewhat vague given James' day job, so it's unclear when the second episode will air.
Check out a few clips from the first episode below:
"The Shop" premieres August 28th at 11pm EST on HBO. Will you be tuning in?
Photos: Getty/HBO/Beyonce.com
​ ​
​ ​ ​