LeBron James Has The 1st Day Of School Jitters! Opens 'I Promise' Public School For Akron Kiddies Today
​
Jul 30 | by _YBF
​ ​ ​ ​
It's a BIG day for LeBron James and some kiddies in his hometown of Akron. Today is the day Bron's "I Promise" public school opens! And the kids' reactions having us grabbing a tissue. Go inside to see how their first day of school went down...
LeBron James just keeps proving why he's the ultimate model athlete and role model. He had a vision to open an elementary school to serve underprivileged students in his hometown of Akron and he did JUST that. The superstar athlete teamed up with The LeBron James Family Foundation and Akron Public Schools to create a school focused on STEM, hands-on, problem-based learning.
Today is the first day "I Promise School," which is a part of Akron Public Schools, opens up for 240 third-and-fourth graders. The school is expected to expand each year, going to second and fifth grades next year until is reaches grades first-eighth by 2022. Students were selected for the elementary school via a lottery.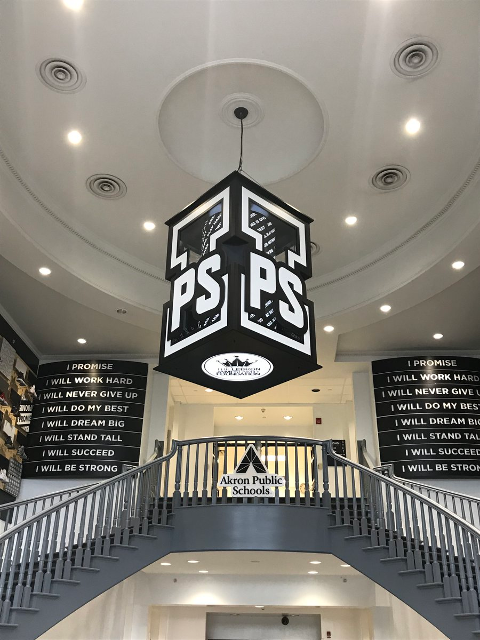 The school is an extension of LeBron's "I Promise" program where students make promises to go to school, do their homework, listen to teachers, ask questions, find answers, be respectful of others and live a healthy life. Rules to live by at any age.
Here's a little info on how the school will operate:
The classrooms will hold 20 students for every teacher, and 12 teachers have been hired for the 2018-19 school year. There are 43 academic staffers, including a principal, assistant principal, four intervention specialists, tutor, English as a second language teacher, music instructor and a gym teacher. IPS is a certified STEM (science, technology, engineering, math) school. The school day is long – 9 a.m.-5 p.m., and so is the school year, lasting July 30-May 17 – and there will be a seven-week summer school. Students will be served breakfast, lunch and a snack daily.
King James had all the first-day-of-school feels last night before the big day:
The jitters before the first day of school are real right now!!! Tomorrow is going to be one of the greatest moments (if not the greatest) of my life when we open the #IPROMISE School. This skinny kid from Akron who missed 83 days of school in the 4th grade had big dreams... https://t.co/PwmRaHRfng

— LeBron James (@KingJames) July 29, 2018
big dreams for the kids in Akron to give them everything they could need to find their passion, give back to our community and change the world!! This school is that. The people are that. Akron is that. @LJFamFoundation we've always done it big

— LeBron James (@KingJames) July 29, 2018
and it doesn't get bigger than opening day tomorrow (until the next thing we dream of) I'm so unbelievably proud and excited to see my kids, my home, and the 330 tomorrow. THANK YOU! Let's get it. Let's go @IPROMISESchool #WeAreFamily #IPROMISE

— LeBron James (@KingJames) July 29, 2018
Take a peek inside the I Promise School below:
Our #IPROMISE School Staff are gathering all around the school to greet @KingJames kids as they arrive for the 1️st day at 9am! #WeAreFamily pic.twitter.com/updAKRs6Fi

— I PROMISE School (@IPROMISESchool) July 30, 2018
The @LJFamFoundation's I Promise School opens in Akron Monday. It will be the new Akron Public Schools' home to 240 at-risk 3rd & 4th graders. Take a sneak peak inside!
Read more: https://t.co/JIUWLWO1jF
photo credit: Jennifer Conn, https://t.co/a4YA4W2Cro pic.twitter.com/Fx989ZXeAE

— clevelanddotcom (@clevelanddotcom) July 30, 2018
@KingJames #IPROMISE Students are making their way to their new classrooms where they have some #IPS attire waiting for them #WeAreFamily pic.twitter.com/s1TRUht7Ia

— I PROMISE School (@IPROMISESchool) July 30, 2018
114 pairs of @KingJames game worn shoes line the walls of the @IPROMISESchool lobby #IPROMISE pic.twitter.com/7J0yZpUo9G

— LJ's Fam Foundation (@LJFamFoundation) July 30, 2018
We're excited to team up and create this mural for the I Promise School in Akron. The artwork took about 3 weeks and couldn't be happier how it turned out! The school is amazing and has the potential to radically change education and do great things! pic.twitter.com/kEVVinJVzW

— GV Art + Apparel (@GVartwork) July 30, 2018
We KNOW the kids are loving every bit of this. Who wouldn't want to get up everyday and go to school here?
Here's how the school is designed:
The entrance to the school features a split staircase with the IPS and LeBron James Family Foundation logos. High on the walls at the entrance are 114 sneakers worn by James. The corresponding pair will be sold by Upper Deck and proceeds will help fund the school and the foundation.

The bottom floor of the building features a mural of James, Muhammad Ali, Jackie Robinson, Jesse Owens and Martin Luther King Jr.

The walls of the school are lined with photos of James and children at foundation events. Students will be stocked with school supplies, and teachers will have the tools they need, including a faculty lounge stocked with snacks and beverages and access to workout trainers.
This little boy's reaction makes it all worth it:
And peep a clip of 3rd graders reciting the #IPROMISE for the first time in their new home with Principal Davis:
@KingJames 3rd graders are reciting the #IPROMISE for the first time in their new home with Principal Davis! #WeAreFamily pic.twitter.com/Gitytnq31t

— I PROMISE School (@IPROMISESchool) July 30, 2018
OMG! WE LOVE THIS!
In the clip below, the four-time NBA MVP explains how much this school means to him:
.@KingJames. More than an athlete. pic.twitter.com/aZGthMCEBv

— UNINTERRUPTED (@uninterrupted) July 29, 2018
Where are the tissues?!! This is AHH-MAZING! And we hope other celebs will see what Bron is doing and follow in his footsteps. His legacy will live on long after basketball with all the philanthropic work he puts in.
Over the last six years, LeBron has helped over 1,100 kids in Akron with an array of initiatives. You'll recall, he also teamed up with the University of Akron and provided four-year scholarships to qualifying students within his "I Promise" program.
Photos: I Promise's Twitter/Getty
​ ​
​ ​ ​