Russell Wilson Helped Fatman Scoop Perfect Ciara's 'Level Up' Remix Alongside Missy Elliott
​
Aug 08 | by _YBF
​ ​ ​ ​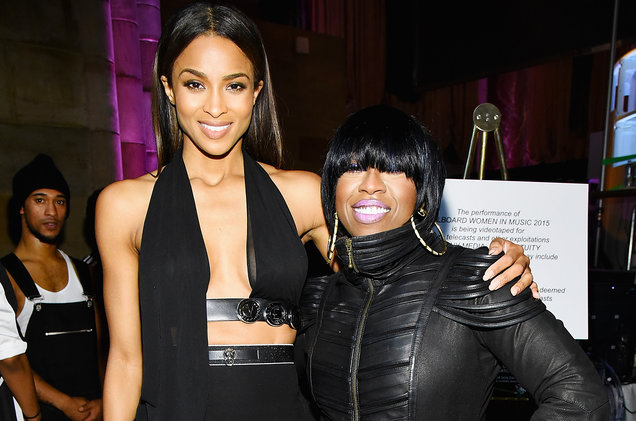 Fatman Scoop gives the inside scoop on how the "Level Up" remix, also featuring Missy Elliot, came about. And Ciara's hubby Russell Wilson offered up his own edits that actually made the cut. More inside...
Now this is the story all about how the "Level Up" remix came about.
CiCi reunited with Fatman Scoop and Missy Elliott for the remix of her new dance track that's taking over the airwaves and social media with the #LevelUpChallenge. The last time these three artists were on a track was on CiCi's 2005 hit "Lose Control." Missy also collaborated with Ciara on "1,2 Step" and "Work."
"Fall down, get up, get up!!" @MissyElliott Came with the [fire emojis] per usual! My Girl! #Legend #LevelUpChallenge #LevelUp Remix!!! pic.twitter.com/Z8jwWOz7l4

— Ciara (@ciara) August 2, 2018
Fatman Scoop hopped on Instagram to share the "process" of how the "Level Up" remix came about. He said the mom-of-two hit him up about 4 months ago to hop on a new track she was working on. The producer was scheduled to go to London in two days, but he dropped everything and hopped on a flight to Seattle to record the track. He linked up with Ciara inside a studio owned by Microsoft co-owner Paul Allen:
Once he got there, he started recording his adlibs when the "Level Up" singer's husband/Seattle Seahawks quarterback Russell Wilson paid a visit. Not only did he come in to hear what they were cooking up, he also offered up some suggestions to make the song better.
"I start to do my parts (in this video) and Russell Wilson from the Seahawks comes in," Fatman Scoop recalled. "So he is listening to it and says, why don't you say this?' So I asked him, 'do you see me coming into the huddle and telling you what to do at your job?' The room starts laughing so loud. But what he said DID MAKE SENSE!!!
Ha!
"So you know what? I went in there and said it! Credit Russell Wilson as a WRITER on the remix!"
Check it:
And there you have it. Russell is a songwriter now.
Take a listen to the "Level Up" remix below:
Check out this behind-the-scenes clip of Ciara and Fatman Scoop bouncing ideas off of each other in the studio below:
Ciara #Levelup behind the scenes remix w/ Fatman Scoop #LevelUpChallenge pic.twitter.com/3fGosw0vfd

— shan (@1shanny_) July 29, 2018
Below is a video of Ciara and Missy announcing they were working together on the remix:
Also, check out a behind-the-scenes clip of CiCi and her dancers in rehearsals for the "Level Up" video:
12hrs. 2 Days. #BTS of rehearsals for the Level Up video. The struggle was real at times #LevelUp @ParrisGoebel @OfficialRoyalFamilyDanceCrew C more on my @TraceMe_App pic.twitter.com/UC8Yp26G43

— Ciara (@ciara) August 7, 2018
The #LevelUpChallenge videos are still a thing on the Gram. Check out Jourdan Dunn, Halle Berry and more below:
Them babies is gettin it!! I can't take it! #LevelUpChallenge #LevelUp pic.twitter.com/cuzVU1ychr

— Ciara (@ciara) August 1, 2018
Wait a minute!!! Mommy and daughter just went awwwwf!! So sweet! So good!! Love this! @heavenkingdances @tianneking #LevelUpChallenge #LevelUp pic.twitter.com/qvLWTkPWCN

— Ciara (@ciara) August 2, 2018
WOW WOW WOW!! Throws Wig!! @BlameItOnKWay Muuurrded the #LevelUpChallenge! #LevelUp pic.twitter.com/YxrahWjEWs

— Ciara (@ciara) July 29, 2018
Photos: Getty
​ ​
​ ​ ​