Kanye West Does A LONG Pause When Asked If Trump Likes Black People, Reveals 'Black On White' Porn Is His Fave And Is Embracing Bipolar Disorder
​
Aug 10 | by _YBF
​ ​ ​ ​
Kanye West made an appearance on late night television last night and nothing was off limits. As expected, he talked about his infatuation with Trump, shared his porn preference (shocker) and he also talked about embracing his bipolar disorder. Get it all inside...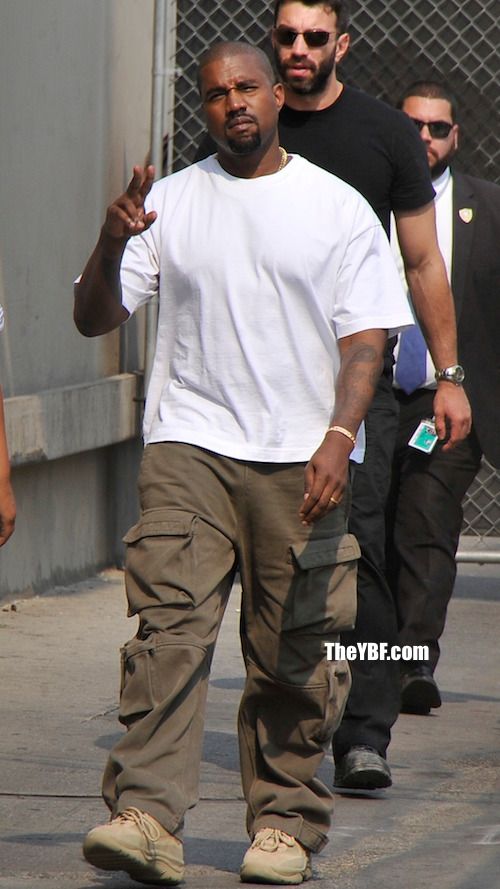 Kanye West has everyone talking about his late night interview on "Jimmy Kimmel Live!" because, well, he's 'Ye all day.
The 41-year-old rapper covered a wide range of topics in his 20-minute interview with the late night TV host, including his love for Trump, his porn preference, bipolar disorder, fashion (duh) and many other topics.
And he was cocky as ever, per usual. At point during the interview he asked the audience to hold their applause because "everything I'm gonna say is gonna be amazing." Sighs...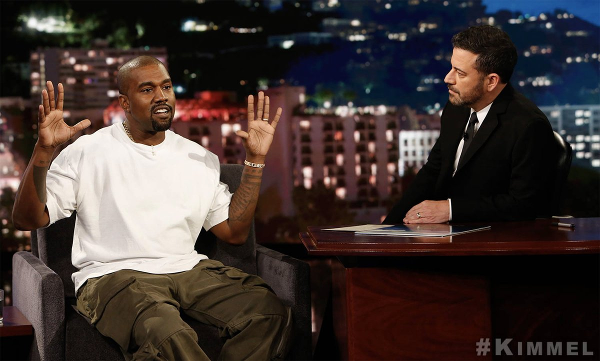 Based on what he was saying about why he chose to support 45, it sounds like he is just trying to go against what everyone else is doing. He shared everyone around him was telling him he shouldn't support Trump, but he didn't care. He wasn't going to let anyone "bully" him into thinking he had to dislike Trump. And he said it took a over a year to get up the courage to wear that "Make America Great Again" hat, but he did it and didn't care what the consequences were.
"As a musician, an African American guy on Hollywood, all these different things, everyone around me tried to pick my candidate for me," the PABLO rapper said. "And they told me every time I said I liked Trump I couldn't say it out loud or my career would be over, I'd get kicked out of the black community because blacks are only supposed to have a monolithic thought, we can only be Democrats."
"I said it right before I went to the hospital and when I came out I had lost my confidence. The confidence to take on the world and the possible backlash. It took me a year and a half to have the confidence to stand up and put on the hat no matter what the consequences were," he said in reference to the MAGA hat.
He added, "What it represented to me was not about policies — it represented overcoming fear and doing what you felt no matter what anybody said. You can't bully me, liberals can't bully me, the news can't bully me because at that point if I'm afraid I'm no longer Ye. I actually quite enjoy when people are mad at me about certain things."
Jimmy then brought up about how 'Ye was quick to call out George Bush for not liking black people, a comment he made at a 2005 benefit for Hurricane Katrina relief. Then he asked, "What makes you think that Donald Trump does or any people at all?"
Yeezy stared off into space with a long pause before Jimmy took it to commercial.
Check it:
Kimmel asked 'Ye if his attitude towards women have changed since having daughters, North & Chicago West. Nope.
"Nah, I still look at PornHub," he revealed. "Black on white, obviously," he continued.
No surprise there. He married a white porn star and worships that aesthetic so, makes sense.
Then, there's a joke about double masturbation. Whew, chile. Peep the clip below at the 1:50 mark:
The Grammy Award winner also opened up about embracing his bipolar disorder. At the age of 5, Ye said he had a blackout episode. However, his mother, Donda West, never fully medicated him and he's thankful for that because, "I might have never been 'Ye."
For his interview last night, he said he wanted to be in a calm state. However, during his infamous "400 years of slavery was a choice" TMZ interview, he revealed he was "ramped up" state and said it was "awesome" that people got to see him in that state.
"It's [Bipolar disorder] not an opposite. It drives more of how you really feel. So I think it's important for us to have open conversations about mental health especially with me being black because we never had therapists in the black community, we never approach taking medication."
He said people need to be able to freely express themselves without fear of judgement.
Check it:
Watch his full interview below:
Thoughts?
Photos: Jimmy's IG/MEGA
​ ​
​ ​ ​