Birdman & Lil Wayne May Start Beefing Again! Weezy Accused Of Scamming Drake's Profits From Cash Money + Juelz Santana Pleads Guilty To Gun Charge
​
Aug 20 | by _YBF
​ ​ ​ ​
Birdman may have just reignited his "beef" with his "son" Lil Wayne after accusing him of trying to scam Drake's profits from Cash Money. Meanwhile, Juelz Santana pleads guilty to gun charge and faces up to 20 years in prison. Deets inside...
A few months ago, it was reported Birdman and Lil Wayne had reached a settlement in Wayne's multi-million lawsuit against Birdman's Cash Money Records. But, it seems everything (at least money wise) hasn't been totally worked out and Drake is in the middle of it.
Apparently, Birdman believes Wayne has been scamming behind-the-scenes with his manager. He's accusing Wayne of being involved in a scheme to keep a big chunk of Drake's royalties from Cash Money.
It's being reported Aspire Music Group, which was co-founded by Wayne's manager Cortez Bryant, sued Cash Money Records and Universal Music in 2017 with claims that Cash Money was holding out on royalties owed from Drake's music catalogue.
Last month, Cash Money's request to have the case dismissed was shot down by a New York judge. Now, Cash Money is counter-suing, claiming Cortez Bryant and Lil Wayne conspired with their attorney Ronald Sweeny to swindle money from Drizzy's profits.
Aspire claims they discovered Drake and that they have a deal in place that entitles them to 1/3 share of the net profits from Drizzy's first six albums, along with a share of the copyrights. The other 2/3 was to be split between Wayne's Young Money and Cash Money.
The Blast reports:
According to documents, obtained by The Blast, Cash Money now claims, "Aspire was simply a shell company," adding, "There was no business purpose to forming Aspire, other than to siphon profits out of the joint venture and to divert those profits to Sweeney, Bryant, and Carter/ Young Money.

Aspire never conducted any business other than getting Drake signed to a record label. Aspire has never signed, nor sought to sign, a single additional artist."

Cash Money is demanding Aspire's lawsuit against them be dismissed and unspecified damages for fraud, aiding and abetting a breach of fiduciary duty and interference with contractual relations.

Lil Wayne nor Young Money are a defendant to Cash Money's lawsuit, which is interesting because back in June, Birdman settled Wayne's extremely time consuming lawsuit over his record deal for more than $10 million.
Cash Money stays involved with some "cash money" drama, don't they?
Over the weekend, Lil Wayne was spotted at 2 Chainz's wedding ceremony. Folks have been going IN about how bad Weezy's dreads are looking these days. His boo Dhea doesn't mind tho: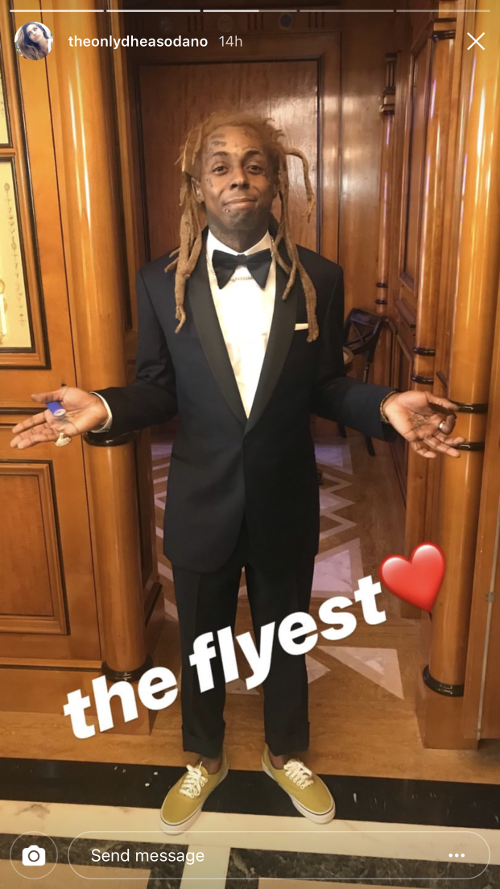 Fun times.
In other legal news...
Juelz Santana has reportedly pled guilty to possession of a firearm by a convicted felon, along with carrying a weapon on aircraft.
You'll recall, he got hemmed up by TSA when he tried to bring a gun (that he claims he forgot he had in his possession) on a plane earlier this year. When TSA employees pushed his belongings through the security checkpoint at Newark Airport, they found a loaded .38-caliber handgun and nonprescription oxycodone pills in a carry-on bag containing his identification. He literally ran out of the airport, but ended up turning himself in days later.
Since entering a guilty a plea, he now faces up to 20 years in prison. Yikes.
The 36-year-old rapper is scheduled to go before a judge for sentencing on December 12th. He was original scheduled for sentencing on September 4th, but it was pushed back so Juelz and his legal team can come up with negotiating a plea deal.
Photos: Getty/Dhea's IG
​ ​
​ ​ ​