Odell Beckham Jr. Is Now The Highest Paid NFL Wide Receiver, Interested NFL Team Hired A P.I. To Track His Off-Field Shenanigans + Is Jemele Hill Leaving ESPN With A Multi-Million Dollar Buy Out?!
Aug 27 | by _YBF
Odell Beckham Jr. celebrated with his teammates in the locker room today after inking a $95 million contract with the New York Giants making him the highest paid receiver in the league. See his celebration, plus details about Jemele Hill possibly leaving ESPN inside...
Odell Beckham Jr. is living his BEST life, and we're not exaggerating one bit.
The New York Giants wide receiver just inked the largest contract extension for a wide receiver...ever. Like, he's about to be rolling in dough. All the dough. Every flavor.
The 25-year-old NFLer has reportedly agreed to a five-year extension worth $95 million, with $65 million guaranteed with the Giants. The new deal makes him the HIGHEST paid wide receiver in the league, according to ESPN. Those 17 games he's missed with the Giants clearly don't even matter.
The three-time Pro Bowler beat out Pittsburgh Steelers wide receiver Antonio Brown's 4-year, $68 million contract and also tops Tampa Bay Buccaneers wide receiver Mike Evans' 5-year, $82.5 million (with $55 mill guaranteed).
To celebrate, Odell turned all the way up with his teammates, including Sterling Shepard and Roger "Otto" Lewis, dancing to the O'Jays' "For The Love Of Money." The accuracy. See the locker room celebration below:
[If you can't view the videos above, click HERE and HERE]
So, get this. Other teams were looking to sign Odell, but ended up not being able to match the Giants' offer.
In fact, one team (that will remain anonymous) hired a private investigator to track him during the spring. According to ESPN, they hired the P.I. after a video featuring Odell in Paris with an aspiring model, a box of pizza and a suspicious white substance in the background surfaced. The P.I. didn't find anything and the team who hired the PI has not been identified. We do know that it's been reported the Rams and the 49ers were interested in the wide receiver.
Odell will hit the field when the Giants go head-to-head against the Jacksonville Jaguars for the September 9th season opener. The young receiver did not play in the preseason after breaking his ankle in October.
He's also set to grace the cover of ESPN magazine's upcoming issue that'll be released soon.
With this size bag, we expect Odell to SHOW OUT this season. Congrats!
In other sports news....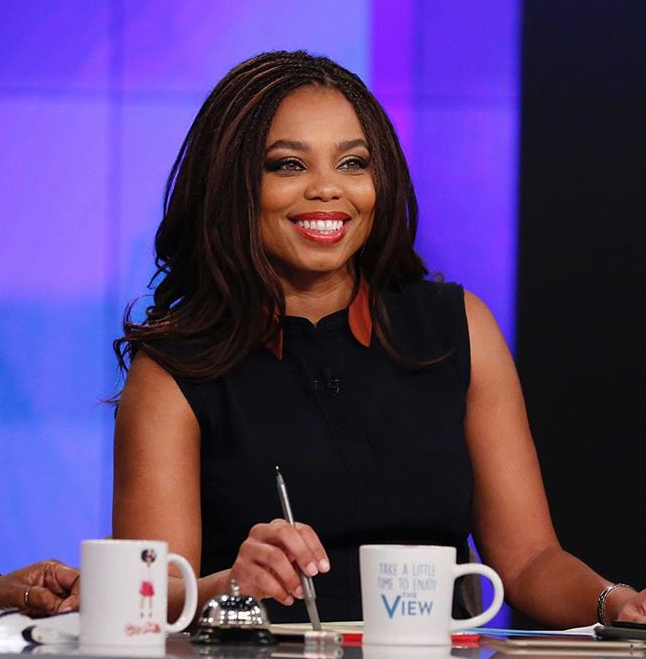 Is Jemele Hill leaving ESPN? That's the word on the curb and we wouldn't be surprised.
According to reports, the outspoken, "I'm-going-to-say-exactly-what's-on-my-mind" ESPN personality's exit was an "amicable departure/buyout." Writer/podcaster Jim Miller was the first to report:
Coming 9/1 an amicable departure / buyout for @jemelehill from @espn Been a long time coming #JemeleHill #ESPN

— jamesmiller (@JimMiller) August 26, 2018
You may remember the drama that kicked off between Jemele and ESPN after she called No. 45 a "white supremacist." It caught the attention of the White House and she was eventually suspended from her show with Michael Smith, "SC6." Remember when ESPN tried to have her taken off the air, but the other black hosts came together and rallied behind her? Hmph.
Following her suspension, she appeared alongside Michael for a few more months, then she announced she was making a move to ESPN's digital platform, "The Undefeated" in February 2018, which gave her an opportunity to speak more freely about a number of topics.
ESPN has not confirmed Jemele's departure and neither has she. However, she did post this over the weekend:
Live look at my mentions pic.twitter.com/yxkE88Nqwr

— Jemele Hill (@jemelehill) August 26, 2018
According to the Hartford Courant, Jemele will co-host ESPN's "Highly Questionable" and make other appearances on the network before she completely chucks deuces.
We can't say we didn't see this coming. But what folks MAY be shocked about is the alleged multi million million bag she's reportedly taking with her.
One source claims she's going to get the remainder of her $2.5M, 2-year contract, while another source says the buyout is closer to $6M.
Get these coins, Jemele!
Photo: Getty/The View