Browns Baller Mychal Kendricks & Former 'Black-ish' Writer Charged With Insider Trading, Kendricks Admits To It + Teyana Taylor's Name Gets Thrown In The Mix
​
Aug 29 | by _YBF
​ ​ ​ ​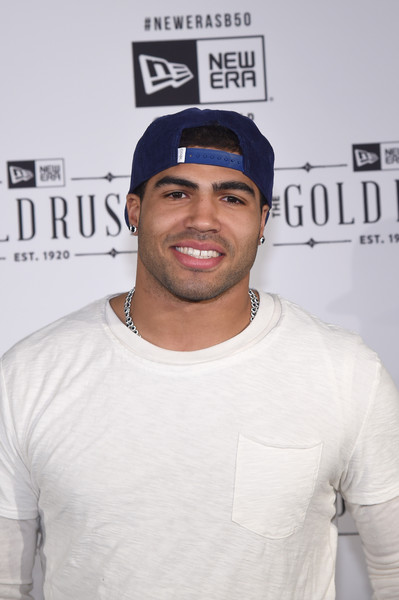 From the football field to jail?! NFLer Mychal Kendricks has found himself in a world of trouble and his life is about to change drastically. Get the deets about his $1.2 million insider trading scheme with a former 'black-ish' writer and how Teyana Taylor falls into the mix inside...
After trash talking his former Eagles teammates in the latest episode of "Hard Knocks," Mychal Kendricks is now the talk of the NFL...and well the Internet as well.
Cleveland Browns linebacker Mychal Kendricks, who was traded from the Eagles in June, is apologizing today after he was charged with insider trading by federal prosecutors to make nearly $1.2 million in illegal profits on four major investments four years ago, according to ESPN.
Former Goldman Sachs Group Inc. banking analyst Damilare Sonoiki has also been charged with assisting the NFLer in his investments. Sonoiki also wrote for ABC's "black-ish" in 2015 and 2016,
The Feds claim Sonoiki gave Kendricks information about upcoming mergers and acquisitions and Kendricks invested accordingly. Federal prosecutors said that Kendricks made $1.2 million via their arrangement. He reportedly gave Sonoiki $10,000 in cash and perks, including free Eagles tickets.
Shortly after U.S. Attorney William McSwain announced the indictments, Kendricks issued a statement apologizing for his irresponsible actions and that he didn't know all the details, but he "knew it was wrong."
"I would like to apologize," the 27-year-old NFL player said in the statement released via his attorneys. "Four years ago, I participated in insider trading, and I deeply regret it. I invested money with a former friend of mine who I thought I could trust and who I greatly admired. His background as a Harvard graduate and an employee of Goldman Sachs gave me a false sense of confidence."

"To this point, I had worked my tail off since I was 5 years old to become a football player," he continued. "I was drawn in by the allure of being more than just a football player. While I didn't fully understand all of the details of the illegal trades, I knew it was wrong, and I wholeheartedly regret my actions."
He also said he plans to repay all of the funds gained illegally, even though he "hasn't taken any personally."
Peep his full statement below:
BREAKING: Statement from former Eagle Mychal Kendricks, now with Browns, after feds charged him today with insider trading in Philadelphia pic.twitter.com/bX6fzBjLKP

— Jeremy Roebuck (@jeremyrroebuck) August 29, 2018
Both Kendricks and Sonoiki face "substantial prison time" if convicted. CBS Sports writer Cody Benjamin spoke with a legal analyst who predicts Kendricks could spend 8-12 months behind bars:
Spoke with attorney/legal analyst David Weinstein. He estimates #Browns LB Mychal Kendricks is likely to serve 8-12 months in prison for insider trading. Advisory sentence would likely be higher but reduced by split sentence, house arrest, community service, etc.

— Cody Benjamin (@CodyJBenjamin) August 29, 2018
The Browns issued a brief statement, saying they're aware of the situation and that Kendricks will not travel with the team to Detroit for Thursday night's preseason finale against the Lions:
Our statement on LB Mychal Kendricks: pic.twitter.com/SJT4RPdo0o

— Cleveland Browns (@Browns) August 29, 2018
Apparently, Kendricks was giving Sonoiki free tickets to Eagles games and he also paid for a "a luxury car service to drive Sonoiki approximately 180 miles to attend a event in York, Pennsylvania." Kendricks also invited "Sonoiki to the set of pop star Teyana Taylor's music video, in which Kendricks made a cameo appearance," according to the indictment.
The NFL hottie appeared in Teyana's 2014 "Maybe" video:
Kendricks and Sonoiki tried to keep their criminal activity on the low by conversing through Facetime and using code words via text messages:
THE CODE WAS CHEESESTEAKS https://t.co/vONR25fbdL pic.twitter.com/YDxSUTvK2u

— Ryan J. Reilly (@ryanjreilly) August 29, 2018
And here's the video of Kendricks talking trash about his Eagles teammates on "Hard Knocks" just this month:
And here is Kendricks saying Ertz can't block and Big V has bad feet pic.twitter.com/ITDibXUPfy

— John Barchard (@JohnBarchard) August 29, 2018
Oop!
What's done in the dark...
Photos: Getty
​ ​
​ ​ ​