Eminem Drops Surprise 'KAMIKAZE' Album Laced With Disses Aimed At Joe Budden, Drake & Mumble Rappers!
​
Aug 31 | by _YBF
​ ​ ​ ​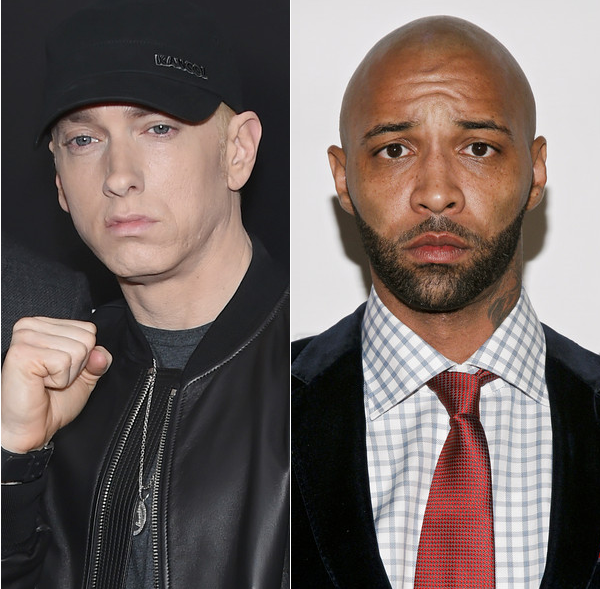 Eminem surprised everyone by dropping a new album at midnight, and he has some things to get off his chest. He fired shots at a slew of rappers. More inside...
Eminem just pulled a Beyonce, dropping an album while most of us were sleeping, or about to go to sleep.
Tried not 2 overthink this 1... enjoy. #KAMIKAZE Out Now - https://t.co/ANw73KbwMt pic.twitter.com/qfQoTYBTUy

— Marshall Mathers (@Eminem) August 31, 2018
The rapper dropped KAMIKAZE right at midnight, which is the follow up to his 2017 Revival. Folks weren't feeling that album, so Em had to return to the studio to bring some heat. And that's exactly what he did.
The Detroit rapper came after damn near every rapper in the game. Specifically, former Shady Records signee/longtime peer Joe Budden.
It all started when Em dropped that BET cipher aimed at Trump and the track "Untouchable" that was featured on Revival.
Joe heavily critiqued Em, questioning folks if they really wanted to listen to a "woke" Eminem during an episode of the "Everyday Struggle" web series with his co-host DJ Akademiks. Last week, Budden also touched on his relationship with Em during an interview with Power 105's "The Breakfast Club."
Here's a snippet:
Remember when @JoeBudden pulled up earlier this week and spoke about his relationship with @Eminem #KAMIKAZE https://t.co/ayI3N1Bw8I pic.twitter.com/ceem1ugxLv

— Power 105.1 (@Power1051) August 31, 2018
Em heard you Budden, and now he wants smoke.
On the title track KAMIKAZE, Em unleashes some fighting words on his former Slaughterhouse brethren and he also popped off on Akademiks.
He rapped:
"Somebody tell Budden before I snap/ He better fasten it, Or have his body bag get zipped/The closest thing he's had to hits/ Since smacking b*tches."
Lordt. We talkin' body bags?!
Oh, and get this, he dropped it on Budden's birthday today.
Funny, so do i. https://t.co/k2CMVLvmdY

— Joe Budden (@JoeBudden) August 31, 2018
And here's what he he had to say to Akademiks:
"And don't make me have to give it back to Akademiks / Say this sh*t is trash again, I'll have you twisted like you had it / When you thought you had me slippin' at the telly."
Em seemingly came for Drake (y'all know Drake likes to call himself the GOAT and Em went in on his rumored usage of ghostwriters) on his track "Fall":
"Put me on a track, I go cray on it like a color book/You got some views, but you're still below me / Mine are higher so when you compare our views you get overlooked / And I don't say a hook unless I wrote the hook."

"All I know is I wrote every single word of everything I ever murdered / Time to separate the sheep from goats / And I got no faith in your writers, I don't believe in ghosts."
Oop!
Elsewhere on the LP...
He fired shots at Lil Yachty and mumble rappers:
"Get this f*ckin' audio out my audio, adios / I can see why people like Lil Yachty, but not me though/Not even dissin', it just ain't for me / All I am simply is just an emcee."

"And mumble, oh f*ck it / I'm goin' for the jugular / This sh*t is a circus," he raps. "You clowns that are comin' up don't give an ounce of mother f*ck / About the ones that were here before you that make raps."
Em really hates mumble rap:
"'Hatata batata, why don't we make a bunch of fuckin'/Songs about nothin' and mumble!/And f*ck it, I'm goin' for the jugular/Shit is a circus, you clowns that are comin' up/Don't give an ounce of a motherf*ck/About the ones that were here before you to make raps, it's recap"
He goes in on newbie rappers Lil Pump and Lil Xan:
"Lil Pump, Lil Xan imitate Lil Wayne/I should aim at everybody in the game, pick a name/I'm fed up with being humble/And rumor is I'm hungry/I'm sure you heard bumblings/I heard you wanna rumble like an empty stomach/I heard your mumbling but it's jumbled in mumbo-jumbo"
Em popped off on Machine Gun Kelly for comparing himself to him:
"But next time you don't gotta use Tech N9ne if you wanna come at me with a sub-machine gun / And I'm talking to you but you already know who the f*ck you are, Kelly / I don't use sublims and sure as f*ck don't sneak-diss / But keep commenting on my daughter Hailie."
And he also went at Tyler, The Creator:
"Tyler create nothing, I see why you called yourself a f***ot, b*tch/It's not just 'cause you lack attention/It's 'cause you worship D12's balls, you're sac-rilegious/If you're gonna critique me, you better at least be as good or better"
The homophobic slur Em used to describe Tyler (after Tyler used it himself) is causing him to receive backlash:
Yes, Tyler called himself this word before BUT our dear Eminem doesn't have the right to not only use the word in a rap BUT ALSO extend the homophobia by being like: yeah you're gay bc you love balls

No. Nope. Never.

— Zach Stafford (@ZachStafford) August 31, 2018
We just gonna act like Eminem didn't just passively call Tyler, The Creator a f*ggot tho? pic.twitter.com/LP7lmpvhm5

— [redacted] (@cloutpipe) August 31, 2018
Eminem can catch a huge L for calling Tyler, the Creator the f word. Ya old bitter ass

— juulstar woody (@atwoodotj) August 31, 2018
Thoughts?
Em popped off on Power 105's radio host Charlamagne tha God:
"Charlamagne gonna hate anyway/Doesn't matter what I say/Give me Donkey of the Day"
He went in on the Grammys:
"Then tell the Grammys to go and f*ck themselves, they suck the/blood from all the biggest artists like some leeches/So they nominate 'em, get 'em there, get a name to 'em/See the show, every parasite needs a host"
And, of course, Trump:
"But I think it's workin'/These verses are makin' him a wee bit nervous/And he's too scared to answer me with words/'Cause he knows that he will lyrically get murdered/But I know at least he's heard it/'Cause Agent Orange just sent the Secret Service/To meet in person/To see if I really think of hurtin' him/Or ask if I'm linked to terrorists"
Guess he had to let folks know...
Lakers baller LeBron James is feeling it too:
Now if y'all think this @Eminem "Kamikaze" album isn't you're just hating and incompetent of lyrics/cadence/breakdown of his raps. Oh and he putting quite a few in a body bag too !

— LeBron James (@KingJames) August 31, 2018
There's only one thing I can say negative about Kamikaze and that is "Kamikaze" and "Fall" on the track list is misplaced!

— LeBron James (@KingJames) August 31, 2018
Photos: Getty
​ ​
​ ​ ​