Kanye West Drops Another Weird, Sexed Up Anthem - 'I Love It' With Lil Pump - Then Takes Over PORNHUB Awards...With Teyana Taylor
Sep 07 | by Natasha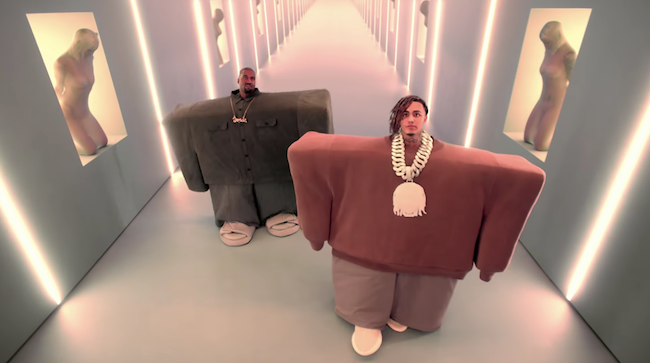 Kanye West hopped on a track with Lil Pump that's all about his favorite thing....sex, his "sick" fantasies, and more sex. Go figure. We've got it inside, plus how he dragged Teyana Taylor into his extra random role at last night's PornHub Awards...
Kanye dropped another trash a** song all about, you guessed it, his sexual desires.
The sex-doll-body worshiper's fave thing to do is admit to his obsession with sexually objectifying women. He literally married the poster woman for profiting off of it, and he's made plenty of songs about why he needs head and sex so badly. So, what's one more?!
First line of "I Love It" with Lil Pump:
"You're such a f**king ho, I love it."
Welp. That explains a hell of a lot.
I LOVE IT @kanyewest pic.twitter.com/EtfZP20TKs

— Def Jam Recordings (@defjam) September 7, 2018
Yeezy co-directed the super weird video alongside Amanda Adelson, which features oversized slippers that we guess is an ode to his too-small-slippers IG drama at 2 Chainz's wedding.
We're sure the capers for mumble-and-drugged-out rapper will say this is iconic. For the rest of us, the one good thing to see - 'Ye brought comedian Adele Givens out the woodwork.
Check it:
Last night, Kanye popped up at the first ever PornHub Awards. Why? Because the self admitted porn-lover was named as the Creative Director of said awards at The Belasco Theater in Los Angeles.
Reportedly, he was set to handle the design of the stage and production details as part of a DONDA collaboration (sir...).
He also planned on dressing the adult entertainers in his Yeezy collection, with replicas of the main garments going on sale on Fashion Nova.
That's all fine and good, but he went and dragged his artist Teyana Taylor into this:
We're always here for a bomb a** 16 count from Petunia's extra sexy self, but chile....