TENNIS DRAMA! Class Act Serena Williams CHECKS Umpire For Sexism, Gets Fined $17K After Losing US Open To Naomi Osaka + LaLa, Kelly Rowland & More Show Support
​
Sep 09 | by _YBF
​ ​ ​ ​
Serena Williams isn't letting anyone slander her name as a cheater, including tennis umpires. She went off during the US Open and it cost her $17,000. However, the play calling was quite questionable, and sadly, sexist AF. Everything inside...
Yesterday, Serena Williams hit the court to go head-to-head against Naomi Osaka during the women's U.S. Open finals held at the USTA Billie Jean King National Tennis Center in NYC. Rena was in the running for her record-tying 24th Grand Slam. However, that magical moment was stolen due to a sexist umpire.
During that second set, chair umpire Carlos Ramos gave Serena a warning after her coach was seen making hand signals towards her, which resulted in a code violation. Serena walked over to the umpire and tried to explain that when her coach gave her a thumbs up it was not a form of coaching. And she made sure to check him on insinuating that she was cheating
"I don't cheat to win. I'd rather lose," she told him (at the 0:25 mark in the clip below).
Tell 'em!
As the game went on, she ended up smashing her tennis racket on the court out of frustration, which resulted in another violation. This time she received a point penalty. (Check it at the 2:35 mark in the clip below). After the point penalty, she walked over to the umpire and DEMANDED an apology.
"You owe me an apology. I have NEVER cheated in my life!," she yelled. "I have a daughter and I stand for what's right for her and I never cheated. You owe me an apology!"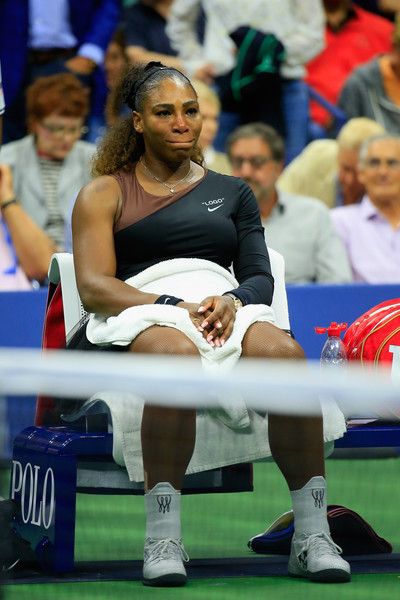 Later on the sidelines, Serena continued to demand an apology from the umpire for attacking her character. She said he would never be on another court while she's playing for as long as he lives and then she called him a "liar" and a "thief" for docking the point.
"How dare you insinuate I was cheating. You stole a point from me. You're a thief too."
After she said that, the umpire then issued a full game point/penalty, which resulted in her losing the game. Rena ended up calling referees on the tennis court to explain how SEXIST the game of tennis is. Fighting back tears, she pointed out how male tennis players show emotion ALL the time and they don't get penalized for it, however, when a female does the exact same thing, she's punished for it.
See the emotional moment at the 5:40 mark below: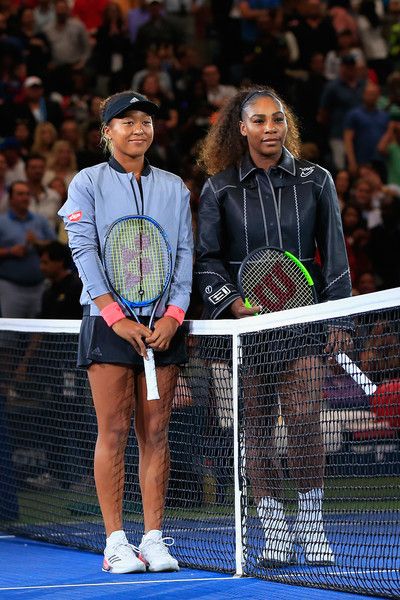 20-year-old Naomi Osaka took home her first Grand Slam title. She's the youngest player to win the tournament in 12 years, one more before her 21st birthday. She's also the second woman of color to win the US Open in two years, one year after Sloane Stephens. Congrats!
Serena Stands Tall After Final Loss #USOpen

Read more: https://t.co/e8H7mUnXbU pic.twitter.com/UYO8PxVp0J

— US Open Tennis (@usopen) September 9, 2018
During the trophy ceremony, Naomi got real emotional after her win as roars of boos erupted from the crowd. The 36-year-old tennis star moved closer to Naomi and wrapped her arm around her to comfort her. CLASS ACT! As Naomi wiped the tears that were streaming down her face, Serena smiled, said something to her and that made Naomi smile as fans began to cheer.
"I don't want to be rude, but I don't want to interrupt," Serena told the audience. "I don't want to do questions. I just want to tell you guys, she played well. And this is her first Grand Slam," Serena told the audience.
"I know you guys were here rooting, and I was rooting too," Serena continued. "But let's make this the best moment we can, and we'll get through it. Let's give everyone the credit where credit's due. Let's not boo anymore. We're gonna get through this, and let's be positive. So congratulations, Naomi! No more booing."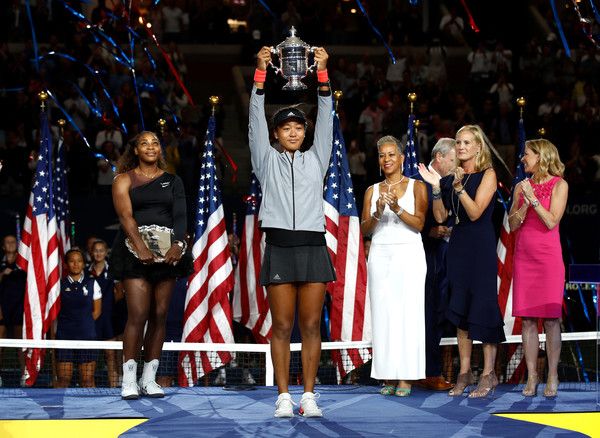 After her big win, Naomi got choked up as she opened up about how she felt beating Serena:
"When I step on the court, I'm not a Serena fan - I'm just a tennis player playing another tennis player. But when I hugged her at the net, I felt like a little kid again."

@Naomi_Osaka_ lets us into her heart...#USOpen pic.twitter.com/GlCigEQUiv

— US Open Tennis (@usopen) September 9, 2018
During her own post-game interview, Serena perfectly explained why she lit into the umpire for what she saw as a sexist move in punishing her, during a championship match. She said she was standing up for women's rights.
"I've seen other men call other umpires several things. And I'm here fighting for women's rights and for women's equality," she said.
Watch her explanation below:
Today, Serena was fined $17,000 for three code violations during the U.S. Open final.
The AP breaks down the fines, reporting:
The tournament referee's office Sunday docked Williams $10,000 for "verbal abuse" of chair umpire Carlos Ramos, $4,000 for being warned for coaching, and $3,000 for breaking her racket.

The money comes out of her prize money of $1.85 million as the runner-up. Williams lost to Naomi Osaka in Saturday's final.
UGH!
Former No 1 tennis champ Billie Jean King, who is an outspoken advocate of women's rights, said Serena was entitled to draw attention to the "double standard" in tennis.
(1/2) Several things went very wrong during the @usopen Women's Finals today. Coaching on every point should be allowed in tennis. It isn't, and as a result, a player was penalized for the actions of her coach. This should not happen.

— Billie Jean King (@BillieJeanKing) September 9, 2018
(2/2) When a woman is emotional, she's "hysterical" and she's penalized for it. When a man does the same, he's "outspoken" & and there are no repercussions. Thank you, @serenawilliams, for calling out this double standard. More voices are needed to do the same.

— Billie Jean King (@BillieJeanKing) September 9, 2018
Facts!
Billie Jean King also congratulated Naomi on her win:
Congratulations on winning the 2018 @usopen, @naomi_osaka_. This win is just the beginning of a bright future. Tennis is in an exciting place right now with players like you. #Champion #usopen

— Billie Jean King (@BillieJeanKing) September 8, 2018
Shonda Rhimes and Sanaa Lathan also tweeted support of Serena:
Serena is right. I was there. And worse, he was baiting her. https://t.co/CinW6AJJNo

— shonda rhimes (@shondarhimes) September 8, 2018
Speak that truth @serenawilliams. Activism in action. Thank you for shining the light and forging a path for women's equality with such grace and clarity even through the pain. We see you and are grateful pic.twitter.com/DbPCh52ytX

— Sanaa Lathan (@justsanaa) September 9, 2018
The Dictionary even popped back at folks calling out Serena's actions:
Class is defined as informal. elegance, grace, or dignity.

See also: Serena Williams after Naomi Osaka's Grand Slam win. https://t.co/nc0Nsu1h8V https://t.co/MNG0hBa90c

— Dictionary.com (@Dictionarycom) September 8, 2018
By the way, Deborah Cox sung the National Anthem before the game started.
In the stands...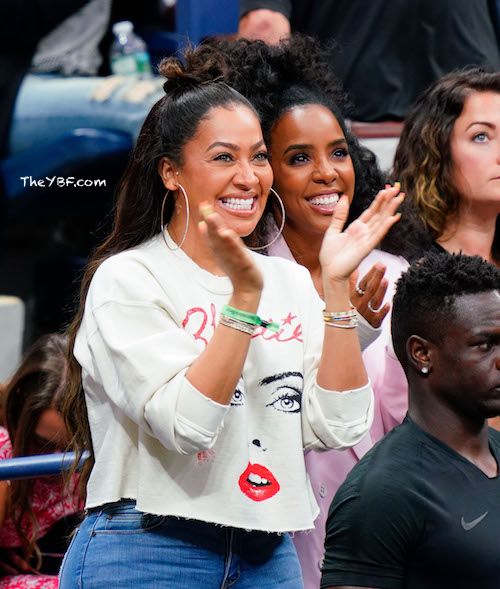 Rena's besties LaLa Anthony and Kelly Rowland were in the stands cheering Serena on. They were in the player's box with Serena's sister Venus Williams, her mother Oracene Price, VOGUE editor-in-chief Anna Wintour, her coach Patrick Mouratoglou, and her hubby Alexis Ohanian.
Cute.
Singer Alicia Keys, her song Egypt, rapper 2 Chainz, funnyman Kevin Hart, TV host Trevor Noah, singer/actress Vanessa Williams and "Insecure" star Jay Ellis, "Empire" star Taraji P. Henson, her fiane Kelvin Hayden, and Black Panther actress Danai Gurira were also in the mix: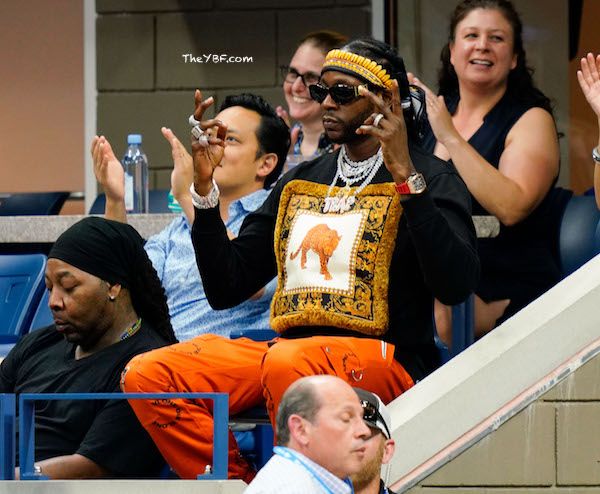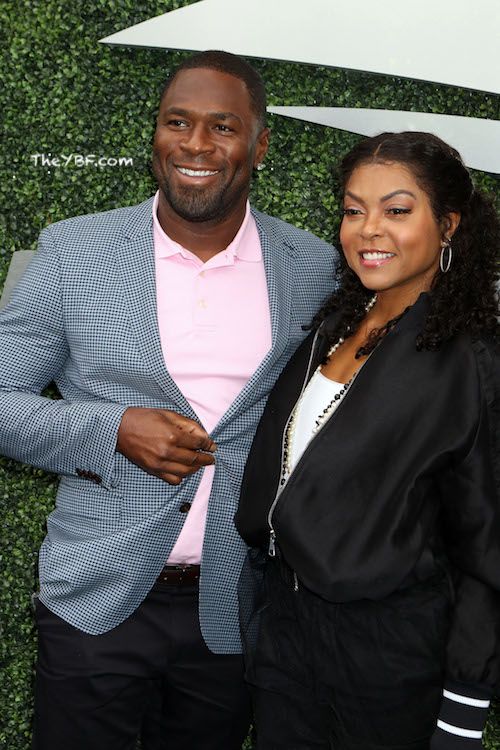 ,/p>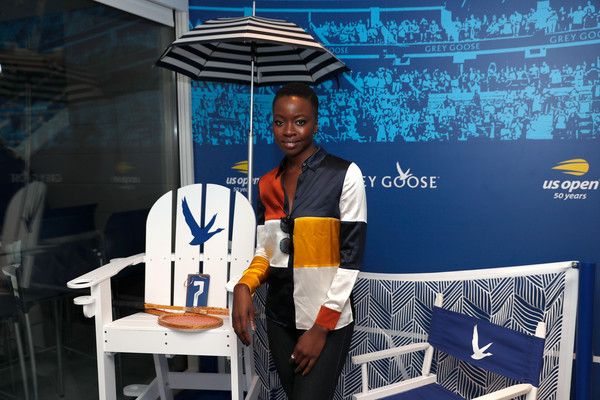 Photos: Getty
​ ​
​ ​ ​