THAT GLOW UP! The Acting Jobs Are Rolling In For Geoffrey Owens, Will Star In 'Fatale' Thriller After Landing 'Have & Have Nots' Gig
Sep 24 | by _YBF
Nope, the devil aint gonna win tuh-day! "Cosby Show" star Geoffrey Owens' glow up is on 1,000! Get the deets on all the new gigs he has lined up inside....
Come thru lemonade maker!
"Cosby Show" alum Geoffrey Owens, who played Elvin Tibideaux, was thrust back into the limelight several weeks ago when a woman took a picture of him while he was working at a Trader Joe's in New Jersey. He was between jobs and had fallen on harder times, so he nabbed a job at the grocery store to keep his bills paid. its definitely not uncommon for actors to work non acting jobs, seeing that only about 1% make a living off of solely acting.
The photo quickly went viral and folks were shaming him for bagging groceries. But, things quickly turned around for Owens, who received an outpouring of support from Hollywood. Tons of actors - even some who currently star on hit shows - shared their stories about times they worked non acting jobs to make ends meet. Then, Tyler Perry first offered him a role on his hit drama series "The Have & The Have Nots."
Now, he's gearing up for a movie role.
The 57-year-old actor will join Michael Ealy (Think Like A Man), Mike Colter ("Luke Cage"), Tyrin Turner (Menace II Society) and Hilary Swank (Million Dollar Baby) in Deon Taylor's noir thriller, Fatale, according to The Hollywood Reporter. Owens will be starring as an attorney in the film.
BlacKKKlansman star Damaris Lewis will also join the cast.
THR reports:
Fatale centers on a married man (Ealy) who is tricked into a murder scheme by a seductive female police detective (Swank). Lewis plays Ealy's character's wife, Traci, while Owens plays his attorney.

Taylor, who recently wrapped Meet the Blacks sequel The House Next Door, is directing from a script by David Loughery. Roxanne Avent and Robert F. Smith are producing for Hidden Empire Film Group, which is fully financing the movie. Endeavor Content is handling worldwide sales.

Said Taylor, "Geoffrey and Damaris are great talents with cool roles in Fatale that will show off their acting chops working opposite Hilary, Michael and the others. These will be memorable performances, for sure. We're excited that shooting is underway and have our game plan working to make an amazing movie."
Congrats!
After Tyler Perry welcomed him to TP Studios, pictures of the actor on set of the series in Atlanta began popping up on social media: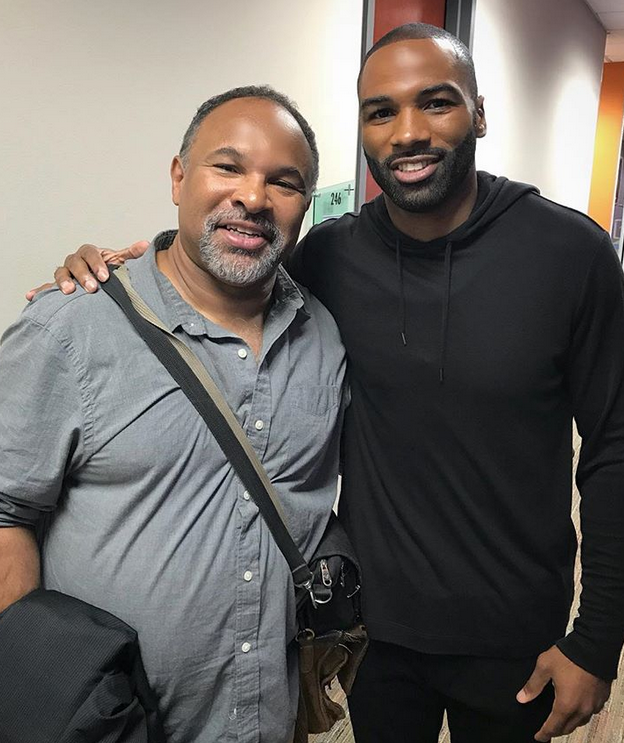 He's currently filming his recurring role for the show's 7th season, which will debut in 2019. It's unclear what his role on the show is as of right now.
"Have & Have Nots" actor Andra Fuller (above) snapped a pic with Geoffrey with the caption, "Just 2 co-workers happy to be off work. Lol But seriously, it was a pleasure to work with Geoffrey Owens on HAHN. Work ethic and integrity are 2 necessary characteristics that every MAN should possess, yet should NEVER be made fun of. Kudos to TP for stepping up and creating a role that allowed Mr. Owens to showcase his acting chops perfectly. I look forward to seeing him back doing what he loves to do."
He also posed it up with new co-star Edwina Findley, below:
In a recent interview, Owens revealed Bill Cosby's sexual assault legal battle took a toll on his finances. He claims that was one of the reasons he had to get the job at Trader Joe's.
"Yes, it impacted me financially," Owens explained to PEOPLE magazine about his royalty checks. "At the time that the show was pulled, that did make a difference in our income. That was one of the elements that led to my getting to the place where I said to myself, 'I have to do something' and I was thinking, 'What can I do?' and the answer ended up being Trader Joe's, which is actually a wonderful situation for me in many ways," he added.
He worked there for 15 months before the viral photo changed his life.
"I just had to do something to support myself and my family," he added.
Respect.
By the way, Geoffrey will also guest-star on an episode of CBS' "NCIS: New Orleans" this fall.
Speaking of Bill Cosby, he goes before the judge today for sentencing in Montgomery County, Pennsylvania.
Here's how he walked in this morning:
Cosby was convicted on three aggravated indecent sexual assault charges back in April where he was accused of drugging and sexually assaulting former Temple University employee Andrea Constand. Each charge can carry a sentence of up to 10 years behind bars.
Photos: Getty/Andra Fuller's IG