#ApartmentAnne FIRED From Job After Blocking Black Man From Entering His Luxury Apartment [VIDEO]
Oct 15 | by _YBF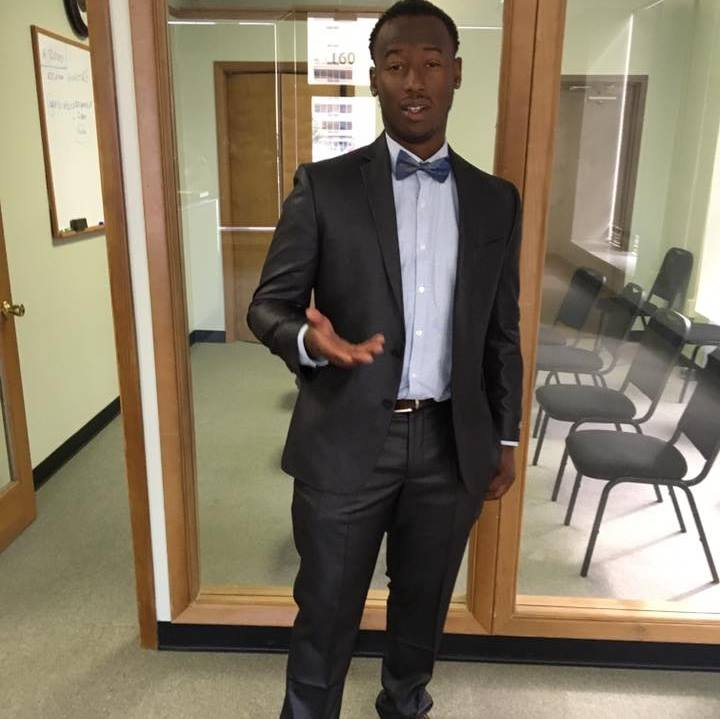 Apparently, you can't be black and simply walk inside into own home. Deets on a white woman losing her job after she was caught on camera blocking a black man from entering his luxury loft inside...
UPDATE:
#ApartmentApartment's estranged husband Brandon Mueller, who is biracial, spoke out about her behavior in a video posted to his Facebook account where he made it crystal clear he has NOTHING to do with her behavior. He said he has been separated from Ms. Mueller for more than a year and he's very disappointed in her behavior.
Mr. Mueller's business partner, Jennifer Michele Matus, also hopped on Facebook to reiterate they have NO affiliation with her: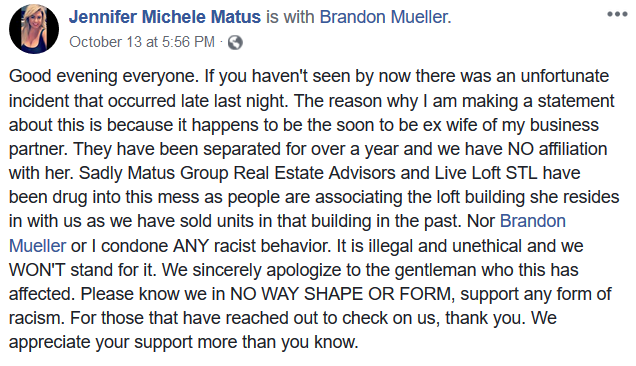 Hmph.
-------------------------------------------------------------------
What in the racist hell is really going on? Well, we know: RACISM.
#ApartmentAnne, a white woman, has lost her job after a video of her blocking a black man from entering his luxury apartment building has gone viral.
D'Arreion Toles was stopped by #ApartmentAnne (identified by the New York Times as Hilary Brooke Mueller) who blocked him from entering his luxury apartment in downtown St. Louis after a long day at the office.
Thank God for camera phones because had he not captured this footage, this situation likely would have went another way.
When the white woman wouldn't let him inside, he pulled out his phone and recorded her trying to stop him from entering the building. She even got on the apartment with him when he walked past her, and followed him to his apartment.
"Do you live here?" she asked D'Arreion as he tried to walk inside his apartment building. She kept requesting he give her his apartment number and then said, "I'm uncomfortable."
"You can be uncomfortable," D'Arreion responded. "That's your discretion. You're uncomfortable because you're you."
YAS! LET.HER.KNOW.
Peep the clip below:
Now, Hilary will be looking for a new job because she has reportedly been fired.
KSDK-TV reports:
Tribeca-STL, a luxury apartment company, identified the woman as an employee but said the incident did not take place on company property. Company officials decided to fire her after reviewing the video of the "disturbing interaction," according to a statement.

"The video is showing the employee in her private life at her own residence interacting with another person," the statement said. "The Tribeca-STL family is a minority-owned company that consists of employees and residents from many racial backgrounds."
In an interview, D'Arrieon said he doesn't plan on pressing charges and he only wants positivity to come out the situation.
Props to D'Arreion for keeping his cool! He also says he doesn't wish for her to be inundated with hate, but for people to send her positive vibes:
He did say once watching the video again, he would have reacted the same way again. But deep down inside, he thought he was being too nice.
Now, we have #BBQBecky, #PermitPatty, #CornerstoreCaroline...and now #ApartmentAnne. All white women calling the police on black people for...being black. Basically. Be careful out there black people! They're wildin'!
Photo: D'Arrieon's FB