So, Beyoncé Is The Most Politically Divisive Celebrity In America? Your Racism & Sexism Are Showing.
​
Oct 19 | by _YBF
​ ​ ​ ​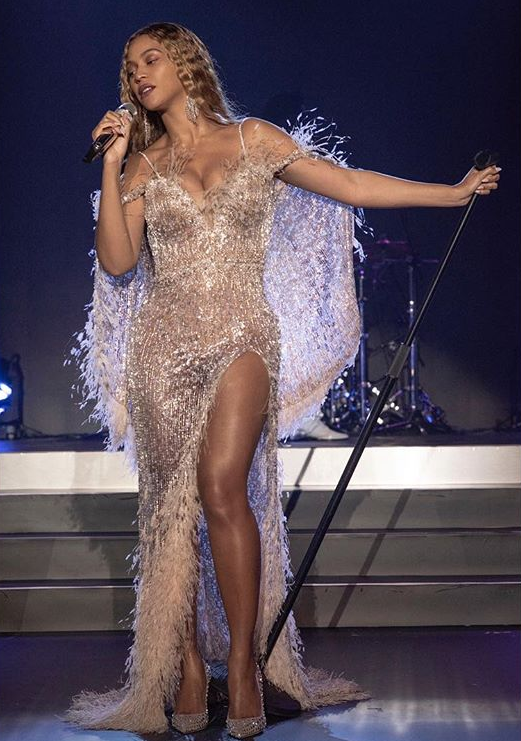 A new poll claims Beyonce is the most politically divisive celebrity in the U.S., despite the fact she rarely speaks politics. But you still know exactly where she stands. Let's discuss inside...
Folks are trying it and reaching for straws at every length at this point.
A new poll by Morning Consult found that the LEMONADE singer has been found to be "the MOST politically divisive celebrity" in the United States. This was the result despite the fact Bey hardly ever talks politics.
The poll found that Beyoncé has a 63% favorable rating with Democrats and a -3% favorable rating among Republicans, which results in a 66-point gap. Ha. They hate the fact her pure existence screams unapologetically black feminism.
They will deal.
The Hill reports:
That 66-point gap was the biggest between the two political parties of any entertainer on the list.

Fox News' Sean Hannity took the runner-up spot on the list, with a 28 percent net favorability rating for the GOP and -37 among Democrats.
LeBron James, Rush Limbaugh, and Ellen DeGeneres rounded out the top 5 spots on the most divisive celebrity poll. Rihanna made it in the top 10. How is it that Beyonce, of all celebrities, was named as the most politically divisive when she rarely speaks out on political issues? We know: Racism. It's showing, and we peep it. We're not the only ones either:
America still hasn't forgiven Beyonce for reminding us she's Black.

Karen: Beyonce is so racist against the police now I'm so disappointed.
Trish: Why can't she just do the Single Ladies dance again? I like that one. https://t.co/azTO1GpMjK

— Rafi (@RafiDAngelo) October 16, 2018
Beyoncé is possibly the most inoffensive celebrity of this century. She's only divisive because she's unapologetically black. It is sad. https://t.co/VIfCSbEh2u

— (@uikqe) October 17, 2018
Imagine the life you lead when, of all the hills to die on and of all the things to consider as divisive, you choose Beyonce. https://t.co/CmvsPT2vGB

— Natalie T. J. Tindall, Ph.D., APR (@dr_tindall) October 16, 2018
Huh? What political positions has Bey taken other than celebrating African American culture and identity? Because I suspect that this "divisiveness" is based more on white people's fear of powerful Black women than any substantive political analysis.

— Male Energy Messiah (@thespinsterymc) October 16, 2018
Racists gonna racist.

— Satiricalifragilistic btw, please ban the Nazis (@Satiricali) October 16, 2018
I thought trump was the most politically divisive celebrity in the US..

— iceberg21 (@iceberg171) October 16, 2018
Sure, she incorporates black American culture into Coachella sets. Sure, she blasted the word FEMINISM across her big ass stage at both the Formation Tour & the On The Run II tour. And sure, she has campaigned for Hillary Clinton and is besties with the Obamas. We guess the fact she is so powerful in her own right before she did these things is what people have a problem with.
Folks like LeBron are MUCH more often direct and vocal, yet he ranks lower in the divisiveness scale? Likely because he's a man at the end of the day, and his voice is welcomed and accepted. Intersectionality is a b***.
If their voices are "divisive", then oh damn well. We applaud BOTH for continuing to do what they do and keeping those on the wrong side of history mad uncomfortable.
Thoughts?
Photo: Beyonce's IG
​ ​
​ ​ ​