Christina Milian Reportedly Involved In BRAWL With Bouncer When He Denied Her At The Door!
​
Oct 25 | by Natasha
​ ​ ​ ​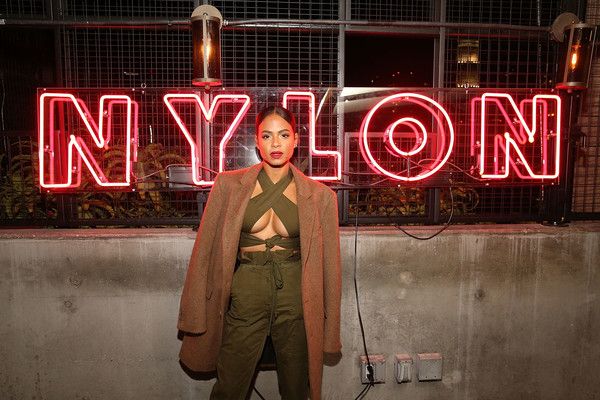 Apparently, Christina Milian's gonna want smoke if you try to block her from her nightcap. Deets inside on the brawl she was reportedly involved in with a bouncer...
After living it up at the Bruno Mars concert at the Staples Center Tuesday night, Christina Milian and her girl, model Nicole Williams (far right, below at the concert), hit up the Figueroa Hotel in downtown L.A. The bouncer gave them a NOPE on getting in, reportedly because it was after last call. Then, all hell broke loose when the bouncer allegedly grabbed Christina when she allegedly threw a drink at him.
The "Dip It Low" singer's camp denies anything was thrown, but alleges the bouncer did hit one of her friends.
TMZ reports:
What's odd is, we're told he let in Nicole and few others before fully blocking the singer/actress and one other friend. One witness claims one of the friends who was inside reached to open a gate, Christina threw a drink at the bouncer, and then things got outta hand. We're told he tried to grab Christina, but 2 guys stepped in and the fight started.

Christina's camp tells us a different story -- that the hotel manager told the group they could enter the bar, and when the bouncer started getting aggressive ... Nicole left to go find that manager. They deny Christina threw anything, and claim the bouncer actually struck one of her friends during the standoff.

When it was clear he wasn't budging they called an Uber and left. Christina's people say the bouncer actually followed them down the street as they walked to meet their ride.
Chistina's camp says the singer herself wasn't involved in the brawl and the guys who were are not part of her group. LAPD was called, but no charges have been pressed as of yet. The hotel says the hoopla was "unfortunate".
Before the kerfuffle:
Photos: Getty/IG
​ ​
​ ​ ​