Ex-NFLer Rae Carruth Is Reportedly Moving To Pennsylvania After Prison Release + Gucci Mane Denies Living Lavishly To Block Child Support Increase
Oct 25 | by _YBF
Former NFL player Rae Carruth will be settling in Pennsylvania after serving almost two decades in a North Carolina prison for plotting to kill his then pregnant girlfriend. In other news, Gucci Mane is trying his damnedest not to have his child support payments increased. Everything inside...
Days after former NFL player Rae Curruth, 44, was released from prison for plotting the death of his then-pregnant girlfriend, Cherica Adams, it's revealed where he'll now lay his head after serving almost two decades behind bars.
The former North Carolina Panthers wide receiver is reportedly moving to Pennsylvania days after he was released from a prison in Clinton, North Carolina. It's reported he is officially under the supervision of the Pennsylvania Board of Probation and Parole.
WBTV reports:
Since he is now under PBPP supervision he is expected to soon be living in the state full time.

According to their website, Interstate Commission for Adult Offender Supervision is charged with overseeing the day-to-day operations of the Interstate Compact for Adult Offender Supervision, a formal agreement between member states that seeks to promote public safety by systematically controlling the interstate movement of certain adult offenders.

The agreement was formally made between North Carolina and Pennsylvania.
Tiffany Trice, a family friend who said she was with Carruth, said that he did not want to speak to the media or say where he planned to live.
Last year, it was reported the fallen NFL star wanted to seek custody of his son, Chancellor Lee, whom he shared with Cherica Adams before her untimely death. Chancellor was born with cerebral palsy and suffered brain damage because of the lack oxygen caused by the shooting that killed his mother. At the time, he wrote a letter to Cherica's mother, Saundra Adams, sharing how he wanted a relationship with his son and in a TV interview he said, "I should be raising my son." Oh?

Saundra, who has cared for Chancellor since he was born and lives in Charlotte, responded in an interview, saying Rae would never have custody of his son.
Rae eventually changed his mind. By the way, Rae has an older son he welcomed during his sophmore year in college.
Rae was convicted in 2001 for paying a hit man to murder Cherica Adams, who was eight months pregnant with Chancellor. He was released from prison earlier this week.
In child support news...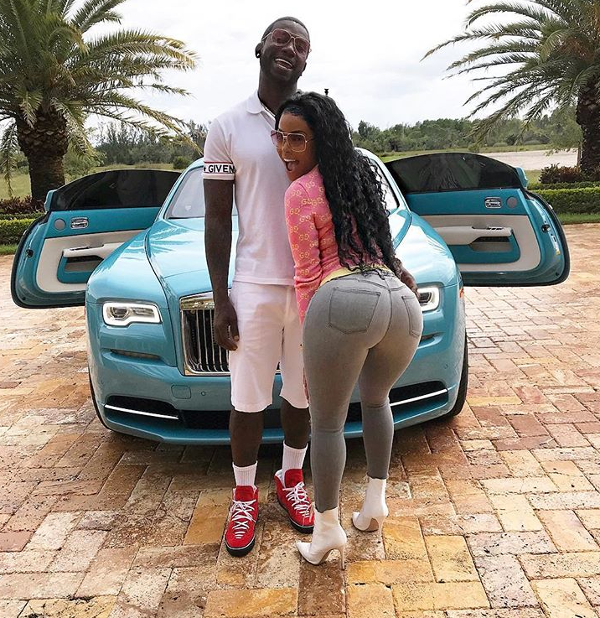 A few months ago, we told you Gucci Mane's son's mother, Sheena Evans, was looking to have her monthly child support payments increased. Now, Guwop is responding.
Since the Atlanta rapper and his wife Keyshia Ka'oir stay floosing on the 'Gram, spends an excessive amount of money on jewelry, and can afford a $1 million wedding, she feels she should be receiving at least $20,000/month, a huge jump from the $2,000/month he's currently paying.
However, the 1017 Brick Squad rapper says his finaces aren't as great as they seem.
The Blast reports:
On October 17, Big Guwop filed documents responding to a lawsuit from his baby mama, Sheena Evans. Evans is seeking to increase the child support she receives over their 11-year-old son, Keitheon.

In his response, Gucci denies that he lives lavishly, and also denies that his wedding cost a million bucks. The rapper says his income hasn't changed since 2011, and claims that he's already paying the health insurance and medical expenses for their son. He doesn't believe an increase is due to Evans, and wants the entire case tossed out.
How ironic he filed the paperwork on his wedding anniversary.
We aren't judges, but Gucci may have a hard time proving he's as "broke" as he claims he is. And now that he's married, Keyshia Ka'oir may want to re-work her finances to keep from having to help pay his child support.
Photos: AP/Gucci's IG