Ava DuVernay Is About To Give Us The Prince Documentary We Need + 'Heathers' Episodes Pulled After Pittsburgh Mass Shooting
Oct 30 | by _YBF
A documentary about Prince is in the works which will be helmed by the oh, so talented Ava DuVernay. Get the deets, plus details on the "Heathers" remake having episodes pulled due to violence across the nation inside...
When it comes to making documentaries, Ava DuVernay knows exactly what it takes to create a compelling body of work that'll keep you captivated every moment. She schooled us all in her 13th documentary and now, she's gearing up for an inside look at a musical icon.
Ava DuVernay will be giving us the Prince documentary we all need that will be brought to our television screens via Netflix.
"Prince was a genius and a joy and a jolt to the senses," the Oscar-nominated filmmaker told Deadline ."He was like no other. He shattered every preconceived notion, smashed every boundary, shared everything in his heart through his music. The only way I know how to make this film is with love. And with great care. I'm honored to do so and grateful for the opportunity entrusted to me by the estate."
Rest assured she'll do the Purple One justice and his estate will be proud. Prince's estate personally sought out Ava to collaborate on the film. Before he passed in April 2016, Prince reached out to the SELMA director directly to talk about working together, according to Deadline.
The site reports:
The untitled docu started discretely early this year. That's almost exactly two years after Prince's sudden decline and soon afterward death on the way back from a solo show in Atlanta in 2016.

As part of the development of the film, the estate has granted the ARRAY founder full access to the vast treasure trove of archives recordings and perhaps most immediately important to Prince's global fanbase, the unreleased material by the prolific musician. The early stages of the project have already seen DuVernay, editor Spencer Averick and other members of her core production team visit Prince's Paisley Park home and studios repeatedly over the past several months.
We're SO here for this.
In other TV news...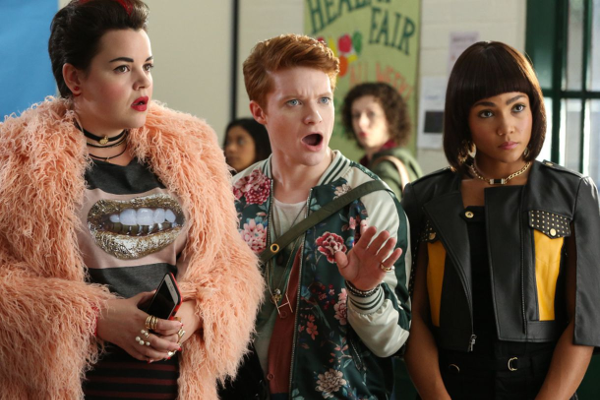 The "Heathers" TV series remake (a TV adaptation of the 1988 movie) is having major issues airing episodes due to violence that keeps happening on our home turf. The TV show hasn't been able to air episodes due to constant mass shootings in the U.S. And this is the third time "Heathers," starring Jasmine Mathews, has been stopped from airing due to the violence.
Sources tell The Hollywood Reporter Paramount Network decided to pull two episodes that were scheduled to air Sunday, following the synagogue shooting in Pittsburgh that left 11 dead. According to the site, the episodes featured a storyline involving students at the school's central high school undergoing active shooter training.
More details below:
Monday's finale, which has been edited to remove sensitive storylines including the school being blown up, will also air as scheduled. Saturday's episodes are available to watch via VOD and the Paramount app and website.
The TV adaptation was first scheduled to premiere in March 2018, but it got delayed at the Parkland, FL shooting that left 17 people dead. Before getting an official new air date, the Sante Fe high school shooting happened in May, which left 10 people dead, so it got pushed back again.
Sounds like they just need to scrap the dark satire altogether because airing episodes about school shootings and things could be triggers for some, especially mass shooting survivors, their families and friends.
Photos: Getty/Paramount