Nah, Bruh! Pharrell Williams Hits Trump With A Cease & Desist Over 'Happy'
​
Oct 30 | by _YBF
​ ​ ​ ​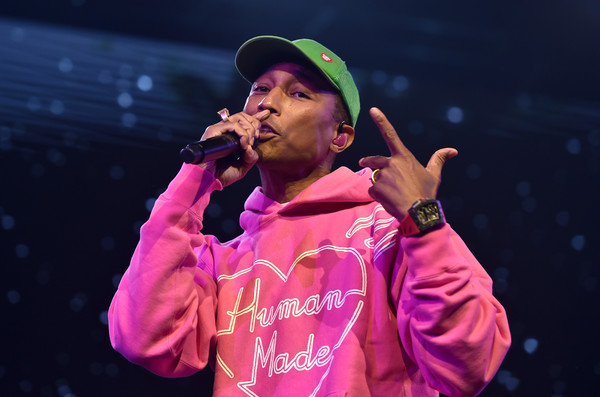 Trump tried it and Pharrell Williams said nah, bruh. Deets on Skateboard P launching a cease and desist letter to No. 45 over his "Happy" track inside...
At this point, nothing Trump does shocks us anymore.
So when he walked out to Pharrell Williams' "Happy" track at the most inappropriate time, we def weren't surprised.
On Saturday (October 27th), the super wreckless Cheeto hosted one of his political rallies in Illinois. Ehen he walked out to take center stage, he had the audacity to play Pharrell Williams' "Happy" track...on the SAME day as a mass shooting went down at a Pittsburgh synagogue. 11 people were reportedly killed at the Tree of Life Synagogue after terrorist suspect Robert Bowers walked into the establishment, shooting and reportedly screaming "All Jews must die!"
Word got back to P and he's shutting ish down. He had his attorney, Howard E. King, issue a cease-and-desist letter to Trump letting him know how insensitive it was to play the track on the same day as a tragedy AND to let him he was never given permission to use his material in any form or fashion. Periodt (no typo).
"On the day of the mass murder of 11 human beings at the hands of a deranged 'nationalist,' you played his song 'Happy' to a crowd at a political event in Indiana," Pharrell's attorney wrote in the letter. "There was nothing 'happy' about the tragedy inflicted upon our country on Saturday and no permission was granted for your use of this song for this purpose."

"Pharrell has not, and will not, grant you permission to publicly perform or otherwise broadcast or disseminate any of his music," King wrote. "The use of 'Happy' without permission constitutes copyright infringement."
Check it:
Where is the lie?
Oh, and get this...
Trump reportedly joked during the event that he considered canceling the rally because he was "having a bad hair day." UGH. He makes our blood boil AND itch.
Photo: Getty
​ ​
​ ​ ​