PLOT TWIST! Rob Kardashian Believes Blac Chyna Should Be Paying HIM Child Support, Files Paperwork To Lower $20K/Month Payments
​
Nov 13 | by _YBF
​ ​ ​ ​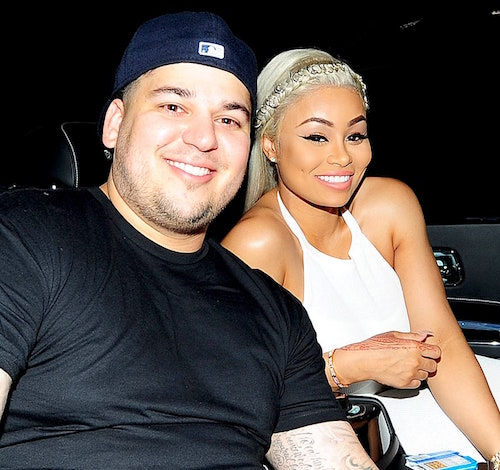 Rob Kardashian wants Blac Chyna to pay HIM child support for their 2-year-old daughter, Dream Kardashian. And he's taking her back to court. Deets inside...
UPDATE: Chyna says she hasn't gotten ANY child support, actually.
________________________
The Rob Kardashian vs. Blac Chyna custody battle over child support wages on over 2-year-old, Dream Kardashian.
According to The Blast, the former "Keeping Up With The Kardashians" star recently filed paperwork to have his $20,000/month child support payments lowered since he claims he can't afford it anymore. He says his income has dropped drastically since he no longer films "KUWTK."
In fact, he claims she makes WAY more money than him and that SHE should start paying HIM child support since they have 50/50 custody of little Dream. He also notes that it's Chyna's fault that he can't make as much money after she filed that domestic violence restraining order against him. Hmph.
The site reports:
Kardashian, who had been ordered to pay $20,000 per month, claims he "can no longer afford these orders," and is asking for a modification. He's putting the blame for his financial situation squarely on Chyna's shoulders, claiming the domestic violence restraining order she filed last year caused him significant damage.

He has largely stayed out of the spotlight since the fighting with Chyna began, and even stopped participating on the family cash cow, "Keeping Up With the Kardashians."

In his own declaration, Rob says, "I have not participated in the filming of any episodes since this summer when [Chyna] filed a request for a restraining order against me. Her request was widely publicized and I was scrutinized by the media."

He continues, "It has been an extraordinarily difficult time for me emotionally and I have no desire to continue participating in the reality show. I would like to maintain my privacy, try to recover from the emotional damage of the past several months, and explore other business ventures."
In the documents, Rob claims he was guaranteed a minimum of $1 million a year for filming the family reality show. Since he has chosen not to film, and still has no desire to film, his paychecks have been cut to $50,000 per episode.
Rob's legal team says Chyna has benefitted from the drama and "has, self-admittedly, grown her bank account to 7-figures." Since she's allegedly rolling in coins, Rob wants Chy to pay HIM child support.
Based on financial records, Chyna is allegedly worth over $1.4 million. Kardashian is trying to use that to his advantage, describing his own income as dwindling from $100,000 per month at the time of their split, to less than $10,000. Chyna, however, rakes in about $60,000 per month.

Because of the drastic change in incomes, Rob actually believes that he should be the one collecting child support. His lawyers estimate that based on what Chyna earns, he should collect $2,864 for his 50/50 custody of Dream.
Chyna reportedly is fighting back with claims that Rob is "manipulating" the numbers to make it seem like he's not making as much money as he actually is.
You may recall, Rob agreed to the $20K/month in child support in exchange for Chyna to drop her domestic violence restraining order and for 50/50 custody of Dream. Well, people in Rob's camp are alleging that was his plan the entire time. Get the restraining order dropped and then he would go back to have his child support payments reduced. TMZ reports:
Our sources say, Rob agreed to pay $20k a month knowing that a judge would have reduced that amount significantly, but he needed Chyna to back off her claim he physically abused her -- aggressively hitting, shoving and pushing her to the ground during their relationship -- something that could have badly hurt him in their custody fight.

Chyna's lawyer, Lisa Bloom, tells TMZ ...Chyna was NOT played and she knew Rob would probably go back into court for a reduction in support. Bloom says her client made her point and got what she wanted -- an agreement Rob would leave her alone. She also got him to agree not to post more revenge porn targeting her, something Bloom says has dogged Chyna to this day.

She also claims Rob is pretending to be poor when he leads a lavish lifestyle. She says, "Rob has deliberately retreated from social media to suppress his income in order to reduce support. What kind of father plays games with supporting his own baby?"
And, Bloom says, Chyna still has a separate, active civil case against Rob which raises the domestic violence issue.
Earlier this year, a judge suspended all child support obligations until they figure this ish out. The former couple has turned in their financial documents and is set to return to court in December for a final decision.
A few days ago, Dream Kardashian celebrated her 2nd birthday:
Too cute.
Photo: Backgrid
​ ​
​ ​ ​