ABC Network President Channing Dungey Steps Down As FOX Execs Take Over + Eva Longria Is Linking Up With Kerry Washington For A New Comedy
Nov 17 | by _YBF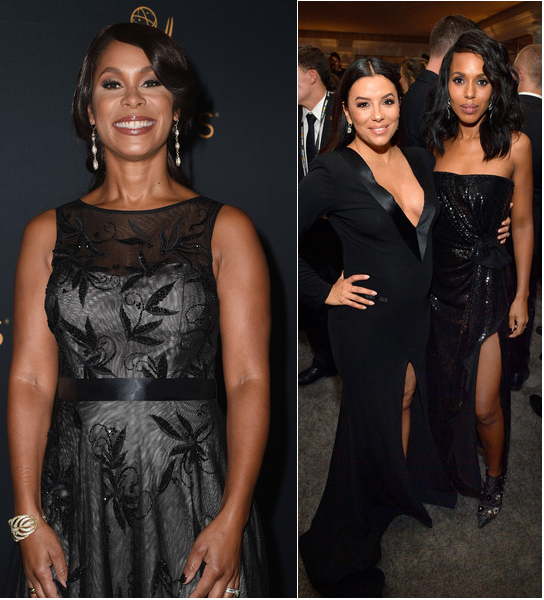 Channing Dungey is stepping down as president of ABC Network as Disney does an overhaul with FOX execs. Meanwhile, Eva Longoria will make her directorial debut in her new comedy with Kerry Washington. Get into the deets inside...
After making history as the first black executive to run one of the Big Four networks' entertainment division, TV exec Channing Dungey is stepping down as the President of ABC Entertainment. The reason? It has been reported. But it may have something to do with the changes Disney has in the works.
According to Variety, corporate parent Disney has hired FOX execs to higher positions.
Disney prepares for a massive overhaul of its television business units tied to the pending acquisition of 21st Century Fox. Last month, Disney announced that Fox executive Peter Rice would take over the entirety of Disney's non-sports TV operations, with fellow Fox veteran Dana Walden tapped to oversee ABC, Freeform, and Disney's television-studio operations. The arrangement would have seen Dungey report to Walden, who had been co-head of Fox Broadcasting and 20th Century Fox Television.
"Everyone is devastated," one insider told Variety. "There's a reason Channing was so beloved and respected around town."
ABC didn't want her to leave. She offered a new contract and encouraged to stay, but chose to part ways.
Karey Burke, head of programming for ABC's sibling station Freeform, will be replacing Channing.
Sources present tell Variety that Dungey gave no indication when speaking to her executive team what her next move would be. She expressed admiration for Rice, who will lead all non-sports TV operations; and Walden, who will oversee ABC, cable channel Freeform, and the enlarged TV studio operation.
It's being reported that those who know Channing aren't surprised by the move. She reportedly was wrestling with the idea on whether to stay or leave once her contract ended early next year. She nabbed the job in February 2016 after leading the network's drama development team.
As for one of Channing's former high-profile employees...
"Scandal" star Kerry Washington and her bestie Eva Longoria Baston have a new comedy in the works. It was previously reported the ladies were producing a workplace comedy with Universal via their production companies Simpson Street and Unbelievable Entertainment production companies, respectively.
Now, things are shaping up.
Eva will make her feature directorial debut, produce, and star with Kerry in 24-7 after giving birth to her first child, a boy, back in June. The project is based on a pitch by screenwriter Sarah Rothschild.
Variety reports:
Paul Feig is producing with partner Jessie Henderson through their FeigCo Entertainment banner. Longoria Baston is producing through UnbeliEVAble Entertainment as is Washington via her Simpson Street company. UnbeliEVAble's Ben Spector is also a producer.

Longoria Baston will direct from Sarah Rothschild's script about a group of women accountants in a firm who band together against a similar male group in order to solve a fraud case that will save their jobs.

Universal's Sara Scott and Christine Sun are overseeing "24-7" for Universal. Will Rack is overseeing for UnbeliEVAble and Pilar Savone is on the project for Simpson Street.
These two are going to have a ball on set. Hmm...maybe it's a comedy about working mothers. They would fit those roles perfectly. We'll keep you posted on new developments.
And here's a recent picture of Eva's adorable son Santiago Enrique Baston:
Saturday smooches with my Santi pic.twitter.com/7Zwu9WHq05

— Eva Longoria Baston (@EvaLongoria) November 10, 2018
Cute!
Photos: Getty