IT WASN'T ME! 'Love Is _' Co-Creator Salim Akil Responds To Domestic Violence Claims Made By Married Actress + Neil deGrasse Tyson Denies Sexual Misconduct Accusations
Dec 03 | by _YBF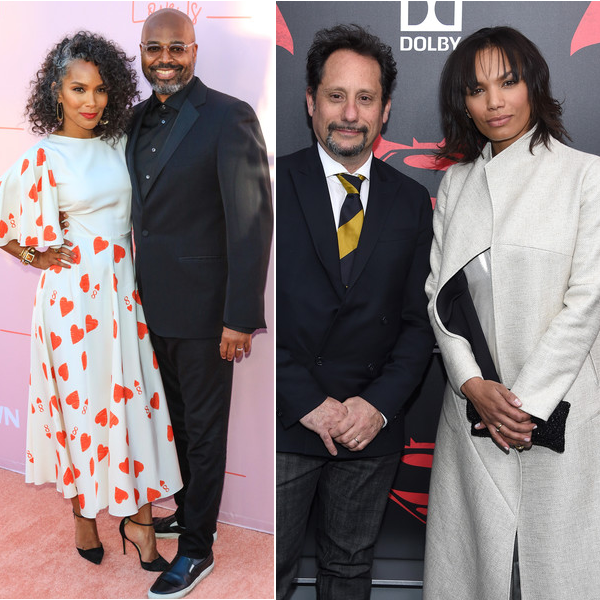 "Love Is _" co-creator Salim Akil and famed scientist Neil deGrasse Tyson are speaking out after they were hit with domestic violence and sexual misconduct allegations, respectively. Find out everything they have to say about the accusations inside...
"Love Is _" co-creator Salim Akil, who is also an executive producer for "Black Lightning," is responding to the domestic violence allegations made against him by a woman who is NOT his wife.
We told you the "Black Lightning" EP was being investigated by Warner Bros Television after actress Amber Dixon Brenner (above, right), who is also married, pulled the trigger on a domestic violence lawsuit against him. In short, Salim claims the allegations are "totally untrue."
Salim, who is married to Mara Brock Akil and the father of two children, issued a statement to Deadline via his attorney Stephen D. Barnes that reads:
"These allegations are deeply upsetting – but they are also totally untrue. We will defend Salim to the fullest against the false and offensive claims that a woman with whom he had a past relationship has included in multiple unsubstantiated lawsuits. Salim looks forward to clearing his name and to being able to focus on his work and his family."
Amber, who is a mother-of-two and has been married to film editor David Brenner since 2006, filed a lawsuit in Los Angeles Superior Court last month against the producer/director/screenwriter for domestic violence, sexual abuse and breach of contract. She accuses Akil of repeated "non-consensual assault and battery." She claims Salim committed multiple acts of physical and sexual violence, which included making her perform oral sex on him at a party in the bathroom after allegedly urinating in her mouth, slapping and strangling her during sex, and taking sexual pictures without her consent.
She claims she was involved in a decade-long affair with Salim up until 2017. Chile...
Not only is Amber suing Akil, she's also suing Oprah's OWN for copyright infringement. She claims Akil took a screenplay she wrote in 2016 about an abusive relationship to use as the basis for what became the OWN series, "Love Is _."
Amber is suing for compensatory damages, emotional distress, attorney fees, and punitive damages.
As of the time of this post, Akil has not been suspended from "Black Lightning" or "Love Is_." The CW and OWN have not revealed (yet) whether or not they'll be investigating as well.
Over the Thanksgiving holiday, Mara spent time with her two boys (one of them celebrated a birthday) in Tokyo and Salim didn't seem to be in the mix:
Hmph.
In other "it wasn't me" news...
Famed scientist Neil deGrasse Tyson has been hit with a TRIO of sexual misconduct allegations. He tried to remain quiet, but now, he's clearing his name and reputation.
The 60-year-old astrophysicist said he welcomes an investigation by FOX and NatGeo, the networks who broadcast his EMMY winning show "Cosmos," because he has nothing to hide.
Three women have come forward accusing the famed scientist of assault, unwanted sexual advances and misconduct and he addressed each incident in detail, sharing HIS version of what really happened.
Katelyn Allers, a physics and astronomy professor at Bucknell University, made claims that he groped her in 2009 after she asked him for a photo an after party for an American Astronomical Society.
In a lengthy letter posted to his Facebook account, he shared:
A colleague at a well attended, after-conference, social gathering came up to me to ask for a photograph. She was wearing a sleeveless dress with a tattooed solar system extending up her arm. And while I don't explicitly remember searching for Pluto at the top of her shoulder, it is surely something I would have done in that situation. As we all know, I have professional history with the demotion of Pluto, which had occurred officially just three years earlier. So whether people include it or not in their tattoos is of great interest to me. I was reported to have "groped" her by searching "up her dress", when this was simply a search under the covered part of her shoulder of the sleeveless dress. I only just learned (nine years after) that she thought this behavior creepy. That was never my intent and I'm deeply sorry to have made her feel that way.
Ashley Watson, a production assistant claims he made sexual advances towards her in Summer 2018.
He responded:
In the final week of shooting, with just a few days left, as a capstone of our friendship, I invited her to wine & cheese at my place upon dropping me off from work. No pressure. I serve wine & cheese often to visitors.

Afterwards, she came into my office to told me she was creeped out by the wine & cheese evening. She viewed the invite as an attempt to seduce her, even though she sat across the wine & cheese table from me, and all conversation had been in the same vein as all other conversations we ever had.

Further, I never touched her until I shook her hand upon departure

At that last meeting in my office, I apologized profusely. She accepted the apology. And I assured her that had I known she was uncomfortable, I would have apologized on the spot, ended the evening, and possibly reminded her of the other social gathering that she could attend. She nonetheless declared it her last day, with only a few days left of production. I note that her final gesture to me was the offer of a hug, which I accepted as a parting friend.
Also, Tchiya Amet, a former classmate of his, is accusing him of raping her in 1984. Here's what he had to say about her accusations:
More than thirty years later, as my visibility-level took another jump, I read a freshly posted blog accusing me of drugging and raping a woman I did not recognize by either photo or name. Turned out to be the same person who I dated briefly in graduate school. She had changed her name and lived an entire life, married with children, before this accusation.

Meanwhile, according to her blog posts, the drug and rape allegation comes from an assumption of what happened to her during a night that she cannot remember. It is as though a false memory had been implanted, which, because it never actually happened, had to be remembered as an evening she doesn't remember. Nor does she remember waking up the next morning and going to the office. I kept a record of everything she posted, in case her stories morphed over time. So this is sad, which, for me, defies explanation.

I note that this allegation was used as a kind of solicitation-bait by at least one journalist to bring out of the woodwork anybody who had any encounter with me that left them uncomfortable.
In conclusion, he said he had to speak out to protect his marriage and reputation:
Accusations can damage a reputation and a marriage. Sometimes irreversibly. I see myself as loving husband and as a public servant – a scientist and educator who serves at the will of the public. I am grateful for the support I've received from those who continue to respect and value me and my work.
You can read his full response here. People can certainly interpret the same scenario two different ways. But um, folks can also lie.
Thoughts?
Photos: Getty