THE GOLDEN CHILD IS HERE! Remy Ma & Papoose Welcome 1st Child Together After Tough Labor...It's A GIRL!
​
Dec 15 | by _YBF
​ ​ ​ ​
Congrats are in order for Remy Ma and her husband Papoose! They just welcomed their first child together and it's a girl! More inside...
Remy Ma (38) and Papoose (40) just got the best Christmas gift. The rappers are now the proud parents of a precious baby girl, who made her arrival yesterday (December 14th). It's their first child together.
After what Pap called a "tough labor," the Golden Child has finally arrived and her parents are over the moon! So glad everyone is happy and healthy.
The "Melanin Magic" rapper hopped on Instagram to announce the Baby Mackie's arrival, first posting an Instagram story with a pink background that read: "It's a girl!"
Pap's daughter (from a previous relationship), Dejanae Mackie, also hopped on Instagram to announce the arrival of her baby sister:
We all know Pap has been wanting this since...forever. He shared his excitement on Instagram after the baby's birth, writing, "I found a new love!!! Yeahhhhhhhhh!!!!!!!!! Thank you Queen @remyma She is beautiful!! Wowwwwwww THE GOLDEN Child IS HERE!!! #thegoldenchild. Gonna continue, working on me. So I can be a great father. Happy"
Aww!
"The Golden Child is here!!!," Remy posted on her Instagram. "Thank you @papoosepapoose for making me the happiest wife in the planet."
Earlier in the day, Pap shared with their fans that Remy was fighting through tough labor.
"Tough labor…but my wife is still fighting through it," he wrote on social media. "She's a warrior! Keep us in your prayers! #thegoldenchild is on the way."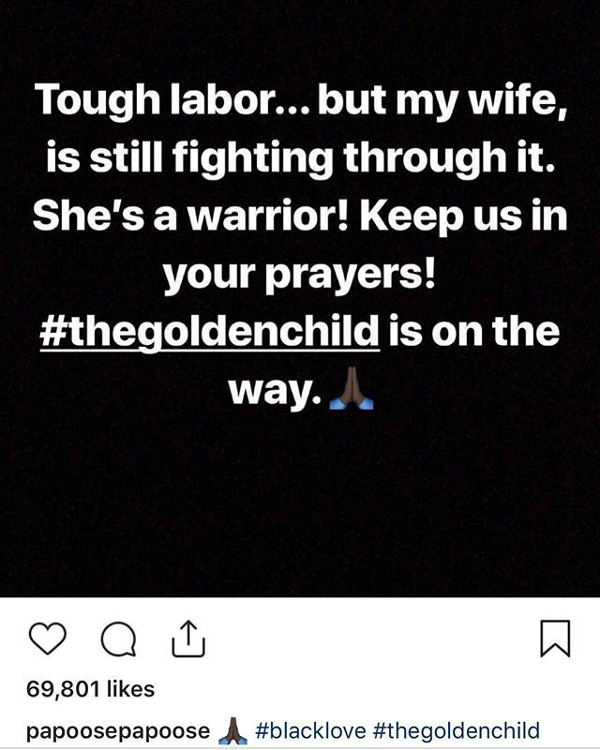 In July, Remy and Pap announced they were four months pregnant at their super gorge outside wedding vow renewal that had us tearing up. They originally tied the knot in 2008 while Remy was serving a prison sentence. After her release, a huge http://theybf.com/2015/12/18/exclusive-details-inside-remy-ma-papooses-v... ">wedding ceremony in 2016 that aired on "Love & Hip Hop."
It's been a rough road for the twosome as they embarked on a journey to use IVF to help with getting pregnant. You may recall, Rem suffered a devastating miscarriage in January 2017 and was told she could no longer get pregnant naturally.
Baby Mackie will join Remy's teenaged son and three of Pap's teeange kids from previous relationships.
Congrats to the couple!
Photos: Splash
​ ​
​ ​ ​