'Black Ink' Stars Ceaser & Teddy Respond After Horrific Fight With Donna & Alex - Fans DRAG Them Over It
​
Dec 16 | by _YBF
​ ​ ​ ​
All hell broke loose on the lastest episode of "Black Ink" and everyone's talking about it. Let's discuss the ratchet shenanigans inside...
"Black Ink" is KNOWN for brawling, fussing, heated arguments and the like. This entire season has been Ceasar vs. everybody! But the last episode of the reality show has everyone hating tattoo king Ceaser and his right hand man/cousin Teddy Ruks.
The crew jetted to Upstate NY to party it up with the bride-to-be Young Bae before she makes her way down the aisle to marry her fiance Rob. They were laced with butlers, caviar, and a gigantic mansion for the weekend. "Father of the Bride" Ceaser - which Bae asked him to be for the day - was praised for going all out for the pre-wedding festivities.
Everything was all good, until Bae said she was inviting Ceaser's friend-turned-enemy O'Sh*t (aka Richard) and his (alleged) scammer of a wife. When they arrived, Ceaser got on his a**hole steez and an argument ensued. After sharing words (and almost blows), Richard and his wife eventually left.
Check it:
With tension still all in the air, Donna and boyfriend Alex walked in. Things went from bad to worse in seconds. On the previous episode, Donna had gotten into one of her many heated arguments with Ceasar, and he fired her for the 100th time. So he definitely wasn't happy to see her and Alex - who still works there - walk in.
As soon as Donna and Alex walked in, Ceaser started coming for them, asking them if they had anything they wanted to say to him.
Even though the Black Ink honco was already turned up, Donna and Alex tried to keep the peace, but Ceaser wouldn't let it go. Next thing you know, Ceaser gets up, Teddy jumps up (which he didn't do when Richard got buck) and a huge brawl broke out with Teddy and Ceaser attacking Alex...for literally no reason.
Watch the fight go down below:
Sheesh.
After the episode aired, fans have been dragging Ceaser and Teddy for FILTH for trying to jump Alex. Here's some of what folks have been saying:
Ted and Ceaser tried to jump Alex and failed #BlackInkCrew pic.twitter.com/KnbOV7IZ73

— Kai (@2flyy_ky) December 13, 2018
Teddy bitch ass tried to sneak him and missed, and that's when ceaser bitch ass got one hit in when Alex dodged Teddy's cheap shot...which I think caused the knot on Alex head!! Teddy wasn't doing nothing but pushing and grabbing him!! Alex was throwing HANDS #blackinkcrew

— Toven ( follow back) (@ImTovenBitch) December 13, 2018
Where was this energy when Oh Sh*t was in the room Ceaser? #BlackInkCrew pic.twitter.com/JiDK6KOiFb

— (@_areyouseriouss) December 13, 2018
Ceaser and Teddy really weak dab , ON ME #BlackInkCrew

— She Crave Blu (@DeadEndBlu) December 16, 2018
Ceaser & Teddy are corny for jumping skinny ass Alex. #BlackInkCrew pic.twitter.com/mO0A7LbiCG

— money bitch. (@thebitchalbum) December 13, 2018
Ceaser & Teddy are straight BITCHES for jumpin Alex like this! but he held his own. Donna's a real one

— melanin monroe (@BEXUTIFUL) December 16, 2018
they was wrong for doing alex like that i would take they ass to court i dont even like ceaser or teddy any more teddy got played if she was black he would of doged her teddy you got played he is crazy for taking her back they are kissing her ass alex get paid

— alice vinson (@msvinson) December 15, 2018
How teddy sneak punch Alex and STILL miss
Tryna be M'Baku wakanda ass

Ceaser look like a toddler

Alex STILL held his own, and Donna was on her bully too#BlackInkCrew

— Fatty (@CarAmelFerocity) December 14, 2018
Yeah, it was clear Teddy had pent up anger from his situatonship with Tatti that he oddly stayed quiet about, as well as al the drama with his brother taking a plea deal and going to jail.
Still, this isn't even the HALF of what folks are saying about them.
After receiving so much backlash, Teddy decided to apologize to Alex, and then delete it. Here's what he said: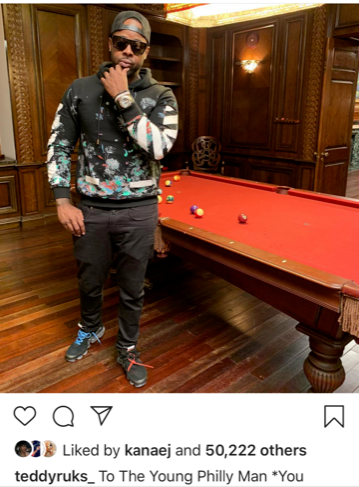 Alex caught wind of Teddy's apology and called him out for not picking up the phone and apologizing man to man. He also reposted several posts that fans put up about the fight. Get into his response below: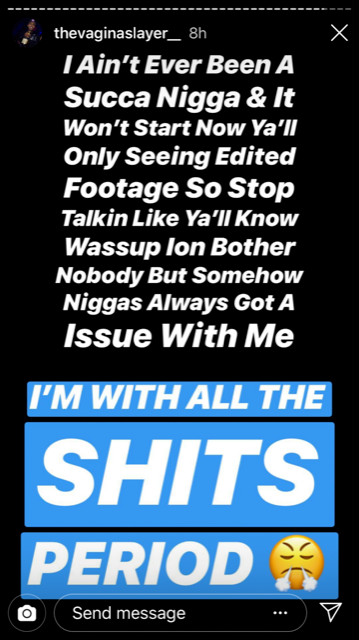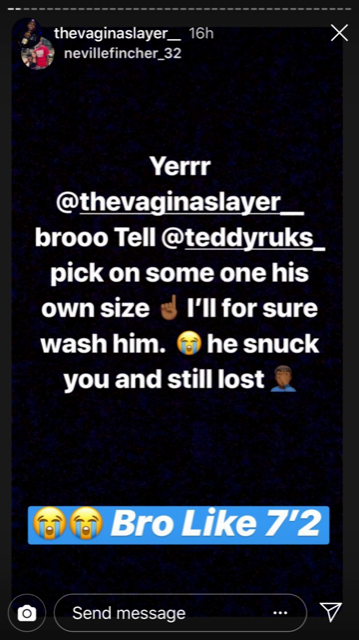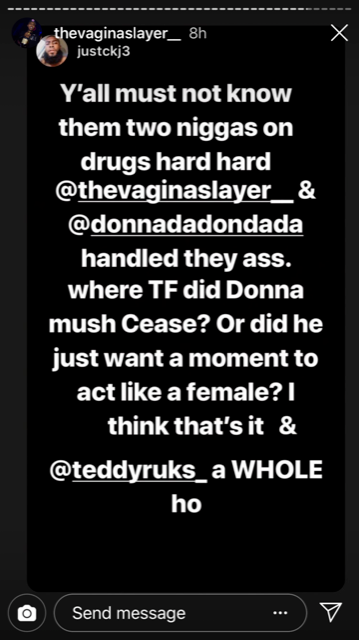 Alex is WITH the sh*ts.
Ceaser hopped on Instagram Live to try to explain why he went off on Alex and Donna. He said he has taken a lot of sh*t from people and he just got fed up. He says the public doesn't see all the disrespect he takes, due to editing. He also said he's NOT apologizing until Alex apologizes to him. Wait...what?
Peep the clip below:
Oh, and before the episode aired, Ceaser posted up a reunion picture with his "family", former "Black Ink" stars Puma and Sassy:
Hmm...we wonder if this means these two will be returning to the show since he (and Teddy) have "fired" Sky, Donna, Alex AND Jadah.
This is a whole mess!
Photos: VH1
​ ​
​ ​ ​