EXCLUSIVE: 'GUHH' Stars Talk Having 'Tough Skin' When Being Scrutinized On Social Media, Keeping Relationship Troubles PRIVATE + Sneak Peek At Bow Wow Going Berzerk On Finale
​
Dec 17 | by _YBF
​ ​ ​ ​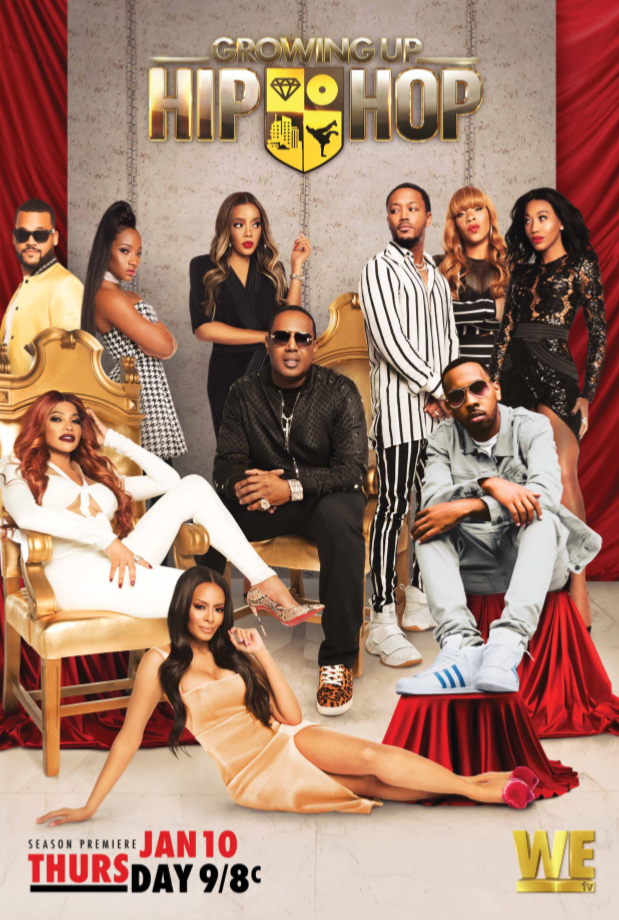 "Growing Up Hip Hop" is set to return next month, but before the celebuspawns let fans back into their world, TheYBF.com got the chance to chop it up the cast to find out what viewers can expect from this upcoming season. Find out what they told us about social media backlash, keeping relationships private, new projects, and more. Plus, catch a sneak peek at the season finale of "Growing Up Hip Hop: Atlanta" inside...
"Growing Up Hip Hop" is set to return for its fourth season next month. And things are going to get realer than real for the Hip Hop heirs as they navigate carving their own lane outside of their parents' shadows.
YBF correspondent Unique Chapman caught up with cast members Angela Simmons, Vanessa Simmons, JoJo Simmons and Romeo Miller at the Gramercy Park Hotel in NYC recently so we could find out how they really feel.
Living your best life in the limelight is hard as hell. And it's even harder now that we have social media where people can share their unfiltered opinions with no one to check them.
It's difficult when fans and the media keep commenting and giving their input on every move they make, but the "GUHH' cast is learning how to not let Internet trolls get to them.
"I think the best person to explain that is Angela, honestly," JoJo told TheYBF.com. "I see a lot of people on social media always coming at her for the things she does, or how she lives, or even when she goes through certain situations and it's like, kind of not fair that someone just can't be them. They always have to be this reality star. I know Romeo said 'you have to appreciate it,' and we do appreciate it, but sometimes you just have to have times to be you and go through things on your own without opinions of other people who don't even know you."
Last month, Angela's son's father, Sutton Tennyson, was murdered in the driveway of his home. Last week, Angela and her friends jetted to Miami to enjoy all of the Art Basel festivities and she was pounded with criticism where people openly expressed that she was "celebrating" too soon after losing her son's father to gun violence.
"I think for the most part it's just about ignoring it and doing what you're going to do regardless, letting them say what they have to say because everyone is going to have an opinion anyway," Angela responded. "I would definitely say it's just about doing you."
Angela's sister Vanessa Simmons said she goes to Angela often for advice when fans are bashing her on social media. She said her sister always gives the best advice:
"She's like, 'You know what? Let it roll off your shoulders. What are we going to do? People are going to have an opinion no matter what," Vanessa shared. "You could be giving back $1 million and someone will be like, 'Why not $2 million?'"
Facts.
Romeo Miller then dropped some gems about other people's opinions:
"I feel in this day in age, the true key to success and your happiness: You can't worry about people who do so little for you," Romeo explained. "I think when you understand that, that's when you hit that true growth. That's what I like about this cast. We get it," Romeo shared. "We understand that you can be on the right path, doing a positive thing, but as soon as something negative happen, or somebody don't like something they see, they're going to make a comment about it, but you can't worry about that. You have to know what you signed up for."
He continued:
"The thing with this generation, everybody is like their own reality star. Everybody has social media. So, it kind of sucks because now even little kids have to go through this where they're getting bullied and picked on, and that's just the world we live. You have to definitely have tough skin nowadays."
He such a fresh breath of air.
Not only is social media backlash an issue, living out a relationship in the public eye is hard as well.
JoJo, who popped the question to his longtime girlfriend/mother of his child Tanice Amira back in August, revealed the lessons he learned from watching both his mother and father's marriages. And he def soaked in some good wisdom when it comes to relationships.
"Basically, you keep your marriage within your marriage," JoJo said. "And what I mean by that is, everything that goes on between you and your fiance or wife, it stays between you two. You guys keep that strong bond together. Don't let anybody come and try to rock the boat and I learned that through both of my parents' marriages. They stayed strong for years with their significant others. That taught me that there's true love out here and you can make it work."
Good advice. Whether you're a celebrity or not, keeping your marriage/relationship between you and your SO is great words to live by when trying to do this thing called life together.
The Simmons sisters also dished on their sneaker brand, Pastry. The shoe making sisters said when they first released their Pastry sneaker collection, they hit a sweet moment in time because there wasn't anything else like it. If they bring it back, Vanessa said her goal would be to just release a small capsule collection.
"It would be just that one time thing for the culture," Vanessa explained. "I love what we were able to accomplish with Pastry and I think we really did something unique."
Vanessa said they will explore the Pastry conversation more on the upcoming season.
So what can fans expect from the new season? The cast said they will be opening up in ways they haven't in previous seasons. "We're getting a little more comfortable," Vanessa shared. Fans will get to see Vanessa and Angela work on strengthing their sisterhood, coming together on new projects, and how they will resolve their issues with one another.
The "GUHH" cast also dropped some advice for young people trying to build a brand of their own.
"Always keep going," Vanessa said. "Don't ever give in. It's OK to take constructive criticism if someone is giving you advice. You just have to keep it moving, keep growing and never give up."

"When you quit is when you fail. The only time you fail is when you quit," JoJo said.
"Growing Up Hip Hip" season 4 returns on Thursday, January 10th at 9pm ET/PT on WE tv.
As for the Atlanta franchise...
That was intense! Don't miss the #GUHHATL season finale next Thursday at 9/8c! pic.twitter.com/rYlbL894HM

— Growing Up Hip Hop (@GUHH_WEtv) December 14, 2018
We've got a sneak peek at "Growing Up Hip Hop: Atlanta's" season finale episode.
Bow Wow's violent breakdown shook everyone and now, he's dealing with the backlash. Da Brat is FED up and unleashes on Bow and that's when So So Def honcho Jermaine Dupri steps in to help. Soulja Boy even makes an appearance. Bow's mother is brought to tears while talking to Deb Antney about trying to save her son, who is dealing with depression and drinking to numb the pain. Meanwhile, Deb confronts unresolved issues with her "son" Brandon. See the full sneak peek here.
"Growing Up Hip Hop: Atlanta" season finale airs Thursday, December 20th at 9/8C. You tuning in?
Photos: WEtv/Getty
​ ​
​ ​ ​