Meek Mill Blasts Person Who Painted Reportedly Racist Graffiti On His Grandmother's New House + Robin Thicke & Pharrell Have To Pay Up $5M To Marvin Gaye's Estate
Dec 18 | by Natasha
Meek Mill is PISSED. The house he just bought his grandma was just tagged with racist graffiti. Plus, Marvin Gaye's estate won their coins from Pharrell and Robin Thicke (again). Deets inside.
Now why are y'all messing with Meek's fam like this? Y'all know this man is walking on thin ice and provoking him with this type of B.S. aint right.
The rapper posted up surveillance video showing a man spray painting the word "acorn" outside his grandmother's home. Apparently, he just ought it. And word must have gotten around. Meek says the word is Philly slang for white privilege.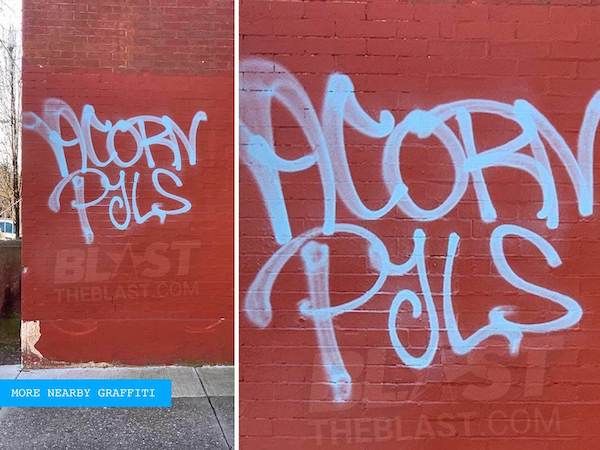 A white man sprayed a racial remarks on my Grandmom's house last night in south philly referencing white Privileged.... the crazy part is this was a all black neighborhood 20 years ago It was gentrified and now this! Just don't let us catch you coward! T… https://t.co/ieIA61NUyY

— Meek Mill (@MeekMill) December 18, 2018
According to The Blast, Meek is currently filing a police report in South Philly. And this isn't the only incident of graffiti:
We're told there has been a string of vandalism in South Philly referencing white pride, but it's unclear if the man who targeted Meek's grandma is the same person. Other buildings were hit on Monday night, along with Meek's Grandma, and could be seen Tuesday morning, including another one that touted the "Acorn" affiliation.
A mess.
In other legal news, the judge has made a ruling in that appeal Robin Thicke & Pharrell made in the "Blurred Lines" copyright case against the Marvin Gaye family.
The initial March 2015 jury verdict was a win for the Gaye family to the tune of $7.3 million, but the judge agreed to cut that to $5.3 million. Pharrell & Robin appealed back in March, and lost again.

Now, we know just how much they're going to have to pay up. And it's a pretty penny: $5M in joint damages. But at least they get to split it.
Based on California federal judge John A. Kronstadt's new amended judgement, Thicke and Williams have been told they jointly owe damages of $2,848,846.50, according Rolling Stone.
That's not all. Thicke has also been ordered to pay an additional $1,768,191.88 and Williams and his publishing company will pay another $357,630.97 to the Gaye family.
There's more: The Gaye family is entitled to receive prejudgment interest on the damages award and respective profits against each of them, which totals to $9097.51. And since we all know the song won't jut magically stop being played everywhere, the family is entitled to royalties going forward for 50 percent of the songwriter and publishing revenue.
Extras:
1. Blac Chyna and Rob Kardashian have called a truce...just for the Holidays. STORY
Photos: Instagram/Getty