WORK-CATION REUNION! Cardi B. Hits The Stage In Puerto Rico After Cuddling Up On A Jet Ski With Offset, But Was She Secretly Miserable?!
Dec 22 | by Natasha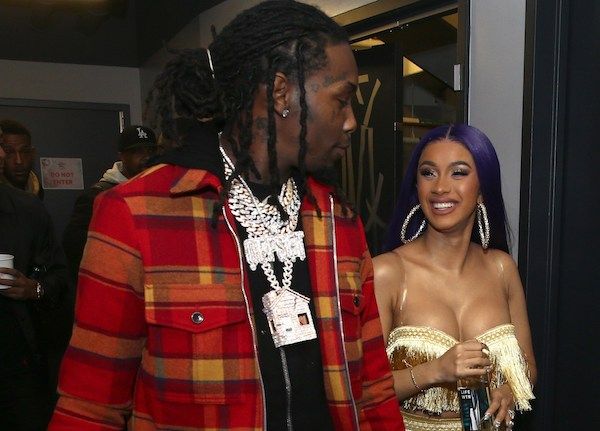 Welp. That didn't take long. Cardi B. said she misses the D, so it looks like the D showed up in the form of her estranged husband Offset. But is she secretly miserable? Pics from their reunion workcation inside...
Maybe a quick trip to Puerto Rico together is all they needed. Offset's apology tour must be paying off because he and Cardi were all hugged on the back of a jet ski yesterday. And the "Money" rapper was all smiles....then.
Cardi B and Offset Together on a Jet Ski in Puerto Rico!!! https://t.co/8pShoL0c8Z

— TMZ (@TMZ) December 21, 2018
Cardi is there for work - she performed last night. And Offset was right there watching.
Cardi B performing "Bartier Cardi" in Puerto Rico at the 2018 Electric Holiday event. pic.twitter.com/RiR98sZy7G

— Cardi B Official Team (@CardiBTeam) December 22, 2018
It's unclear if he popped up on her (again) or if it was planned. Some fans are saying she looked miserable at her after party:
@iamcardib u spent a good 5 min in those stairs facing that way, the least you could've done was say hi to ur fans u looked miserable at the party and ur fans could feel ur vibe a 100000 miles away. So hope u good mami #cardib #electricholiday #PuertoRico pic.twitter.com/TFwYdxGqRu

— tany santiago (@Puerto_Freako) December 22, 2018
She has been looking quite over it all lately.
We hope Mr. Cephus proved he's a changed man if Cardi has actually taken him back. Or this lil trip could just be a step in that kiss-and-makeup direction. But we all know how this will likely end up. We're sure the "#TakeOffsetBack even though he's proven to be a serial cheater" crowd is rejoicing.

This conveniently happens after she went on live saying she misses his eggplant: In her mouth, inside her, in every place imaginable. And she described the D in way more depth than anybody needs to hear. Welp. Ask and you shall receive.
He won. We guess.
Photo: Getty/Splash