Wait, Moniece & Apryl Jones ARGUE Live On Instagram Over Fizz? And Omarion Is Allegedly A Deadbeat Who Served Apryl With Court Papers On Mother's Day? Whew, Chile!
​
Dec 26 | by _YBF
​ ​ ​ ​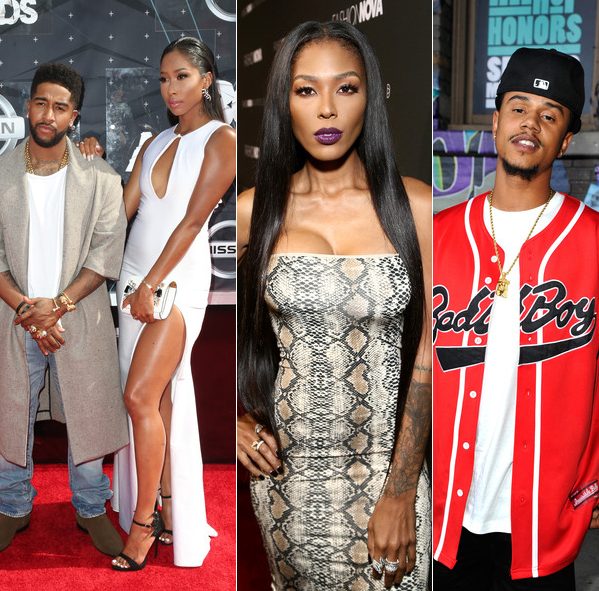 What in the B2K let me date my bandmates ex-girl is going on here? Moniece Slaughter is making claims that Omarion's ex-Apryl Jones is dating her son's father/Omarion's B2K bandmate Lil Fizz. This news comes after the B2K reunion announcement and Apryl blasting Omarion for being a deadbeat. Get it all inside...
Right after it was announced B2K was reuniting and going on tour...DRAMA ensues.
Apparently, Apryl Jones felt she needed to get some things off her chest, so she hopped on Instagram Live to basically "speak up" about her un-coupling from B2K singer Omarion. Remember when he made that song called "It's Whatever" shading Apryl?
The former "Love & Hip Hop: Hollywood" star started off the conversation by saying folks looked up to her and Omarion as #RelationshipGoals, but things weren't peachy keen behind-the-scenes. She said when she was showing the world her life on reality television, it looked great, but "it was a lot that was happening. I wasn't completely happy."
A fan brought up taking him to court. That's when she revealed O was the one who served her court papers even though she never filed for child support. In fact, he served her the papers on Mother's Day. Damn.
She mentioned they went to court and tried to work things out via mediation, however, mediation has nothing to do with child support. As far as child support goes, she said folks would be surprised at the amount he has to pay since he allegedly hid all of his assets. She said she's basically "getting nothing" due to him fixing his financial documents to appear he isn't getting much money.
Apryl said she's so fed up, she plans on dropping the kids off (they have two together) to him and let him keep them for a few months. Hmm...the timing is interesting being that B2K is set to hit the road on their Millennium Tour in 2019. By the way, the dates for the tour will be announced on Decemeber 31st.
A major issue in their relationship is Omarion's mother, according to Apryl. She said she has a problem with O taking care of his mother and putting her before his own family. She said the family he chose to make should come first. Now that she and O aren't on good terms, she said O's family gives her a hard time when she's looking for a babysitter.
She said her family is in Chicago and she can't leave the state because he filed a request for the kids to stay.
It's so bad between them, Apryl said Omarion doesn't even speak to her. She said it's difficult dealing with a person like that.
Now, Apryl is just at her wit's end and wants the world to know her side of the story. She doesn't want people thinking she's a bad mother because she said she grinds hard for her kids. She said she has endured a lot over the last 5 years being with O and now, she's sharing her truth about what really happened.
Check it below:
Well, the drama hasn't ended there. "LAHH: Hollywood" star Moniece Slaughter, who shares a son with B2K singer Fizz (formerly Lil Fizz), hopped on Instagram recently to thank the man who has been holding her down over the last year, sharing a picture of her holding his hand. Fans began questioning Moniece if the male hand in the photo she posted was Fizz's and her response sparked even more controversy. She said the man in the picture couldn't be Fizz because he (and her son) was in Chicago with APRYL.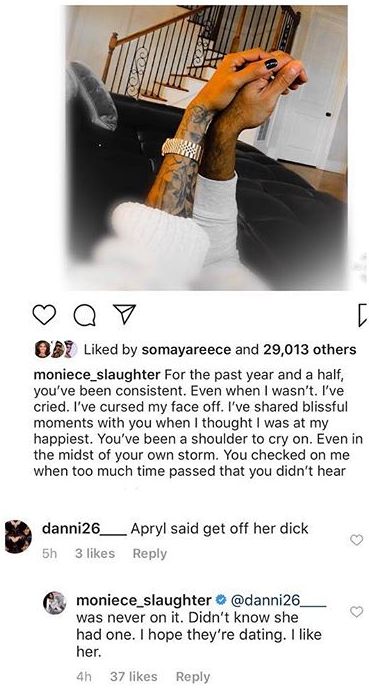 What's the tea? Well, apparently Apryl and Fizz are dating! And word has it, Fizz and O aren't cool. Chile...
Well, Apryl and Moniece decided to hop on Instagram Live to hash out their differences...in front of everyone. Check it:
Apparently, a LOT has gone on since they came together to celebrate their daughter's first birthday in 2017.
They better not mess up this Millennium Tour!
Photos: Getty
​ ​
​ ​ ​