Rappers' Fave Groupie Celina Powell Was ARRESTED By A Bounty Hunter & All Hell Broke Loose
​
Dec 31 | by Natasha
​ ​ ​ ​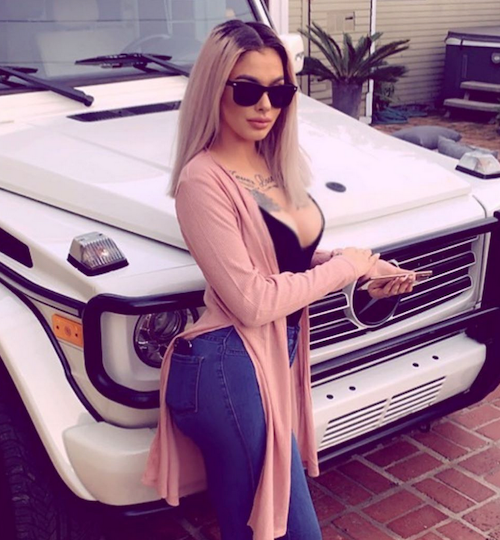 Everyone's fave clout chaser, Celina Powell, may be spending NYE in jail. She was arrested by a bounty hunter last night and all hell broke loose with N-words being dropped. Deets inside....
What in heaven's GOOD name is happening here? Groupies are not being arrested by bounty hunters?!
Nope, not because she scammed one of the MANY rappers she proudly alleges to have slept with. But because she reportedly has $61K worth of bonds on her name stemming from shoplifting charges, evading police, traffic violations and the like. Of course. Fraud comes in all forms.
TMZ reports:
The social media star, who's also Aaron Carter's ex, was busted and taken into custody late Saturday night in Aurora, Colorado, where she was set to attend an event at a hookah lounge called Hubbly Bubbly Brewery. Law enforcement sources tell us bounty hunters staked out the parking lot after she posted online that she'd be hosting there.
Oh, but it gets worse. The racially ambiguous chick who claims Trey Songz, Tekashi 69, Offset and more as her victims, is seen on video accusing an officer of using racial slurs:
When she showed up, they pounced ... and part of it was caught on camera. While she was being taken in, however, William Ellenburg -- one of the bounty hunters here, who's white -- hurled the n-word multiple times while trying to deny he was racist.

We asked him for a further explanation after seeing the video. He told us Celina had accused him making racist comments about his partner on the scene, who was black. Ellenburg said he used the n-word to prove he hadn't said anything offensive ... and, apparently, to prove he was cool with black people. For the record ... this is anything but cool.
This chick...
BONUS: Celina appeared on Vivica Fox's new show "Face The Truth" where she got read for filth:
​ ​
​ ​ ​