Nicki Minaj vs. Meek Mill...AGAIN! Here's Why Meek Warned Nicki To 'Keep It Classy' Or ELSE!
​
Jan 07 | by _YBF
​ ​ ​ ​
Keep it cute, or put it on mute....before Meek Mill begins to spill the tea. Find out why the Philly rapper told his ex-girlfriend Nicki Minaj to chill out inside...
By now, one would think sneak dissing between Nicki Minaj and Meek Mill would be over since they called it quits in December 2016.
Yet, two years later, the exes are still posting up subliminals at one another.
During her performance in Australia over the weekend, the Young Money rapper cut her "Barbie Dreams" set to throw shade at her ex. After her line, "Meek still be in my DMs, I be having to duck him," she stopped the music and said, "I could tell you n*ggas secrets, but I won't because being a bitter b*tch is what I don't."
Check it:
Let Meek tell it, her "Barbie Dreams" could be turned to "Nightmares" if she keeps playing with him. Shortly after the clip made it's way online, the MMG rapper hopped on Twitter to respond. He never mentioned her name, but it's clear he was responding to her video. In so many words, he warned her to "keep it classy" because once he starts spilling some truth serum, he won't be able to stop. Peep his tweets (read from the bottom up):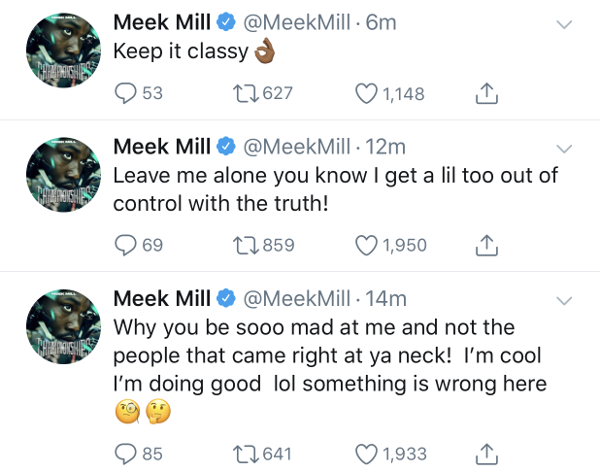 Better chill Nicki. Maybe since she blocked him on Instagram, she figured she'd get her message out one way or another.
Fans have been questioning why Nicki seems so pressed over Meek since they've been broken up and that she's now in a relationship with her new boo Kenneth Petty.
You may recall, the "Dreams & Nightmares" rapper commented on Nicki's "Barbie Dreams" track in an article for Vulture magazine.
"I ain't get no heads-up [about the song], but I definitely wasn't in nobody's DMs," he told the site. "And definitely wasn't nobody ducking me, sh*t. That's a fact. I actually was laughing at it, too. 'Cause there's no limits! I felt it and I liked it. That's a dope rap."
And today, he posted this potential shade:
Lace front wigs are wackkkk! I'm protesting them

— Meek Mill (@MeekMill) January 8, 2019
We all know Nicki (like plenty of women) loves her wiggery.
Check out more clips from Nicki's performance below:
Photo: Getty
​ ​
​ ​ ​