Cyn Santana Apologizes For Resurfaced Comments About Black Women, Dating Black Men Because They 'Cater To Spanish Women'
​
Jan 09 | by _YBF
​ ​ ​ ​
Cyn Santana is offering up apologies for comments she made about black women and men in a podcast that has resurfaced. Find out what she said and peep her apology inside...
[UPDATE: Cyn says she's never NOT accepted that she herself is black. She also says she never said the comment about black women's attitudes]:
I have no issue believing or accepting that I'm black... I never really identified as such publicly because I've always seen this issue between the Latina/black woman. I just don't wanna offend anyone. Thank you for sharing this information, it's imperative!!! https://t.co/BemkWU94UC

— Cyn Santana (@Cyn_Santana) January 9, 2019
I never ever ever said that. Not in a podcast. Not to a person. Not to myself. They added that on their own. Cancel culture. https://t.co/erj4EZO0II

— Cyn Santana (@Cyn_Santana) January 9, 2019
----------
After the last episode of "Love & Hip Hop" aired, fans have been rallying behind Cyn Santana. The new mom poured her heart out to her man (now fiance) Joe Budden about dealing with postpartum depression. During their heart-to-heart, Joe was super insensitive, which led folks to take up for her on social media.
Well, someone did some digging and questioned why black women are coming to her defense when she made some shady comments about black women in the past.
I hope y'all don't feel too bad for Cyn. She said that she likes black men because they treat her better than black women. How is this 'better' ? https://t.co/CAbWE3vkv8

— Miss Messy (@spiggeragenda) January 8, 2019
So what's this about? Well, Cyn appeared on Angela Yee's "Lip Service" podcast with "Love & Hip Hop: Atlanta" star Betty Idol back in 2016 where Cyn made a few questionable comments as they were talking about Diddy and Jennifer Lopez's previous relationship. The reality star said she preferred dating black men because "they cater to Spanish women":
"I just love black guys and Spanish girls together. Y'all can keep the Puerto Rican men, I'm good. I do black guys all day, sorry. I did the Spanish thing, doesn't work out for me, I'm good. I don't know. I think they're too emotional," she said.

"They, black guys, cater to us Spanish girls, especially. Like they - you know what, let me not even get into it. I didn't mean it like that. Black girls are going to take it personal, like 'UH! UH!' Anyway, I'm done with the Papis."
Check it at the 17-minute mark below:
Cyn's comments from the interview are being shared on social media and black women are reading her for filth:
Cyn Santana got on that podcast and said Black men cater to Spanish women because they don't have attitudes like Black women meanwhile she's on national tv begging her Black man for sex and sensitivity...girl I guess... pic.twitter.com/h6s3hq86bu

— The Harlem Shimmy (@Say_Yes_2theJes) January 9, 2019
Cyn Santana basically said that she dates black men because they treat Spanish women better than black women, black women have "attitudes". sis, your black man beats women into miscarriages and writes songs about it. your black man got you begging for dick on tv. LMAOOOOOO bye.

— Kyrie Irvings Secret Black Gf (@empyreall) January 9, 2019
Did Cyn Santana actually say Black men cater to Spanish women because they don't have attitudes like Black women. pic.twitter.com/gUq7b4jfYf

— keejä (@B_tcraft) January 9, 2019
Cyn it wasn't out of context because you specifically said black men cater to Spanish women especially, after being asked why you like black men. Then said "let me stop before the black girls take it personal" . So you knew what you said was going to ruffle a few feathers

— (@Funsizedd_bre) January 9, 2019
Cyn Santana thinks she's special because she got chosen by Joe Budden?! I see the bar is in the earth's crust.

— Ms. O (@Fabulousity201) January 9, 2019
I suspected that Cyn Santana wasn't that smart and now I have my confirmation.

— Lil Fat Fat. (@MiAmorAlia) January 9, 2019
With all of the backlash, Cyn decided to respond with a whole op-ed piece and apology. Peep her tweets below (read from the bottom up):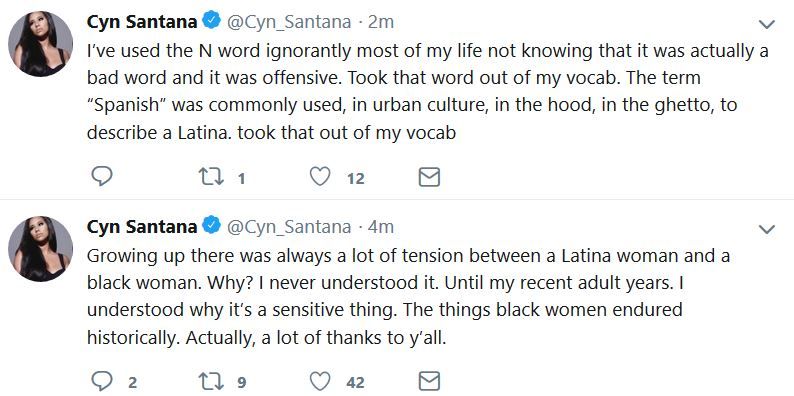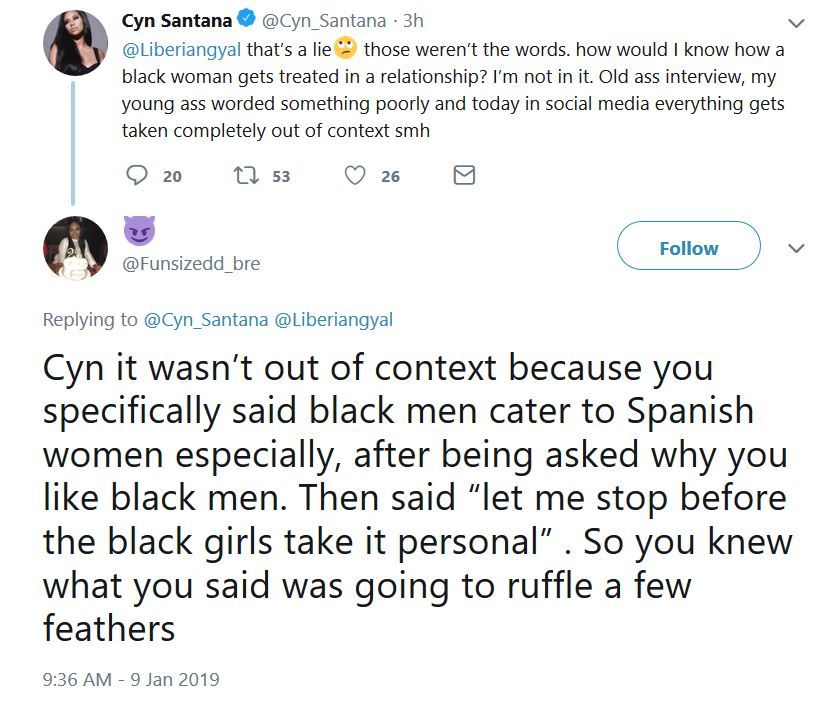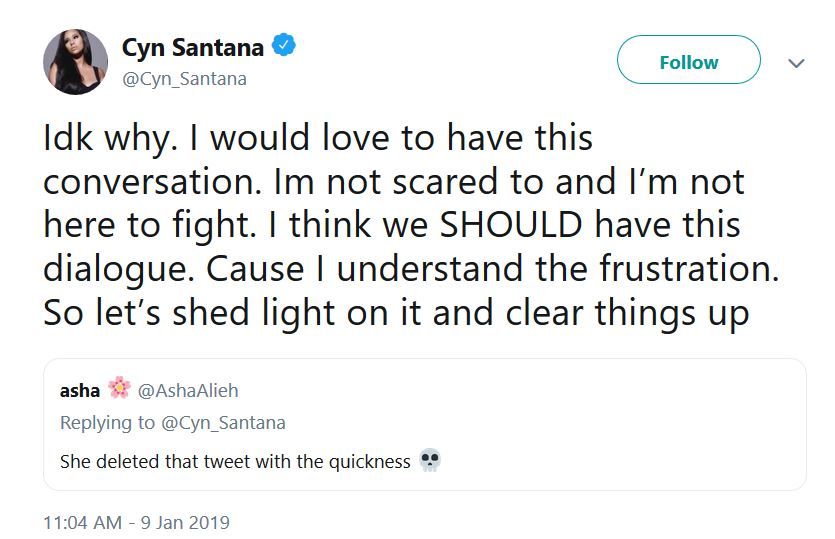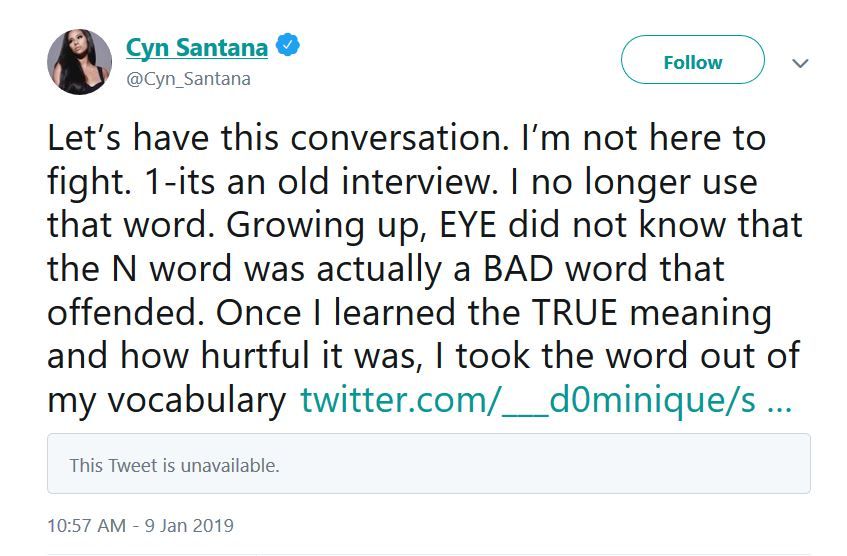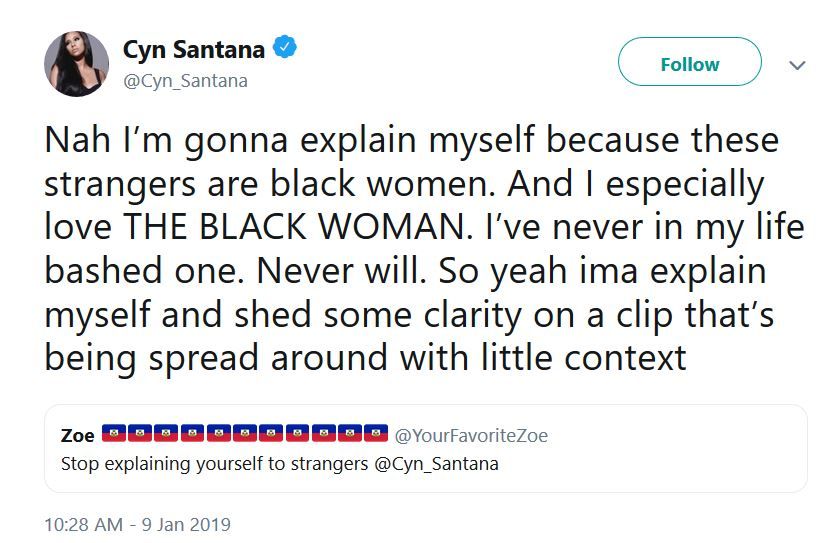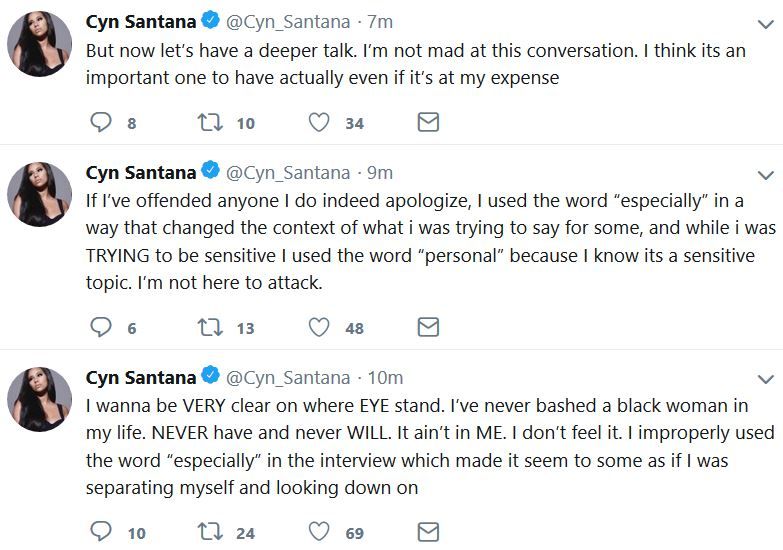 Regardless of how old this interview is (old is relative, she's been in the spotlight for just a few years) or whether the word "especially" would have actually changed any context of what she clearly meant at the time, it's a worthy conversation to have. It should be had without people judging, dismissing, or assuming women have anything to be "jealous" of.
Her soon-to-be husband, who is black, hasn't addressed this yet, but we wouldn't be surprised if he invited her as guest on his own podcast to clear the air. We also wouldn't be surprised if he completely doesn't address this at all, or if he does chime in with a co-sign on her original comments.
Basically, nothing shocks us about situations like these.
So, what do you make of Cyn's comments and apology? Tell us in the comments!
Photo: Getty
​ ​
​ ​ ​