Dame Dash Gives Nick Cannon The Lamest Excuse To Explain Why He's In R. Kelly's 'Fiesta' Video, Accuses Jay Z Of Liking Aaliyah & Questions Hov's Relationship With Foxy Brown
​
Jan 10 | by _YBF
​ ​ ​ ​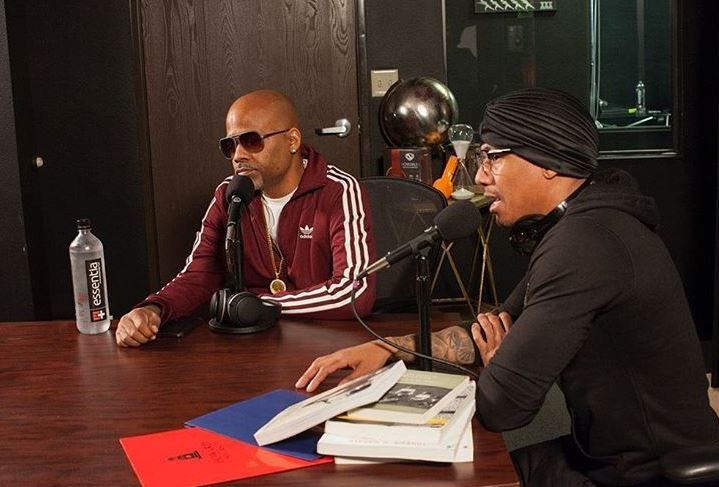 Dame Dash is speaking out about R. Kelly and his association with the singer from back in the day. But, he's seemingly speaking more about his former business partner/friend Jay Z's connection with the Pied Piper. And he's also alluding to other things. More inside...
Nick Cannon is taking us to class!
Taped on the campus of Howard University, Nick Cannon (who is a student at the school) invited Dame Dash to pull up a seat at the table for an honest and real conversation about what's currently going down in our culture and his book "Culture Vulture."
The "Surviving R. Kelly" docuseries is still being heavily talked about days after it's 3-part premiere last weekend. During their chat, they talked about what's more important when it comes to relationships and money. Dame brought up R. Kelly and made sure to disassociate himself from the troubled singer. Nick brought up Roc-A-Fella working with Kellz back in the day, specifically Jay Z locking down Kelly to be featured on his track "Guilty Until Proven Innocent."
"Everybody was looking the other way," Dame said.

"But ya'll worked -- not you, but within Roc-A-Fella," Nick said.

"Nah, don't put me in that. Don't put me in that. Ain't no Roc-A-Fella on that," Dame responded.
Dame feels like since he wasn't in the video, he didn't have anything to do with Kelly. Oh.
The Hip Hop mogul then revealed his late girlfriend Aaliyah (RIP) told him she didn't want to talk about her previous relationship with Kelly. At all. "She said to leave it alone," Dame shared. He also made claims that Hov used to like Aaliyah.
"I had to look the other way," Dame said. "For years. So publicly, that n*gga did a song with the n*gga that raped my girl that he liked as well," Dame said.
Peep the clip:
Folks have been dragging Dame for trashing Hov when he appeared in Kelly's "Fiesta" video in 2001, so Dame touched on that, but his excuse is lame AF. Yes, he was in the video, but since he didn't shoot any scenes with Kelly, that "proves" he wasn't "f*cking with dude." His logic, not ours. He said he was participating in a "silent protest" when he "decided not to film scenes with Kelly".
Nah, bruh. This probably ain't it.
Dame and Nick also talked about Jay Z's former relationship with rapper Foxy Brown when she was (allegedly) underage. Check it:
Lordt.
Over the last few days, Nick has been teasing the interview. He just dropped the full hour-long conversation. Check it out below:
Photos: Dame's IG
​ ​
​ ​ ​