Tamar Braxton Doesn't Care What Vince Thinks About Their Son Sleeping In Bed With Her & Her Boyfriend, Says She's Attracted To Black Men Who Don't Date Black Women - Like Her Current BF
Jan 31 | by _YBF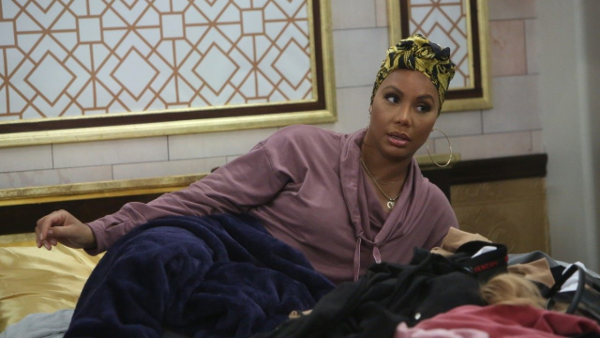 Tamar Braxton is dropping all type of nuggets about her personal life on the "Celebrity Big Brother" live feed. Deets on the tea she's spilling inside...
One thing's for sure, if you didn't watch "Celebrity Big Brother" before, you're likely watching now. Or, you're at least watching the live feeds & clips because that's where the REAL entertainment is.
Tamar Braxton has been making headlines left and right since entering the "Big Brother" house with her housemates. She has gotten in several spats with the other houseguests, including Kandi Burruss, Lolo Jones, Ricky Williams and most recently, Kato Kaelin.
When she's not fussing and fighting, the "Love & War" singer has been opening up about her personal life. And the tea spillage is interesting to say the least.
During a conversation with new BFF Kandi about parenting, Tamar revealed she lets her 5-year-old son Logan Herbert, whom she shares with her estranged husband Vince Herbert, sleep in the bed with her and her boyfriend, whom she affectionately calls "T'Challa." Oh?
The conversation came up as the ladies were talking about how they got their installed structure in their kids and got them to sleep in their own beds.
"See, Logan's 5. He be in the bed with me and T'Challa. Sleep!," the "Braxton Family Values" star shared.

Your husband don't be mad about him sleeping in the bed with another man?," the "RHOA" star asked Tamar.

"We're not together! That's not really his business," Tamar said.
Then, she goes on to try and convince Kandi that if the tables were turned, she wouldn't be mad about it. Girl...
"And if [Logan] did that with somebody that [Vince] looked like he was getting ready to get married to, why would I act a fool? I would want him to be close to her."
We find this VERY hard to believe, but mmk.
Kandi then asked her how long has she and "T'Challa" been dating and Tamar revealed it has been six months.
Watch Tamar explain at the 7:30 mark. Also, in the beginning of the clip, the R&B singer had a mini church session all by herself in her room. Being confined in the Big Brother house can definitely make you call on Jesus:
In another clip...
The R&B songbird opened up again about her Nigerian lover. During a conversation with Lolo - who is biracial - about dating outside of her race, Tamar revealed that she was over black men after calling it quits with Vince. "T'Challa", though, swooped in and stole her heart. The kicker? "T'Challa" apparently wasn't even checking for black women before he got with Tamar.
"After that ended - because I never thought we would ever break up, ever - and when that happened I was like, sh*t, I'll date whatever," she said. "I was actually kind of over with black dudes. Like, alright, this not workiiiiing! So, let me just go on to the other side [laughs]."
Tamar never got the chance to date on the "other side" because she ended up meeting T'Challa. And it seems Tamar herself has a type. You may recall, Tamar previously said Vince's preference before they got together were women with blonde hair.
"I met T'Challa and now it's a wrap again. But he didn't date black women, which is crazy," she said. "He did not date black women. It's like, I'm attracted to men who don't like black women. Vince neither, remember that? Vince either."
"You must be doing something right," Dina Lohan joked.

"I am the prototype," Tamar laughed.
Check it at the 3:00 minute mark above.
She seemed flattered that a man who doesn't prefer black women shows interest in her, which to us, is a RED flag. The fact her soon-to-be ex-husband told her "he doesn't date black women" and "prefers blondes" - remember that episode of "Tamar & Vince"? - is very likely part of the reason her marriage didn't work for her. Yet, she's going down the same path again. But we digress.
The fact that both men told her they prefer white women or "others" would have us side-eyeing them from jump.
As for the divorce, Tamar requested to have the judge sign off on it back in October 2018 since Vince won't respond.
Tamar is seemingly doing something right in the BB house. She recently won the "Power Of The Publicist" award, which she can pull out at any time to save her from the chopping block. BB watchers love sh*t stirrers, trust us.
Photo: CBS