Queen Nicki Minaj Rules The Underworld In 'Hard White' Video - Did She Shade The Grammys? And What's With The Scorpion Reference....Draaaaake?
Feb 01 | by _YBF
Nicki Minaj just dropped her first video of 2019 and sis is visually shading everyone. More inside...
Nicki Minaj has been laying low since all of the controversy with her new boyfriend Kenneth Petty and several online and real-life spats in 2018. Now, she's getting back to the music. And she brought her alter-ego Roman Zolanski with her.
The NYC raptress rules her kingdom of darkness in her new visuals for "Hard White," a standout track from her QUEEN album that dropped last year. In the clip, she rules over her zombie subjects, channeling different sinister characters as she positions herself as the Queen in a snakeskin headress to rule the underground.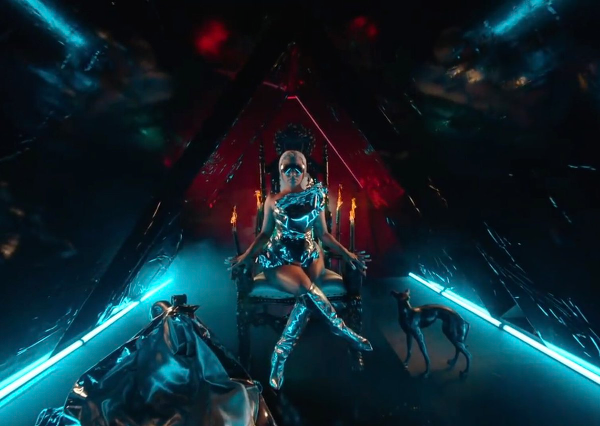 The video is visually captivating and there are seemingly several shady subliminals mixed throughout.
In a quick shot, a gramophone is shown that resembles a Grammy Award as she raps, "I'm the trophy of the game, everybody tryna win me."
Fans quickly took that as the Head Barb shading the Grammys for snubbing her. She didn't get one nomination this year.
Sis trying to tell yall she dont need a grammy to know her spot thats a real Queen for ya #HardwhiteVIDEO https://t.co/xjVhmLansX

— Matthew(@notime4bullshhh) February 1, 2019
Nicki Minaj just shaded #GRAMMYs I Stan a petty queen.... She doesn't need a Grammy in order for people to acknowledge her power.. Why? Because, she's the Grammy herself.. She's the Grammy of female rap. PERIOD!!!! #HardWhiteVIDEO pic.twitter.com/LcwpSLy3HY

— Gozi Oleks (@GoziOleks_) February 1, 2019
By showing the Grammy in her video, Nicki's letting you bitches know that she don't need a fuckin Grammy... SHE IS THE GRAMMY haha! My bitch is mad disrespectful
She violated everybody #madrespectforthisbitch
"I'm the TROPHY OF THE GAME" #HardWhiteVIDEO pic.twitter.com/6bcb9vccsr

— Pretty Gang rated PG_LLC (@JasmineReginald) February 1, 2019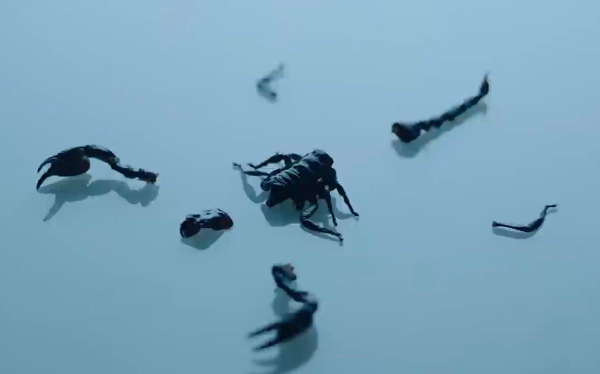 Then, there's a quick shot of a scorpion in pieces, which fans think is a shot at Drake, who released his Grammy nominated SCORPION album in June 2018.
You may recall Nicki calling out Spotify for promoting Drizzy's album more than hers.
Spotify put drake's face on every playlist but told me they'd have to teach me a lesson for playing my music 10 mins early on #QueenRadio. Even tho they've been giving away my music for free for years & I am one of the top Spotify artists of all time.

— QUEEN (@NICKIMINAJ) August 19, 2018
Here's what fans are saying:
Did y'all noticed that Drake is featured on the video?????? Love that #HardWhiteVIDEO pic.twitter.com/OtTJr21Tzv

— baddie b (@beyonikaw) February 1, 2019
Nicki Minaj really did enter 2019 with big DICK Energy like sis did destroy that scorpion #HardWhiteVIDEO pic.twitter.com/bf4LY4oTI9

— chelley (@_chelleyjean) February 1, 2019
Was @NICKIMINAJ sending shots at Drake #HardWhiteVIDEO pic.twitter.com/yZdquNphLp

— markie (@MarcusDee_) February 1, 2019
There's also a visual of a dead bird in the video, which fans believe is shade meant for her enemy Cardi B or music writer Wanna Thompson, who was harassed by the Barbz for criticisizing Nicki's work after she put her on full blast on social media.
Bird&Scorpion is for Cardi's downfall and Drake's fake friendship ! Queen of Visuals #HardWhiteVideo #Queen #HardWhite

— Edis Krasniqi (@EdisKrasniqi04) February 1, 2019
The theory or the message behind this lyrics is about fake friendship with Drake , bird falling down is Cardi's falldown&Telling Grammys she is the https://t.co/54s2k89vrZ all wanted her to be the BadGuy here she is. WIG #HardWhiteVideo #HardWhite #NickiMinaj
pic.twitter.com/7PZ3yBvK65

— Edis Krasniqi (@EdisKrasniqi04) February 1, 2019
Nicki dissed:
- Grammy
- The birds that talked shit about her
- Drake
- and the media that tried to take her down
All in ONE music video #HardWhiteVIDEO @NICKIMINAJ pic.twitter.com/d34lxPMLwi

— baddie b (@beyonikaw) February 1, 2019
Check out the visuals below:
You feelin' it?
Photos: YouTube Screenshots